A Day in the Life of a NY Giants Team Photographer on an NFL Game Day
Want to see what a workday is like as an official photographer of an NFL football team? The NY Giants released this 4.5-minute video that follows along with team photographer Matthew Swensen on a game day.

For a game that kicks off at 1pm, Swensen gets to work as early as 7:30am to start getting ready. Once in the office, Swensen does an equipment check. He shoots with Canon gear: a 400mm, 70-200mm, 3 Canon DSLRs, extra batteries, and extra lenses (a 24-70mm, a 16-35mm, and a 135mm).
Four hours before kickoff, Swensen photographs players arriving at the stadium for social media.
Swensen then sets up remote cameras on the field for capturing things like players running out of the tunnel from a safe distance during the COVID-19 pandemic.
Next is photographing the players on the field warming up in shirts and shorts.
"I like to walk the field and try to find different and interesting shots," Swensen says. "Being a team photographer is a lot like being a tour photographer. You're shooting the same thing week by week so you try to find new and interesting things while still trying to tell the story of the game."
After the game starts, Swensen continually moves around to find the best vantage point to capture the action from, separating himself from other team photographers to capture the game from different angles.
"Positioning is everything," the photographer says. "I'll move up and down usually 30 or 40 yards ahead of the play or behind the play depending on offense/defense."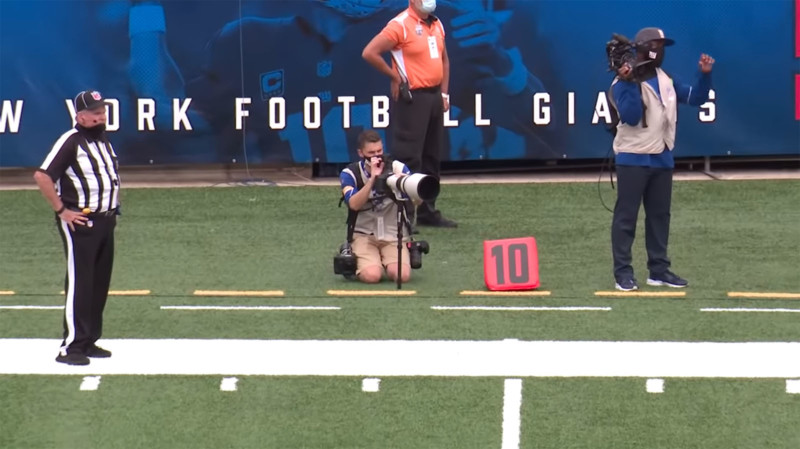 Once the game is over, Swensen goes indoors and begins transferring, editing, and tagging the massive number of photos (usually 2,000 or more) he captured over the course of the day.
"These photos are used throughout the year for social, editorial, posters, graphics, marketing, and many other uses," Swensen says. "But most importantly, it tells the story of the team for the 2020 season, so it's important to spend the time and make sure every photo is looking as good as it can."
You can find more of Swensen's work by following his Instagram account.