Funleader 18mm f/8: A $199 Cap Lens for Full-Frame Mirrorless Cameras
After raising nearly $35,000 through Kickstarter in late 2019, the Funleader 18mm f/8.0 Cap Lens is now available to the general public. It's an ultra-compact walkaround lens for full-frame mirrorless cameras.

"FUNLEADER Cap Lens 18mm f/8.0 is an incredible camera lens that provides a joyful experience to you in photography," Funleader states. "The 18mm powerful ultra-wide-angle lens gets everything in the picture with rich details and dramatic high contrast without distortion."
The aluminum alloy lens is only a little thicker than a camera body cap, measuring 0.59 inches (15mm) in thickness and weighing about 2.8 ounces (80g).
There are no electronic components in the one-piece lens, which has a depth of field from 2.6 feet (0.8m) to infinity. This allows you to simply point and shoot while walking around for clear, in-focus, wide-angle photos (assuming you're using a fast enough shutter speed).
Other features and specs of the lens include 6 elements in 4 groups, a field of view of 100°, and a multi-coating on the front element.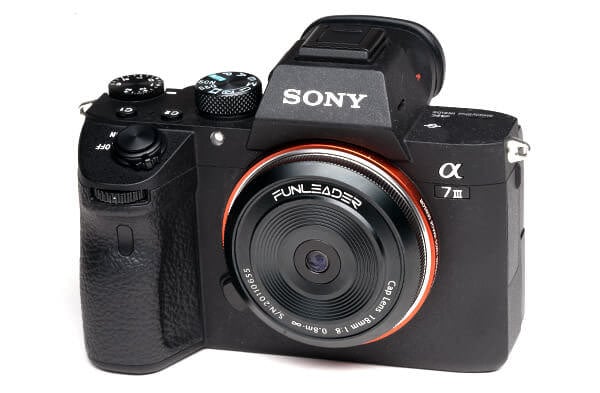 Here are a few sample photos captured with the lens:
The Funleader 18mm f/8.0 Cap Lens is available for Sony E-Mount, Canon RF-Mount, Fujifilm X-Mount, Nikon Z-Mount, and Leica/Sigma/Panasonic L-Mount. It can be purchased for $139 on eBay or for $149 through the Funleader website (with free worldwide shipping).
(my Funleader via Nikon Rumors)