Photos of the Robots Living Among Us
The Robot Next Door is an ongoing project by French photographer Niko Photographisme, whose photos show a world in which the line between human and machine is blurred.

"Enhanced Human, Artificial Intelligence, Transhumanism, Robotics. Faced with these new technologies announced and fantasized, which bends will our societies take?" writes Niko. "Will we be able to distinguish between humans, augmented humans and robots? What consequences will these technologies have for our businesses, our lives, our relationships?"
The goal of the project is to capture "the intimacy of a daily life rooted in a world where the border between the human and the machine is blurred," Niko says. "We discover characters evolving out of sight, discreetly so as not to reveal their true nature for fear of being differentiated and judged."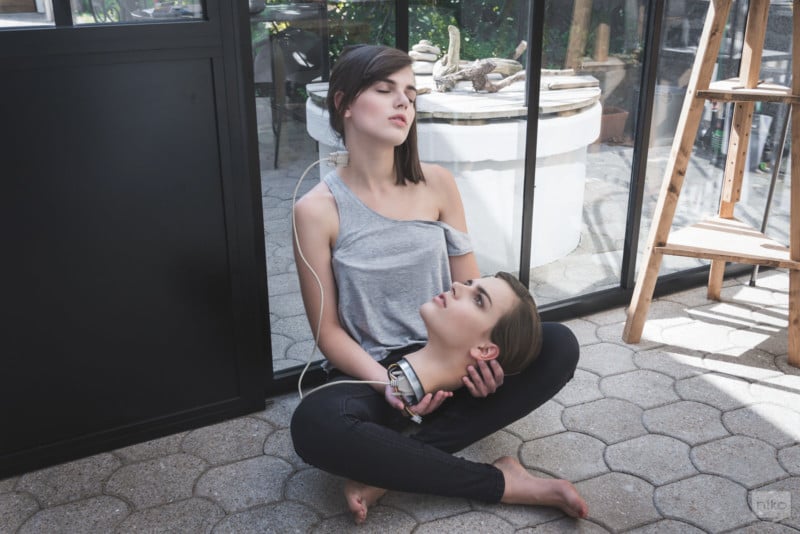 "I draw a parallel between the relationship between digital life and 'real' life, which supports the notions of perception and appearance and its derivations," the photographer continues. "We can play roles, we can play characters, but appearances can be false or misleading."
A professional UI/UX designer, Niko Photographisme has been creating images as an independent photographer under his pseudonym for a decade now. After starting this project in 2017, Niko has created around one hundred photos with the help of around 40 professional models.
What's neat about Niko's process is that he relies heavily on physical props and careful editing rather than CGI. Here are a couple of behind-the-scenes videos showing how these photos are made:
"First I talk with models about ideas," Niko says. "I try to find ideas that are centered on the model's profile. We shoot photos in the model's home most of the time when it's possible.
"I bring with me all mechanical props I made with mechanical pieces, wires, pipes, etc. I take photos of the model and props at the same time in the same place (for right orientation and lighting). Then I assemble with Photoshop and I work on details to try to have something realistic.
"Finally I develop my photos with Lightroom to have a homogeneous style between all photos of the series. And voilà."
You can find more of Niko's work on his website and Instagram.