Capturing Portraits in Indonesia's Trash Dumps with a Dislocated Knee
I've always laughed when, as a photographer, people ask me if I can deal with a difficult client or shoot in a difficult situation. But even still, things are never going to be as bad as the conditions on my most recent trip – after this, I feel like I can shoot anywhere.
I travel the world, self-funding personal projects that many people wouldn't touch. My latest personal project took me to Indonesia, starting in Jakarta and ending on Bali. My local team and I zig-zagged down through the Islands, shooting two very different projects, and Pemulung is the first project from the trip to be finished and released.
The Pemulung are scavengers, working on the local dumps scouring through the waste to try and collect plastic to sell, or anything they can use.
They work outside under brutal conditions, the smell is horrendous, and the heat is unrelenting and they have no protective equipment. There is no shade apart from homemade shacks, and they work constantly – the sites are 24 hours a day operation. With heavy machinery and ground giving way underfoot means its an incredible hazardous job and that is before we start talking about the trash they are picking apart.
Aiming to collect plastic to sell for processing, they can earn about 6000RP/kg (Indonesian Rupiah) which is about £0.34/kg or $0.20/lbd. If they find other things, they can use or sell that's a bonus, and many have collected makeshift building materials and created shacks to live in on the dump.
When we arrived at the first dump, I choked and was instantly sick; the smell of the dumps is genuinely awful and impossible to describe with the correct gravitas. The smell is so thick it immediately closes your throat, it made my eyes water, and we all felt instantly ill. I had just put on my respirator and was checking the seals—the seal wasn't quite right, and the smell rushed in straight down my throat.
It wasn't pleasant.
I'll walk you through a broad overview of the trip with behind the scenes, and portraits taken in each location.
First we flew into Jakarta where we met our local fixers, Dery and Yusak, got food and got to know each other. Until this point we had only had a quick chat but mainly WhatsApp and e-mails, so it was nice to sit down and chat—it turns out we have a mutual appreciation of rock and roll. It was also at this point I discovered Nasi Goreng, and it's become one of my favourite dishes (it's delicious – you should try it!)
We spent a night in Jakarta as I got over the long flight. I checked the kit, triple checked all the batteries, and quadruple checked all the flash kit to make sure it had survived the long haul flight. The next day, we set off.
The first stop on the trip was Bantar Gebang, a sprawling 200-acre landfill site that services Jakarta province. It has 8,000 tonnes of fresh waste delivered each day and works 24 hours a day with many scavengers working in the dark with head torches. The site is home to many scavengers—locals estimate that Bantar Gebang is home to more than 100,000 Pemulung.
The main thing that struck me about the Pemulung at Bantar Gebang was how happy they were despite working in some of the worst conditions on Earth; many came over and volunteered to have their picture taken, it was a lovely atmosphere in the worst conditions!
After Bantar Gebang and Jakarta, we headed south to Yogyakarta, known locally as Jogja and previously the capital city of Java (before Jakarta). It's a very artistic place with lots of art universities and known as the centre for Javanese arts and culture.
The dump we visited near Jogja was called Piyungan. Thousands of cows live on this vast site, eating whatever they can find in the newly delivered rubbish. Like Bantar Gebang, The Pemulung at Piyungan are incredibly friendly and were very happy to take part in the project; when we arrived we had a great chat with the management of the site who fed us and offered us drinks and iced tea.
Unfortunately, after shooting for half a day, disaster struck. I was crouching down, taking a shot of a cow, when I heard shouting and my fixers ran over and tried to pick me up. It turns out there was a bull running at me from one side and a bulldozer shoveling about 5 tonnes of waste to the other side of me, both which I hadn't seen in my peripheral vision. The bulldozer driver hadn't seen me either.
My fixers probably saved me from a very nasty ending, but when I got up I twisted my body, dislocating my knee and immediately collapsing into a heap on the ground while the Pemulung beat back the bull with their sticks and managed to stop the bulldozer.
Now, for anyone who has met me, I'm a big guy and not the easiest person to carry as you can imagine – but still, my fixers and the locals managed to drag me out through the rubbish on to the main path, clear from most of the danger.
Cue colossal pain, a trip to the hospital, wheelchairs, and forcing my leg to go straight to fit in their small x-ray machine (again, I'm large). The medical staff could not have been more lovely, but they did end up comparing my knee to dislocated knees on Google Image search; they then didn't do anything, gave me some crazy strong painkillers and discharged me with crutches all for the cost of £65—£35 below my minimum claim on my travel insurance. Still good to have it!
Shooting on crutches is awful, given the terrible conditions of shooting on a massive landfill coupled with the ground giving way under the crutches.
Here are a couple of shots of me loving life shooting on crutches. I did this for two full days, it was hell.
And here are a couple of the portraits from the Piyungan dump, shot on crutches: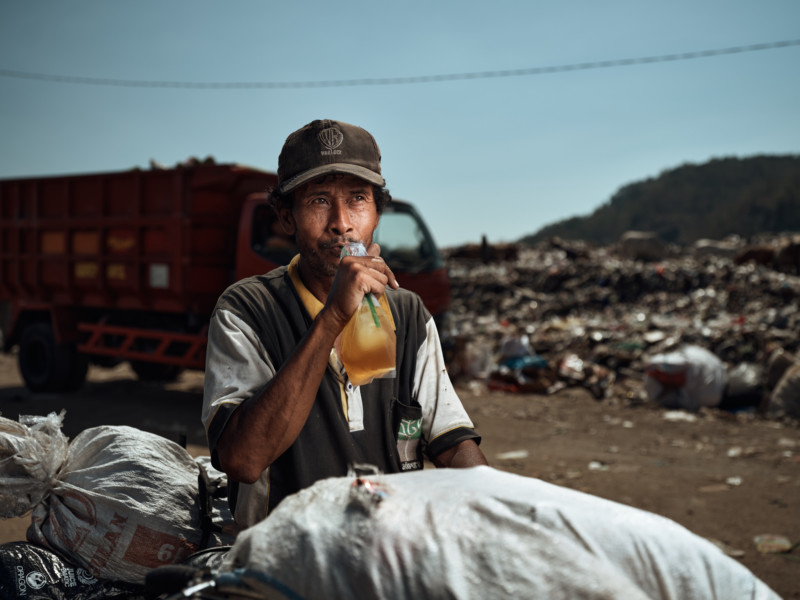 Finally, after two days of dislocation, my knee decided to just… pop back in. I was flying my drone whilst I was sat in the car looking out. I landed the drone and to everyone's surprise (including my own), I got up and just walked right over to it. I hadn't even felt it pop back in.
We then set off and shot a whole load of other work for the second project, which I will release later this year when it is finished. After hundreds of more miles in the van, we ended up getting the ferry over to Bali. We headed to our final destination of Suwung, the dump servicing the capital of Bali, Denpasar.
Here are some of the portraits from Denpasar:
This project was shot entirely on the Fujifilm GFX 100 with their GF 32-64mm f/4 R lens using a Profoto 3ft RFi Octa and alternating between a Profoto B1X and B10 Plus flash head. The Fuji is a great camera, but I've since sold my system made the system swap to Leica, mainly for that extra character from their lenses.
I travel a lot to difficult locations so I have to keep the lighting kit small. I tend to use one or two heads for most of my shoots, but this series was shot with one head at a time—I used the B1X head mainly, but changed it up from time to time to a B10 Plus—I wanted to see how the smaller B10 Plus held up shooting in heat, as it has less ventilation than the B1X, but it was fine, just less battery capacity.
Technique wise, I used the Profoto HSS withe Fuji trigger to drop the ambient light and upped the power on the flash.
To see the complete collection of the Pemulung portraits please click here.
---
Update: When this blog was published originally it had been written about the photography aspects of the project to suit the audience, with names and some details removed. I think this has meant some of human side of the project was lost.
I had previously seen various news reports of the Pemulung people that I felt had not been empowering—I wanted to photograph them in a different light and show their personalities and strength. I would like to have linked with an organization working with Pemulung and profiled this; however, during my time there we didn't come across any.
My hope for this project was to highlight the extreme impact our waste is having on the environment, to show the people working in the toughest possible conditions in a positive light. This series was featured heavily in Indonesia and was positively received.
I agree with some of the comments that we, as photographers, must always strive to be as culturally sensitive as we can be. The subjects are so generous to lend their time and give us a glimpse in to their lives, we must never betray that trust and always be respectful and kind.
---
About the author: Tom Barnes is an award-winning portrait photographer whose work has taken him across the globe, working with the full spectrum of humanity from refugee camps in war zones to the highest arenas of politics. You can find more of his work on his website, or by following him on Instagram.