Fujifilm Drops Ambassador After His Street Shooting Style Sparks Outrage
Fujifilm has apparently dropped ambassador Tatsuo Suzuki from its X Photographer program after Suzuki's "in your face" street photography shooting style sparked controversy over the past week.

It all started after Fujifilm announced
the new X100V
and released a series of videos showing photographers using the camera. One of them featured street photographer Tatsuo Suzuki (
Update on 2/10/20
: This video has been taken down):
As you can see, Suzuki captures his street photos in a way similar to renowned photographer Bruce Gilden, who walks up to strangers on sidewalks (sometimes directly into their path), points a camera (and often an off-camera flash) directly in their face, and shoots photos of them without warning and permission.
Gilden has made a name for himself through his shooting style (which is arguably more intrusive and offensive than Suzuki's) and the results it produces, but much of Gilden's work is done on the streets of New York City — Suzuki is based in Tokyo, and Japanese culture is known for valuing qualities such as politeness, quietness, and respectfulness.
And while Gilden's style is described by many to be "brash" and "obnoxious," Suzuki's method of working — specifically his movements and facial expressions — seems to be described more with words such as "weird" and "creepy."
As the controversy over the promo video grew, Fujifilm responded by quickly and quietly taking the video down (the video above is a mirror that popped up after the removal).
Fast-forward a few days, and today Fuji Rumors just spotted that Suzuki has been removed from the roster of X-Photographers on the program's website. His dedicated page on the site is now coming up blank, but a cached version is still online (for now).
Suzuki being listed as an X-Photographer is also still turning up in Google search results, though the link leads to the blank page.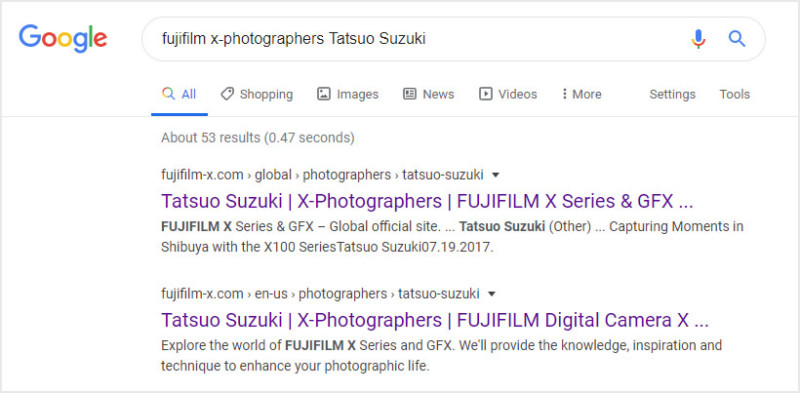 It's curious that Suzuki was apparently removed from the ambassador program due to a video that Fujifilm released, but what has transpired behind the scenes between Fujifilm and Suzuki isn't currently known.
Here's a sampling of Suzuki's work:
We've reached out to both Fujifilm and Suzuki for comment and will update this article if/when we hear back. You can find Suzuki's work on his website and Instagram.
---
Update on 2/10/20: The mirrored video has been taken down. PhotoShelter spotted this this 2018 video of Suzuki working by
Samuel L. Streetlife:
---
Image credits: Header still frame from video by Fujifilm