Fujifilm Launches Mid-Range X-T200 and Affordable XC 35mm f/2 Lens
While the industry waits with bated breath for the rumored X-T4 and X100V, Fuji had something else for us tonight, revealing a new and improved mid-range X-T200 for "content creators of all levels" and a budget-friendly 35mm f/2 lens.
Replacing not quite 2-year-old Fuji X-T100, the X-T200 slots in above the entry-level X-A series but below the Fuji X-T30 released last February, splitting the difference in terms of feature set.
Inside, you'll find a new 24.2MP APS-C CMOS (not X-Trans) image sensor with improved speed and video performance, much-improved autofocus, some interesting video features, and a fully-articulating 3.5-inch LCD touchscreen… all squeezed into an exceptionally lightweight and compact body.
Fuji has tried to improve over the X-T100 everywhere it counts.
According to the information available at announcement, the new 24MP CMOS sensor is much faster—shooting up to 8fps in burst mode, or 4K/30p and 1080/120p in video—the new processor can process data 3.5x faster, rolling shutter is reduced, and autofocus performance is "dramatically enhanced" thanks to the use of on-sensor phase detect in lieu of the hybrid system in the X-T100.
Importantly, this last bit means the addition of Face/Eye Detection AF, a big plus for enthusiast shooters.
There's also a fully-articulating touchscreen LCD for vloggers and selfie lovers, a special HDR Video mode for high-contrast situations, a "Digital Gimbal Function" that uses an in-body gyro sensor to help out the electronic stabilization when shooting video and, of course, you still have access to Fuji's beloved film simulations.
Finally, it's worth noting that the X-T200 manages to add all of these features above and beyond its predecessor while still shaving off 80g of weight, coming it at just 370g total.
Here's a closer look at the camera from all angles: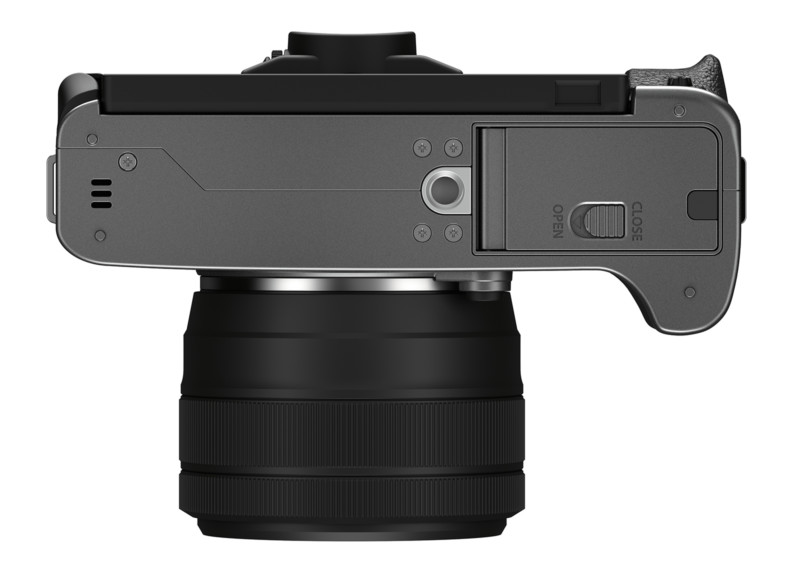 The Fujifilm X-T200 will be available starting late February in three colors: Silver, Dark Silver, and Champagne. You'll be able to pick it up body-only for $700, or in a kit with the XC 15-45mm f/3.5-5.6 OIS power zoom lens for $800.
To learn more about the camera, head over to the Fujifilm website.
Fujinon XC 35mm f/2 Lens
In addition to the camera, Fuji also released a long-rumored new APS-C prime lens: the Fujinon XC 35mm f/2. With a full-frame equivalent focal length of 52mm and weighing just 130g, the lens promises to be a great carry-everywhere prime at a very affordable price tag.
Optically there's not much to it. The lens is made up of 9 elements in 6 groups—including 2 aspherical elements—that promise to produce "sharp and crisp images with creamy bokeh," and a stepping motor for "quick and near silent" autofocus operation.
Here's a closer look at the lens:
The lightweight Fujinon XC 35mm f/2 will be released alongside the X-T200 in late February for $200, and should be available for pre-order shortly. To learn more, visit the Fujifilm website.