Twitter Will No Longer Ruin Your JPEGs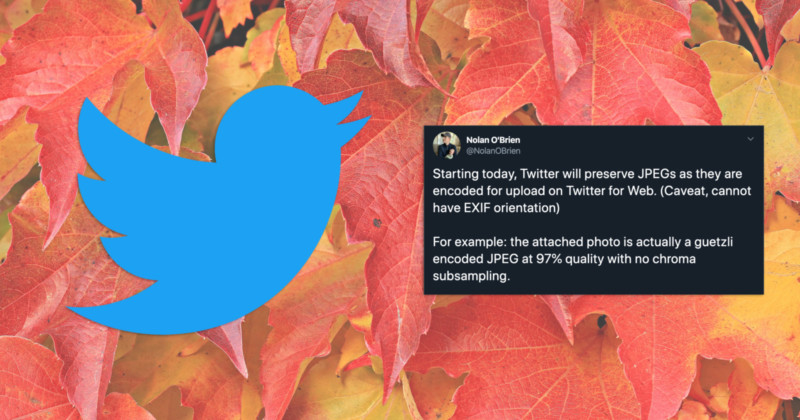 Great news for photographers who like sharing their work on Twitter, but hate what the site does to the quality of your images: the social media giant has announced that it will no longer compress your JPEGs to death. No more transcoding that totally destroys your photography.
The news was broadcast (how else) in a Tweet by Twitter engineer Nolan O'Brien, who wrote that "Twitter will preserve JPEGs as they are encoded for upload on Twitter for Web." As an example, he attached a Guetzli-encoded JPEG, which contains no chroma subsampling.
To see the full effect, you'll have to click through the post to see the full-resolution version, as thumbnails are still transcoded:
Starting today, Twitter will preserve JPEGs as they are encoded for upload on Twitter for Web. (Caveat, cannot have EXIF orientation)

For example: the attached photo is actually a guetzli encoded JPEG at 97% quality with no chroma subsampling.https://t.co/1u37vTopkY pic.twitter.com/Eyq67nfM0E

— Nolan O'Brien (@NolanOBrien) December 11, 2019
After sharing the news, O'Brien posted two important clarifications. First, this only applies to bitmap encoding, so EXIF will still be stripped and discarded. And second, while there will still be "limits" to file size and resolution, "those limits are very generous so that pretty much any 8 megapixel photo will be preserved and even up to 16 megapixels can be preserved (in square aspect ratio)."
All great news if you're an active photographer on Twitter. To see the changes for yourself, head over to Twitter and either share your own photo or start clicking through a few recent uploads. The changes are definitely noticeable.