Behind TIME's Cover Photo of Greta Thunberg, 2019 Person of the Year
TIME today announced that teen climate activist Greta Thunberg is its 2019 Person of the Year. The 16-year-old becomes the youngest individual ever to receive TIME's annual honor.

The cover photo was captured by freelance photographer Evgenia Arbugaeva, who grew up in the Russian Arctic.
"When TIME asked me to photograph Greta, I was thinking how can I make a portrait that combines gentleness and at the same time courage," Arbugaeva tells TIME. "How do I capture the intense, focused gaze inwards as well as outwards, which I feel is characteristic of Greta. It was not an easy task."
The photographer started off by creating a mood board with references from Botticelli, Monet, Norse mythology, tarot cards, and Romantic period art. She then scouted Lisbon for a couple of days before settling on a rocky beach found near the Portuguese city.
Arbugaeva held the photo shoot on December 4th.
"As she stood for a photograph, the sky colored golden pink creating beautiful light, ocean tide was rising and waves were raging around her," Arbugaeva tells TIME. "Greta stood tall and strong without moving, just a few strands of her hair fluttering in a gentle breeze. She looked straight ahead into the ocean she just crossed.
"At this moment it felt as if all nature elements and forces aligned to create the magic—the most treasured gift for a photographer."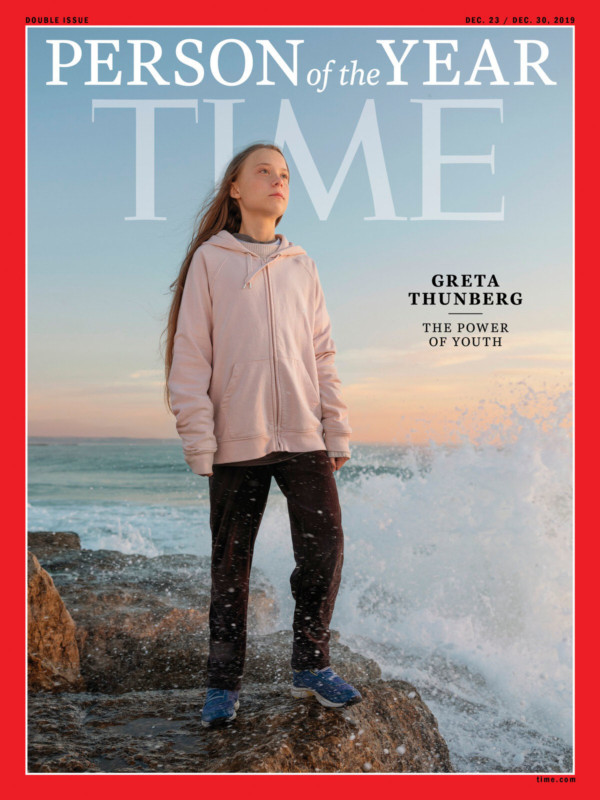 "Meaningful change rarely happens without the galvanizing force of influential individuals, and in 2019, the earth's existential crisis found one in Greta Thunberg," says TIME Editor-in-Chief and CEO Edward Felsenthal regarding Thunberg's selection. "Thunberg has become the biggest voice on the biggest issue facing the planet—and the avatar of a broader generational shift in our culture that is playing out everywhere from the campuses of Hong Kong to the halls of Congress in Washington.
"This was the year the climate crisis went from behind the curtain to center stage, from ambient political noise to squarely on the world's agenda, and no one did more to make that happen than Thunberg.
"For sounding the alarm about humanity's predatory relationship with the only home we have, for bringing to a fragmented world a voice that transcends backgrounds and borders, for showing us all what it might look like when a new generation leads, Greta Thunberg is TIME's 2019 Person of the Year."