Country Star Kacey Musgraves Gives Struggling LA Photo Shop a Big Boost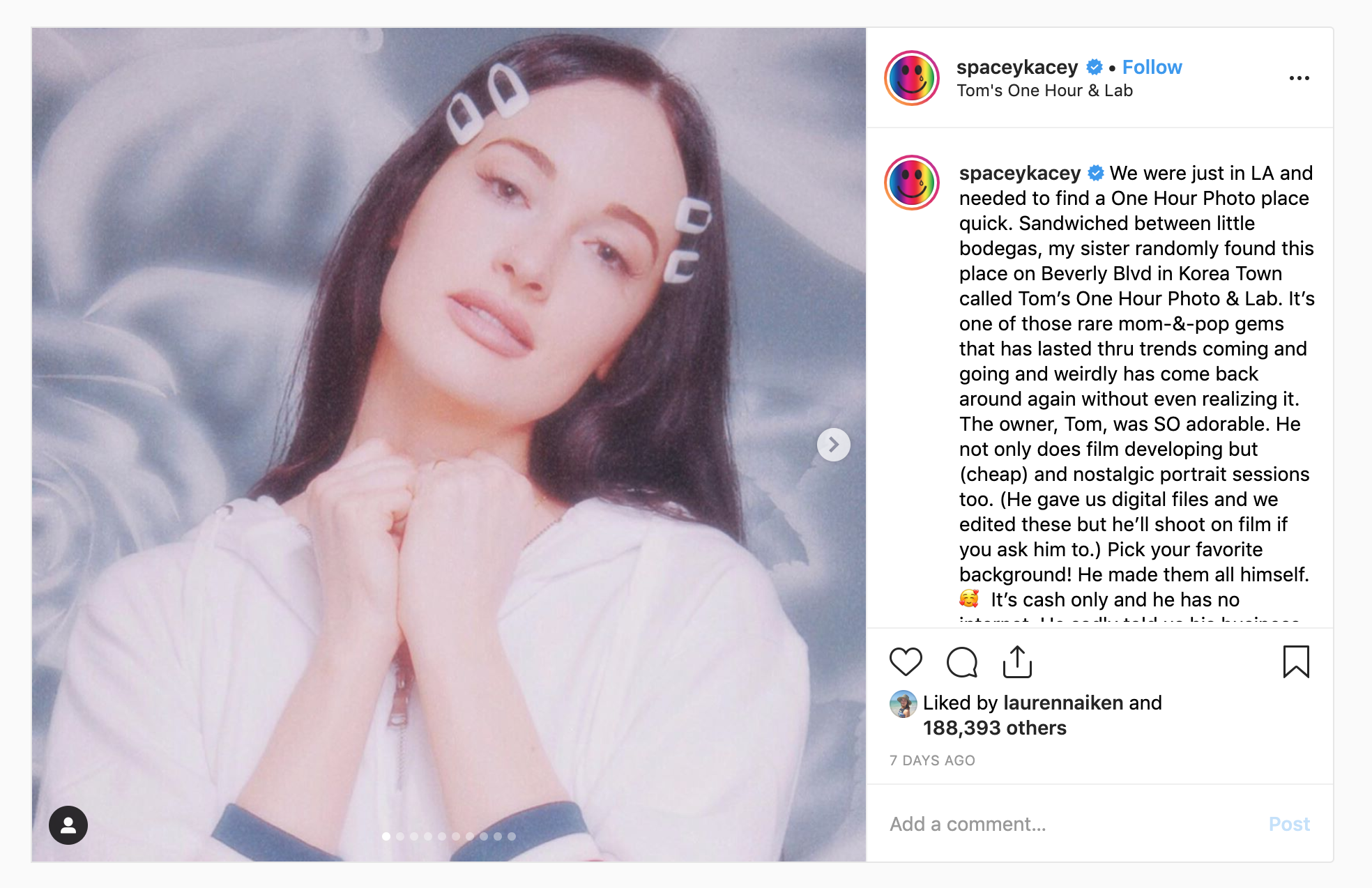 Multiple Grammy-winning country star Kacey Musgraves earned kudos from the entire photo industry last week when she took to social media to help a struggling mom-and-pop photography shop in LA, breathing new life into the small business.
As detailed in the LA Times, Musgraves and her sister first wandered into 'Tom's One Hour Photo Studio and Lab' in LA's Koreatown last Wednesday. They were looking for a place to develop some film (+10 brownie points) when they stumbled across this family-owned, cash-only shop with no social media presence to speak of.
The shop, which opened in 1991, has been struggling in recent years, but after chatting with the owner Musgraves decided to use her significant celebrity to change that. First, she created an Instagram account for the small shop. Then, she took to her own Instagram (1.6 million followers) and Twitter (814.5K followers) accounts to share the story of this struggling shop and encourage her followers to support them.
"We were just in LA and needed to find a One Hour Photo place quick. Sandwiched between little bodegas, my sister randomly found this place on Beverly Blvd in Korea Town called Tom's One Hour Photo & Lab," she wrote on Instagram. "It's one of those rare mom-&-pop gems that has lasted thru trends coming and going and weirdly has come back around again without even realizing it. The owner, Tom, was SO adorable."
"He sadly told us his business used to be really busy back in 1991 when he opened but has slowed way down since the digital wave. So, like any good millennials would do we started an appreciation Instagram for him, @tomsonehourphotolab 🌹" continued Musgraves. "Not sure he'll even see this. Stop by, tell all your friends, and don't forget to tag. Let's keep this charming business afloat! #TomsOneHourPhoto"
🌹Got my portrait made at this AMAZING little place in Korea Town LA called Tom's One Hour Photo. It hasn't changed since he opened in '91. It's cash only & has no internet. Said business has gotten so slow since the digital wave 😞 so we made him an insta: @tomsonehourphotolab pic.twitter.com/Y2RPmw1aN7

— K A C E Y M U S G R A V E S (@KaceyMusgraves) August 28, 2019
Her plan worked like gangbusters. As of this writing, the Tom's One Hour Photo & Lab Instagram account has 59.7K followers, and the LA Times reports that "a happy and overwhelmed Tom has been flooded with calls and portrait requests."
The (still cash-only) shop has been given a massive boost, and Musgraves has earned the gratitude of photographers and small business owners the world over.
True, the initial influx of business from Musgraves' posts may be a "flash in the pan." But with a new and thriving social media presences now established, and given the rising popularity of film photography, we can only hope that Tom's One Hour Photo & Lab is in for a true renaissance.
(via Reddit)