My Nightmare with USPS Insurance in Shipping a Camera Lens
Photography is amazing, but it does require gear. I recently moved from Canon to Sony, so I had to offload a camera body, lenses, flashes, and triggers. I purchased out-of-pocket insurance on all of my gear packages just to have some peace-of-mind.

I sent the last piece of my Canon kit, my awesome Tamron 70-200mm f/2.8 (a009), on January 10th. This was my first serious photography lens (costing over $500), which I originally purchased used. I rolled the actual lens up in bubble wrap and secured it with tape. I then used a slightly larger box and filled in the space around the lens with sealed air packets (reused from Amazon) and packing peanuts. Like all of my other lenses, I sent it priority mail and purchased additional insurance.
A couple of days after the lens was delivered, I received a refund request through eBay. As a policy, I don't accept refunds on used gear. I'm not a retailer, and I provide thorough images and descriptions of the items I sell. Used prices rarely reflect a return policy, and I won't even get started on eBay fees.
At first, I suspected the buyer changed their mind or was unhappy with the lens. Next, I was told that the lens was inspected by a lens repairer and that the zoom ring was tight. I assured the buyer that the lens I shipped was fully-functional, and I informed them I was making an insurance claim through USPS Insurance. I asked them to please return the lens to their local post office, as per USPS Insurance Policies, and I would refund the payment. They felt this was unacceptable and contacted eBay/PayPal.
As soon as they contacted eBay, the money was immediately frozen in my PayPal account. I frantically called eBay, worried that I was dealing with a potential scammer. eBay informed me that the customer was unhappy with the purchase and that the item did not match the description. They claimed the buyer was covered under eBay purchase protection, and that the lens would be returned to me. Here's where I panicked.
I explained the Insurance Policy through USPS, and that the package would need to be inspected. I also asked what assurance I would have that the lens would be returned. Basically, eBay told me that they were providing a return shipping label and that I would be able to inspect the lens when I received it back. At this point, the buyer had the lens and eBay had already refunded their money. I had paid for shipping, delivery confirmation, additional insurance, and would be faced with eBay sale fees.
The lens finally arrived back at my house, and I was somewhat relieved. I opened the package frantically to make sure it contained the lens. I attempted to turn the zoom ring… and failed. At this point, I realized the lens was damaged, but now I began questioning why the buyer wouldn't have just returned it to the post office. "It's okay," I thought, as I knew I had purchased Insurance for this very reason.
I submitted my official USPS Insurance Claim on January 20th, 2019. I submitted proof of value and proof of damage, and I noted that the damage wasn't cosmetic.
USPS requested I submit the lens and packaging to my local post office.
On February 5th, 2019 I took the lens to the post office. At first, I was told insurance is all handled online. I presented the letter requesting I bring the package to the post office. The first cashier asked the second cashier if they knew how to handle it. I was told to have a seat and that someone would come help me soon.
Fifteen minutes later, a manager invited me to her office to examine the package. I explained that the zoom ring should move freely, and I used the focus ring as an example. "Oh yeah," she said, "It's like it's stuck." We filled out the paperwork, and I left the lens with the post office.
On February 11th, 2019, I received another letter addressed from "United States Postal Service – Domestic Claims – Accounts Payable Branch". This letter requested I submit Evidence of Insurance to the local post office or a Domestic Claims address.
This seemed really odd, as the tracking number clearly showed insurance, but I complied and brought my receipts.
From this point on, things moved incredibly slowly. I had to call and check up on the claim in order to hear anything. I even wrote a note to "Call back in 3-5 Business Days" on one of the letters.
Then my initial claim was denied.
I was instructed to appeal online if the claim was started online. I was able to provide roughly 250 characters or a file. My first appeal read:
The lens is nearly bulletproof weighing 3.24 lbs with full metal construction. It was sufficiently wrapped in bubble wrap. The lens took such an impact it jammed the internal zoom mechanics. Now the zoom no longer functions and spins making it useless.
Eventually, this claim was denied.
I submitted another appeal. At this point, it was around April, and I was beyond frustrated. I decided to get more creative with my language. I figured, "Surely a human will read this at this point."
Second appeal:
Seriously, what is the point of your insurance if you deny every appeal. Shipped lens, packaged well, USPS ruins lens, insurance denies claim and appeal. Maybe don't throw the box next time?
My second appeal was denied on May 22nd, 2019.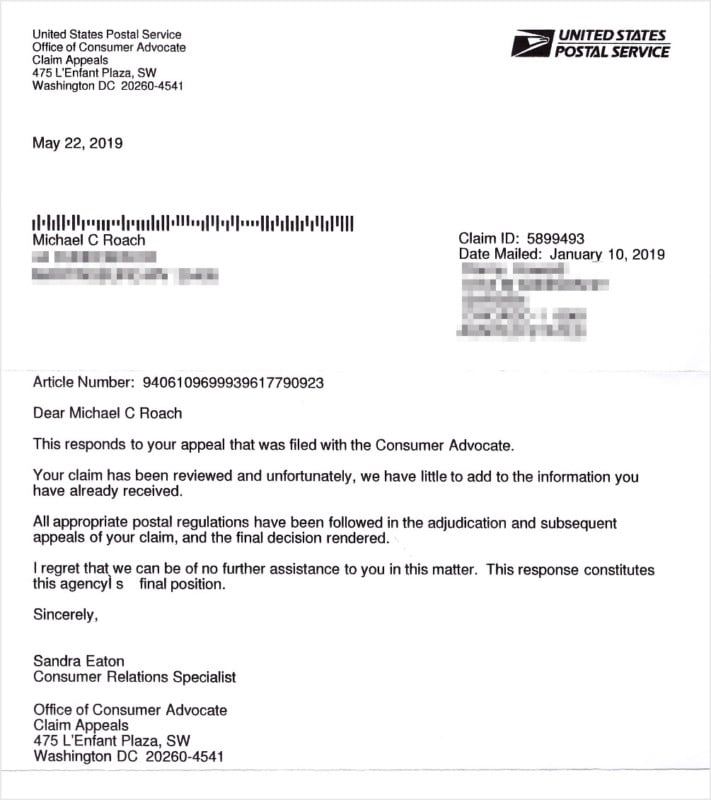 Four months and two days after it all began, I found out that USPS Insurance is worthless.
I can go to my local post office to pick up the lens, but at this point, it seems that suing in federal court is my only method of recourse. I've Googled searched a few terms, and it seems this is "business as usual" for the United States Postal Service Insurance.
If you're interested in purchasing a non-functioning Tamron 70-200mm ff/2.8 Lens, Canon Mount, A009, please contact me.
TLDR: USPS Insurance is worthless. Use UPS or FedEx for anything fragile or worth any amount of money.
---
About the author: Michael Roach is a photographer based in West Virginia. The opinions expressed in this article are solely those of the author. You can connect with Roach through his Facebook page.