Couple Hires Robot Photographer for Their Wedding
Robot photographers may be coming soon to a wedding near you. An AI-powered photography robot named Eva just shot her first wedding over in the UK.

Bride magazine reports
that Eva was hired by a couple named Gary and Megan for their April 7th wedding at the Wroxall Abbey Estate in Warwickshire.
Created by the England-based Service Robots and launched in February 2019, the nearly 5-foot-tall Eva is designed to roam about in a space (using infrared sensors after smart mapping the building), use facial recognition to "latch onto" one or more guests, and then ask to snap their photo.
"This was a fantastic addition to our day and our guests are still talking about it," Gary tells Bride. "Eva went down a treat and really got people involved. It made a nice change from the normal photo booths."
Eva is essentially a robotic photo booth that invites people to choose between a wide range of photo styles on the 23.8-inch touchscreen before shooting their portraits. The resulting photos can be instantly printed out at a photo station in the venue or shared online through social media.
"People are less interested in traditional photo booths," Service Robots tells Bride. "They are looking for something new and memorable that will really make their event stand out. None of the guests at this wedding will ever forget their first encounter with a robot photographer and it will provide the happy couple with a lovely reminder of their special day."
Service Robots notes that having a photography robot approach guests means that guests don't need to get out of their chairs or squeeze into tiny photobooths for simple posed shots.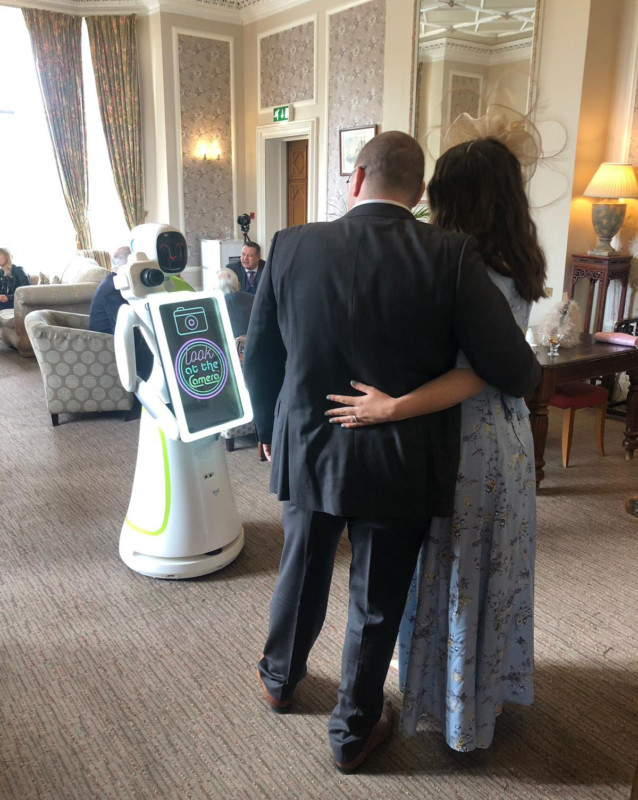 If you're a wedding photographer, don't worry: Eva isn't designed to take your job — Gary and Megan hired a traditional human professional wedding photographer as well.
"[T]he robot is a great alternative to traditional photobooths, which are slowly going out of fashion," Service Robots says. "Hiring both a traditional photographer and a photobooth robot like Eva means newlyweds can look back on crisp, professional shots as well as more candid, fun and cheeky photographs taken with the robot's help."
(via Service Robots via Fstoppers)
---
Image credits: Photographs by Service Robots