Trading Portraits for Backstage Photos with My Favorite Celebrities
I've been fortunate enough to present portrait work to some of my favorite personalities. Initially, I figured it would just be a clever way to use my artwork to meet some of my heroes. A year later, it has turned into an on-going project that has resulted in unique encounters, constant hustle, and endless Photoshop.

It started last February when I heard the Nature Boy, Ric Flair, was making an appearance in the Washington DC area. Being a lifelong fan, I really wanted to meet Flair, especially given his recent health issues. Shortly after purchasing a ticket to the event, it dawned on me that I should use this opportunity to not only try to introduce myself to Ric but to present a custom piece of artwork (from yours truly) honoring him.
On the day of the event, I managed to meet Ric and present him with the watercolor-style portrait I created in Photoshop. He was very grateful to receive the framed piece and was happy to pose for a photo too. The Nature Boy wasn't the only one who took a liking to the work. Ric's fiancé, Wendy, proceeded to chat me up about the art and asked me to pose for a photo with the portrait—which she kindly shared throughout Ric's Instagram and Facebook platforms.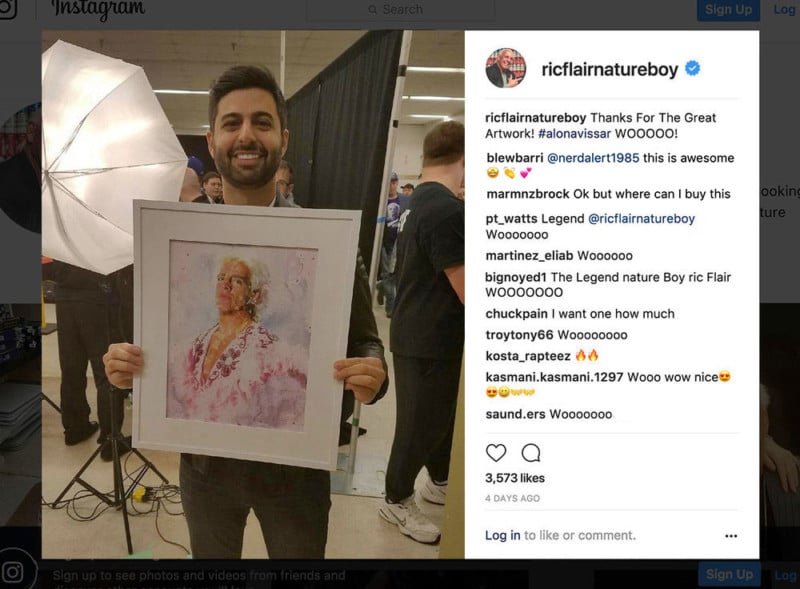 After that encounter, I had an epiphany of sorts: how many of my heroes could I meet through my art?
And so I got to work.
I began researching upcoming events in the DC area, honing in on acts, figures, and artists that I was inspired by. Then I began scouring the Internet to find their respective contact info. Once connected, I would arrange for us to meet at their local event where I would present a framed copy of the portrait as a gift to the artist. In return, I would simply request a photo and a signature on a separate print for my own safekeeping.
To my surprise, I was able to get responses from many of the talents I reached out to. Before I knew it, I was regularly going to events and presenting these passion pieces to many of the same people I grew up admiring.
Early on, I began treating each portrait as a new challenge. A chase of sorts, that consisted of finding prospects, contacting agents, creating high-quality artwork, coordinating with managers, arguing with security guards, etc., all to get my moment with my hero. After each meeting, my signed copy of the portrait served as a trophy for all my efforts.
I found these mini-missions to be very rewarding on a personal level. Instilling in me a greater level of confidence when seeing many of my heroes responding so positively to my artwork.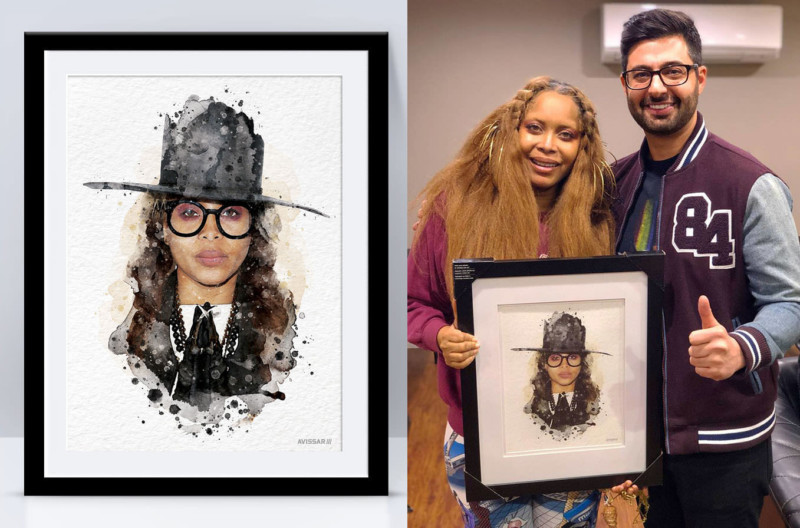 It's been a full year now and I am still looking forward to creating the next portrait. Down the road, I would love to apply this style and passion to not only portraits, but also towards campaigns and brands, and possibly even doing some sort of gallery showing. Until then, simply using my art to meet my heroes is perfectly fine by me.
---
P.S. You can follow along with this ongoing work here.
---
About the author: Alon Avissar is a freelance art director who has spent the last 10 years working with numerous advertising agencies through the DC, NYC, and LA areas. The opinions expressed in this article are solely those of the author. In addition to collaborating with clients full-time, he continues to develop personal projects in his spare time, including print products, portraits and double exposure works. You can find more of Avissar's work on his website.