I Photographed an NFL Game from the Stadium Catwalk
This past Saturday, I was assigned by NFL.com to photograph the Divisional Playoff game between the Seattle Seahawks and the Atlanta Falcons at the Georgia Dome in Atlanta.

Playoff games are high stakes for both teams; win or go home. The game was nationally televised featuring two of the league's best quarterbacks in Russell Wilson and Matt Ryan. There was a lot of press coverage and in order for my photos to stand out I needed to get unique images.
Once I arrived at the Georgia Dome I went to the media workroom to set up my computers and cameras. I had never been to the Dome before, but I knew the catwalk around the field would produce great angle photos from above. I acquired permission from security to photograph the first half from the catwalk.
I had set up numerous remote cameras in the past and had an idea of what would be needed up on the catwalk. Photographing above the players during the game is dangerous and requires extreme caution. I made my way to the upper level of the stadium. Walking on this catwalk was slightly daunting since it is higher than in most arenas.
The catwalk is grated and you can see through to the bottom.
The grate made it possible to shoot through and not risk holding the camera over the rail. I decided to go with 3 cameras to limit changing lenses. I selected two Canon 1D X Mark II and one Canon 5D Mark IV. Attached to the 1D X II was a Canon 400mm f/2.8 IS II and a Canon 70-200 f/2.8 IS II. Attached to the 5D IV was a Canon 8-15mm f/4 and after the kickoff I switched to a Canon 24-70mm f/2.8 II.
I used my Canon 70-200mm during player introductions. After that I used my Canon 8-15mm for a general view photo of the national anthem and kickoff. Once the game started, I switched mostly between my Canon 400mm and 70-200mm. I constantly moved around after every play to get in position for the next photo.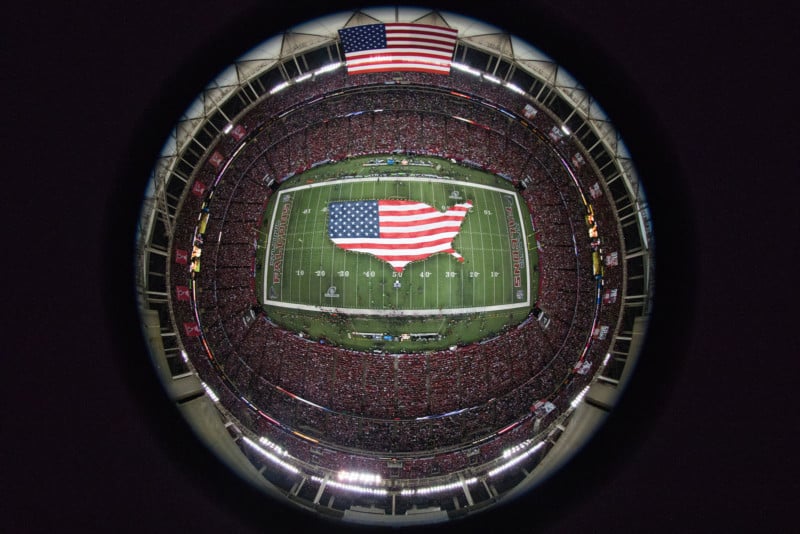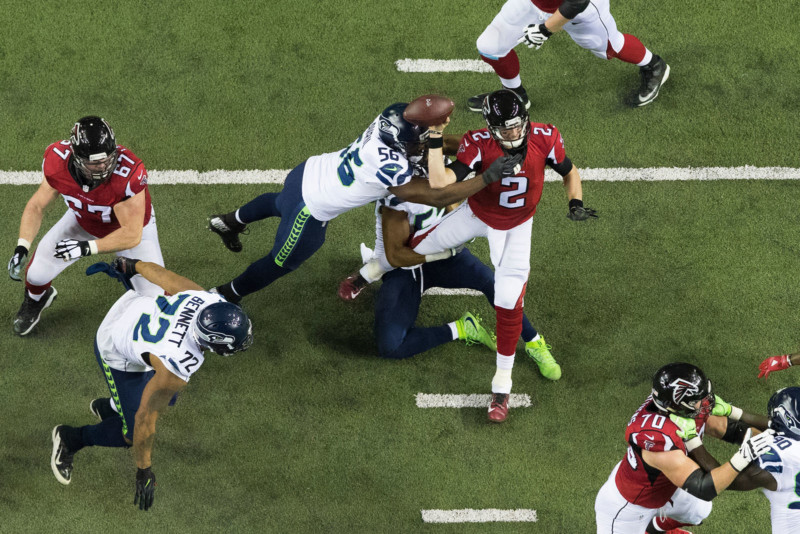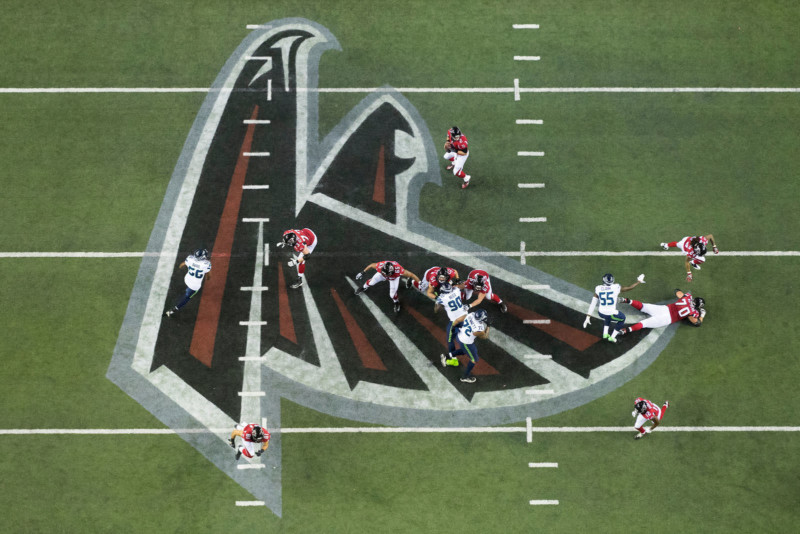 The first quarter felt like a blur. The Seahawks started the game with an eight and a half-minute drive. Things settled down the second quarter and I was able to better anticipate where the plays were going rather than reacting. Once the first half was over, I returned to the field to photograph the second half of the game. It was a great experience that I will never forget.
---
About the author: Ric Tapia is a commercial and editorial photographer based in Los Angles who specializes in sports, active lifestyle and portraiture. He is also the Team Photographer for the Los Angeles Rams and for the NFL. You can find more of his work on his website and Instagram.
---
Image credits: Photographs by Ric Tapia/NFL and used with permission