What It's Like Attending a Best Buy Photography Workshop
After I saw an ad on Facebook about an upcoming Best Buy photography workshop, I got the idea to attend it, and I thought other photographers would be interested in the experience, too. I signed up, paid the $50 to attend the workshop, and got an email confirming my registration.

My Background
I have shot photography at different levels, from simple beginner-level stuff to professional wedding photography. I mainly shoot concerts, from a small 90-person venue to a big 800-person theater venue. I'm well-versed in photography (e.g. the exposure triangle, how to expose correctly, composition, the rule of thirds, etc.), so this workshop was probably going to be a breeze… so I decided to go in as someone who knew the minimal things about photography.
Preparations
If I was going to go in as someone who was new to photography, I knew I had to ditch my Canon 5D Mark III and current setup for something entry level. After seeing if anyone would loan me their camera and getting a few maybes, my friend Kelsey gave me the idea to use my Canon 7D. I now had to find a lens.
I then considered renting a kit lens from Glazers and wondered if I had enough time to borrow one, but I remembered that I had an old 50mm f/1.8 from before I upgraded to the f/1.4.
I was all set.
The Day of the Workshop
When I got to Best Buy, the meetup place before they took us to the location where the workshop was held, I saw how they went all out. They had rented a coach bus, the kind tourists use to tour a city. When I got on board, the bus was almost packed.
When the bus started, one of our first photo coaches of the day was introduced, renowned photographer Richard Lam. This showed they meant business and weren't kidding around.
As we arrived at the location, we were introduced to our photo coaches, then split up in our respective groups.
Station Number 1
The first station was a portrait station with Richard where we got to photograph two models. I tried the Canon 50mm f/1.2L, one of my favorite lenses, and we got to play with cool lights.
Station Number 2
The second station was a self-portrait station with Marcus where we got to play with ring lights and 35mm lenses.
Station Number 3
The third station was a macro station where we were tasked with shooting macro photos of food and plants.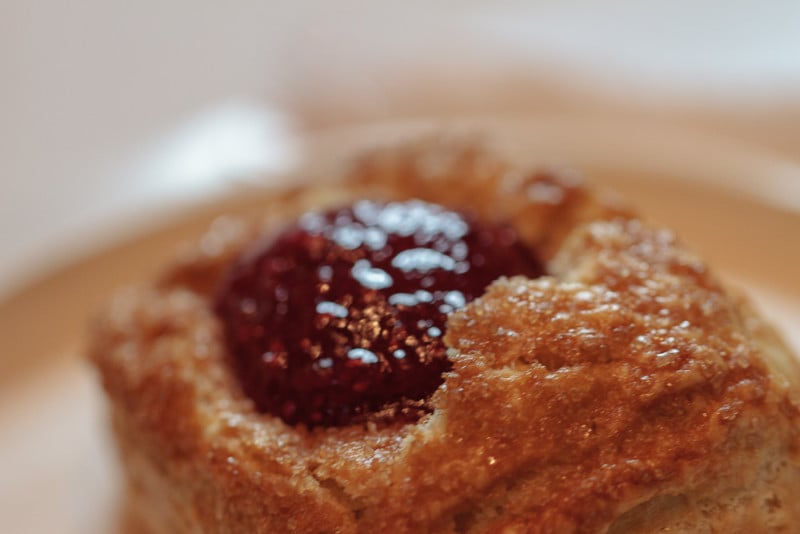 Station Number 4
The last and final station was a storytelling station where we got to try the Canon 24-70mm f2.8L (the everyday lens, as I call it). We got to photograph a cake decorator decorating a cake.
Conclusion
If I were a beginner, I would certainly attend one of the workshops to learn more about photography. It was a fun experience meeting new people, taking photos, playing with gear, getting a free lunch, and hearing a talk from industry professionals.
---
About the author: Manny Sangha is a photographer based in Seattle, Washington. The opinions expressed in this article are solely those of the author. You can find more of Sangha's work on his Instagram.