5 Killer Features and 14 Weaknesses of Sony Mirrorless Cameras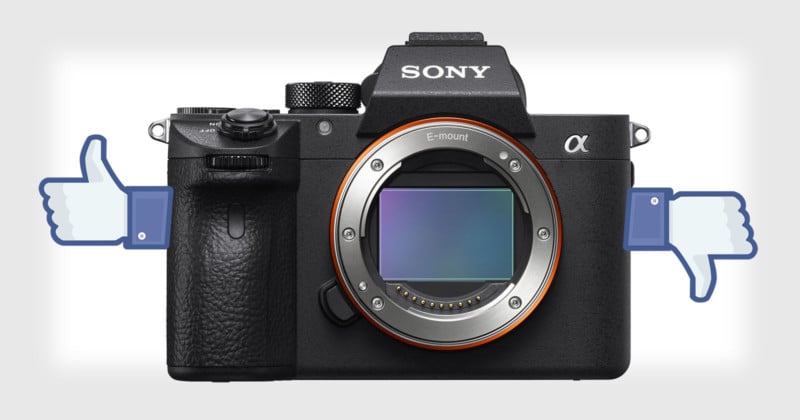 Camera reviewer Michael Andrew (AKA Michael the Maven) has quite a bit of experience in shooting with Sony mirrorless cameras, and he decided to share what he believes are 5 killer features and 14 weaknesses that you'll find in the lineup.

5 Killer Features
#1. Sensor Design: The backside-illuminated sensors in Sony cameras are among the best Michael has seen in a number of categories.
#2. Video Oversampling: Instead of line skipping or pixel binning, Sony oversamples and achieves clean video.
#3. Eye Autofocus: A game-changing feature for photographers who shoot things like weddings and portraits.
#4. Face Detection Video: As good as Canon's Dual Pixel AF, Michael says.
#5. Picture Profiles: Powerful professional features that provide options for video shooters.
14 Weaknesses
#1. Rack Zoom During Burst: When shooting moving subjects on high frame burst, zooming in causes dropped focus.
#2. Moiré and Rolling Shutter: Two issues that cause issues when shooting video.
#3. Overheating Problems: Michael has overheated every Sony camera he has used.
#4. Posterization in Compressed RAW Files. Green compression blocks in between white and black pixels.
#5. Star Eating: Noise reduction reduces the number of stars that are captured in astrophotography.
#6. Electronic Shutter Banding: Banding shows up under certain lighting when using the electronic shutter.
#7. 12-bit RAW During High Burst: Photos go from 14-bit to 12-bit RAW when shooting at high frame rates.
#8. Buffer Lag: The time it takes for photos to be written to the memory card.
#8b. No XQD: Michael doesn't understand why Sony hasn't adopted the new fast card format that it pioneered.
#9. Confusing Menus: The menu systems are very easy to get lost in.
#9b. Touchscreen Not Fully Functional: We've gotten some touchscreen ability, but we still don't menu touchscreen options.
#10. Front Heavy: Big lenses make the small cameras very front heavy.
#11. Weather Sealing: There are some complaints about the weather sealing of Sony cameras.
#12. Camera Body Finish. Michael's a7R II had corner paint worn off just from rubbing against his camera bag.
#13. Limited Native Mount Telephoto Lenses: There's a very limited selection of telephoto lenses.
#14. Sensor Filter Stack Issues: Issues that may make it harder to clean the sensors.
"I use [Sony mirrorless cameras] myself… like crazy," Michael says, so these weaknesses are things "about them I think you should know before buying them. Not necessarily deal breakers, more like annoyances. They are my workhorses, so its worth it."