Shooting College Football on 35mm Film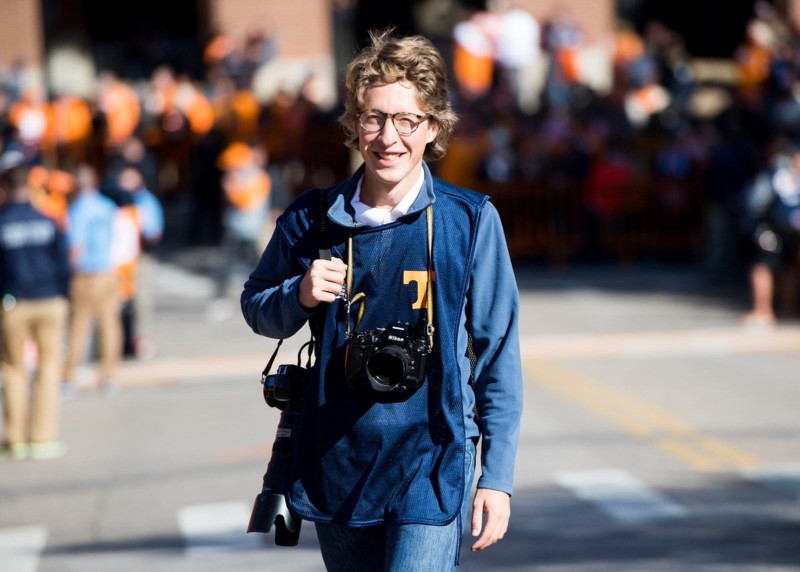 I'm sitting in the end zone and Tennessee's quarterback is ready to throw for a touchdown against Missouri. There are only three frames left on my roll of film and I think to myself, "That's more than enough."

I could never understand that pressure older photojournalists told me about when shooting film in stressful situations. What if there's a big play and I run out of shots? When do I change out my roll? Is the film winding? All of these what-ifs have been eliminated with the advent of digital.
So why did I dust off the old Nikon F4 and Nikon F5 film cameras and make my life difficult by shooting an important event like Tennessee Volunteers football on 35mm film?
Because it's different.
The cameras are ancient, the autofocus system is unreliable, the limit of only 36 photos on a roll of film; the list of woes goes on.
Here are a few things I learned shooting film on the sidelines.
1. Think before you shoot
Wait for the composition, the light, the moment, the focus, everything to come together. Whether I was shooting the Vol Walk or the action coming down the field, I kept asking myself, when (or if) I should hit the shutter. From experience, I've learned to recognize if a play will happen or not, and this helped me better determine when to take a photo.
2. No spray and pray
This was probably the most difficult part about shooting sports on film. When a play is coming down the field, I usually fire off several photos and hope something turns out. But with film, you have to time it just right so that you don't burn through 10 photos on accident. Not to mention, the autofocus system is not as accurate as today's flagship cameras, so I really had to be careful that the focus would keep up.
3. Appreciation
Using these old cameras and shooting Fujifilm Pro400H and Kodak Portra 800 film (pushed two stops) made me appreciate how far technology has come and how good today's cameras are. Being able to review images on your LCD screen and download them immediately to your laptop is remarkable.
Sitting in the office late at night cutting six strips of film, putting them into sleeves, finding the selects, scanning them into the computer and then finally captioning – it's a process. I can't even imagine developing the film myself, much less doing all of these things on deadline. I've gained a lot of respect for the photographers who did this for decades of their careers. We young folks truly have it easy.
The question I ask myself now is, would I do this again, shoot film for an assignment? Of course. It was way too much fun! Plus the photos look pretty cool and vintage, so why wouldn't I want to?
---
You can view the full photo gallery over at the Knoxville News Sentinel.
---
About the author: Calvin Mattheis is a full-time newspaper photojournalist at the Knoxville News Sentinel in Knoxville, Tennessee. The opinions expressed in this article are solely those of the author. You can find more of Mattheis on his website and Instagram.
---
Image credits: Header photo of Calvin Mattheis by Brianna Paciorka/News Sentinel NFS