Couple Falls to Death During Selfie at Same Yosemite Cliff as Viral Photo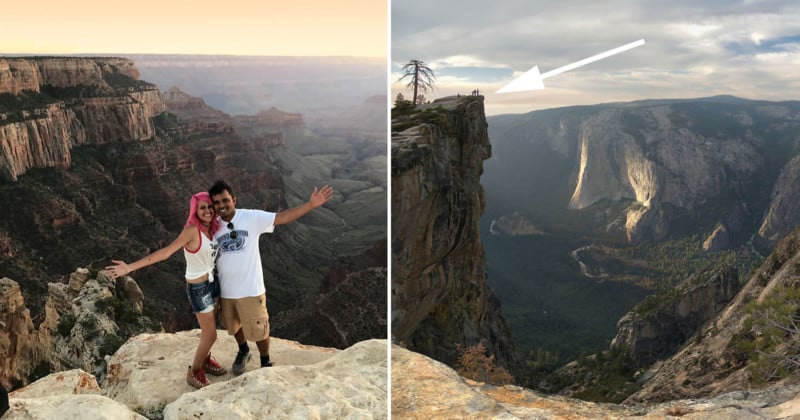 A couple tragically plunged to their deaths while taking a selfie at Yosemite's Taft Point last week. The accident came just days after an engagement photo captured at the same spot went viral online.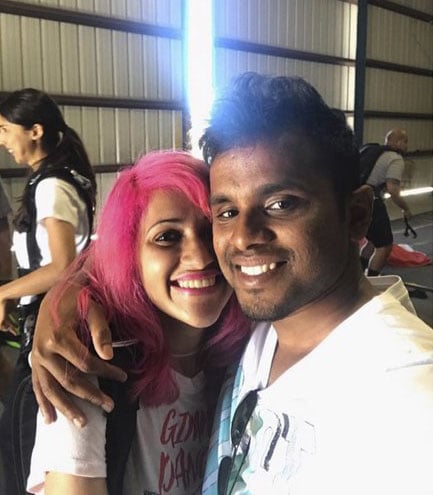 The Associated Press reports that husband and wife Vishnu Viswanath (29) and Meenakshi Moorthy (30) had set-up their tripod at the scenic cliff lookout on October 23rd and were shooting a selfie of themselves when they went over the edge. There are drops at the location of over 1,000 feet (300m).
Other visitors discovered the tripod and camera abandoned at the spot the next morning and alerted authorities, who scoured the valley floor from above with high-powered binoculars before spotting the bodies about 800 feet (245m) below.
Moorthy was a self-professed "adrenaline junkie" who often posed for death-defying photos from the edge of cliffs with Viswanath, who would post them on their popular social media accounts and travel blog for thousands of followers to see.
"Living life on the edge," Viswanath captioned one photo of himself and Moorthy at the Grand Canyon:
"A lot of us including yours truly is a fan of daredevilry attempts of standing at the edge of cliffs — and skyscrapers," Moorthy wrote in the caption of a photo of herself at the edge of the Grand Canyon. "But did you know that wind gust can be FATAL??? Is our life just worth one photo?"
Another couple who hiked to Taft Point on the same day believes they captured photos of Moorthy just moments prior to her death — a pink-haired woman can be seen in the background of two of Sean Matteson's selfies.
"She was very close to the edge, but it looked like she was enjoying herself," Matteson tells AP. "She gave me the willies. There aren't any railings. I was not about to get that close to the edge. But she seemed comfortable. She didn't seem like she was in distress or anything."
The couple's death also came just days after an unexpected engagement photo from the same spot became a big news story. Photographer Matthew Dippel was near Taft Point on October 6th when he noticed a man proposing. He managed to capture this photo of the couple:
The photo went viral after Dippel appealed for public help in identifying the mystery couple. The mystery was solved within days.
A recent study by researchers in India found that there have been at least 259 selfie-related deaths around the world since 2011, and one of the leading causes of selfie death in the world is falling.
---
Update on 1/22/19: An autopsy has revealed that the couple was drunk at the time of their fall.