This is the Full Photoshop Coming to the iPad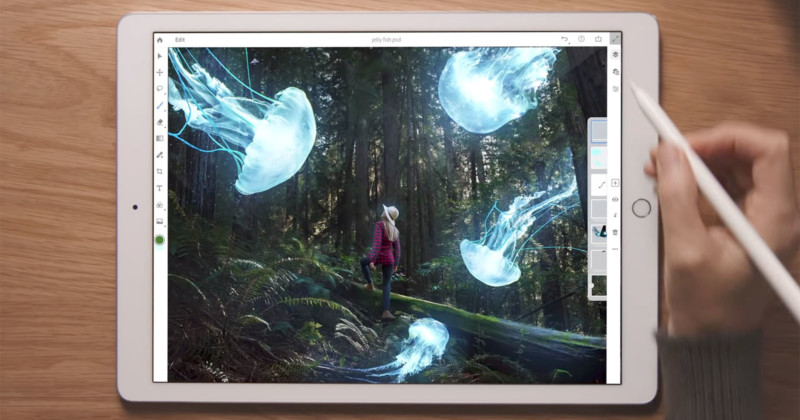 We learned earlier this year that Adobe is working on bringing a full version of Photoshop to the Apple iPad, and today the company officially announced it: "real" Photoshop power is coming to the popular tablet in 2019.

Adobe unveiled the next generation of Adobe Creative Cloud apps today and says the new updates mark "a major inflection for the future of creativity."
"We are unlocking a new level of creative potential by releasing more powerful tools, extending creativity beyond the desktop, and empowering creatives to thrive in new mediums like voice and augmented reality," Adobe says.
The new Adobe Photoshop CC for the iPad delivers "all the power, performance, and precision of Photoshop reimagined for a modern touch and gesture-based interface."
Adobe says the new direction began after two Photoshop engineers proposed the "crazy idea" of running real Photoshop code on the iPad. While porting the code, the engineers also worked to reimagine how the tried-and-true tools would be used on a tablet. A few months later, they succeeded in creating a "proof of life" of real Photoshop on the iPad, and the project moved forward.
Since the new iPad app actually shares code with the desktop version, there's no compromise on power, performance, and editing results.
PSD files are stored in the Adobe Cloud and can be seamlessly worked on across multiple devices, from your computer to your iPad, and the same advanced controls and tools will still be available at your fingertips. Any edits done on the iPad are seamlessly synced to your desktop.
"No exporting, importing, converting to different formats, or fixing whatever didn't properly convert," Adobe says. "It all just seamlessly works."
You'll be able to view layers and key tools in a new way that's optimized for a touchscreen. You'll also be able to do selections, masking, filters, adjustments, and more.
"We're completely rethinking the user experience for a modern touch device," Adobe says. "You'll find it familiar, but also adapted in smart ways for the device. We've designed Photoshop on iPad with natural touch gestures in mind to speed up workflows."
The Verge published this exclusive 6-minute preview of the app:
Full Photoshop on the iPad will be available in 2019, Adobe says, though the exact launch date hasn't been announced — if you're a paying Adobe Creative Cloud subscriber, you'll be able to use the iPad app as soon as it's out as part of your membership. A smaller set of core features will be released in version 1.0 — to get "the 1.0 version to you quickly," Adobe says — and the rest of desktop Photoshop's features will be added over time.
No word yet on if the same app will be released for Android.