Kodak's New Digitizing Box is a Simple Way to Bulk Digitize Film and Prints
Kodak has announced a new service called the Kodak Digitizing Box. It's designed to help people digitize large collections of old family memories with minimal hassle.

"The KODAK Digitizing Box brings a modern version of Kodak's yellow envelope back to customer door steps and aims to make the daunting task of digitizing aging media easy," Kodak says.
To get started, a customer requests one of four box sizes: 3, 10, 20, and 40 piece boxes.
Each piece can be a film roll, an audio tape, or a set of 25 photos. A wide range of media formats can be converted.
Once the box arrives, the customer places all the old photos and analog memories they'd like converted inside the box.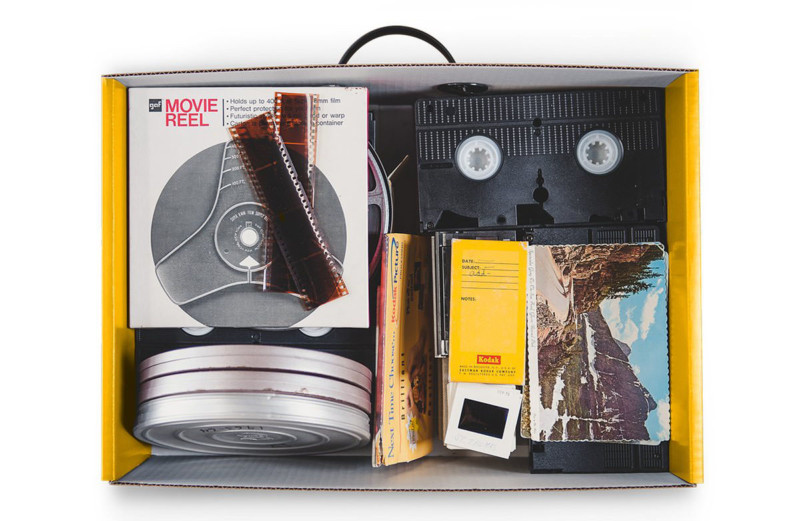 The pre-paid, pre-addressed box is then shipped back to the service.
After every item in the box is professionally digitized over about 5 to 6 weeks, the customer is then sent DVDs, a USB drive, or digital downloads of the files (along with the original items that were sent).
To give customers peace of mind, the box is tracked at every step of the process and 12 email updates are provided along the way.
Kodak Digitizing Box is actually a rebranded version of an existing service called Legacybox, except there are significantly lower prices. While Legacybox charges $88 for a 3 piece box and $1,100 for a 40 piece box, Kodak Digitizing Box is currently priced at $60 for a 3 piece and $560 for a 40 piece.
To learn more or get started with your own box, check out the Kodak Digitizing Box website.
(via Kodak Digitizing Box via Photography Blog)