From Lighting Test to Album Cover: The Tale of a Photo in the Social Media Age
As a photographer in 2018, I can't help but think of my photos as drops in an ocean of imagery. Here are a few quick stats: There are over 60 million photos uploaded to Instagram every day (not to mention Instagram stories). Then there are the photos posted to Snapchat, Twitter, Facebook (some people still use it, right?), blogs, etc, etc.

Then you have the printed image, with over 1,300 daily newspapers and 7,000 magazines currently in publication, in the U.S. alone. Then you've got ads, with the average person seeing more than 5,000 images a day. We are steeped (if not drowning) in images.
All that to say I gave it little thought when I posted this photo to my modest blog in 2015: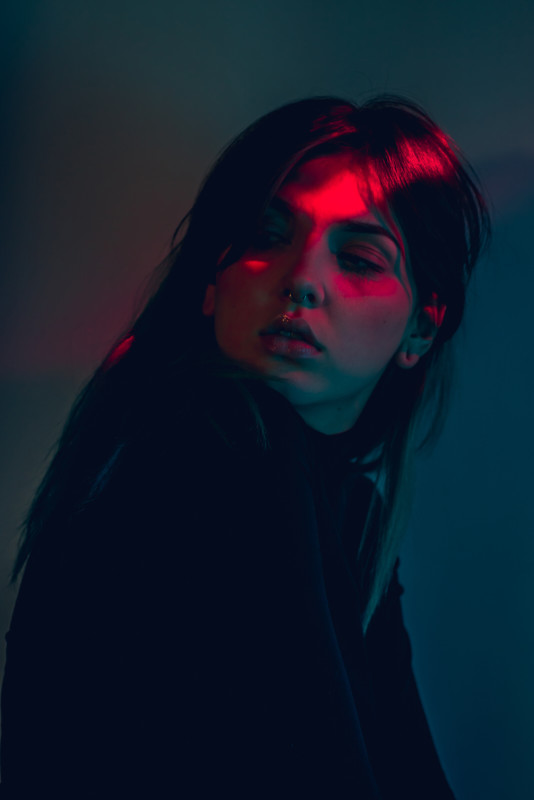 The photo was the result of 3-4 different lighting experiments I conducted in my basement studio that morning.
I had been experimenting with firing red and cyan-gelled flashes through a white bed sheet with a slit cut into it, in order to get a large soft light source with a strip of hard light. Though I was happy enough with the image, it was still just an experiment, and wasn't quite there yet, technically speaking.
Needless to say, I found it a bit surprising when an artist tagged me in their painted rendition of my photo several months later, and again several weeks later by someone else. And then again. And again.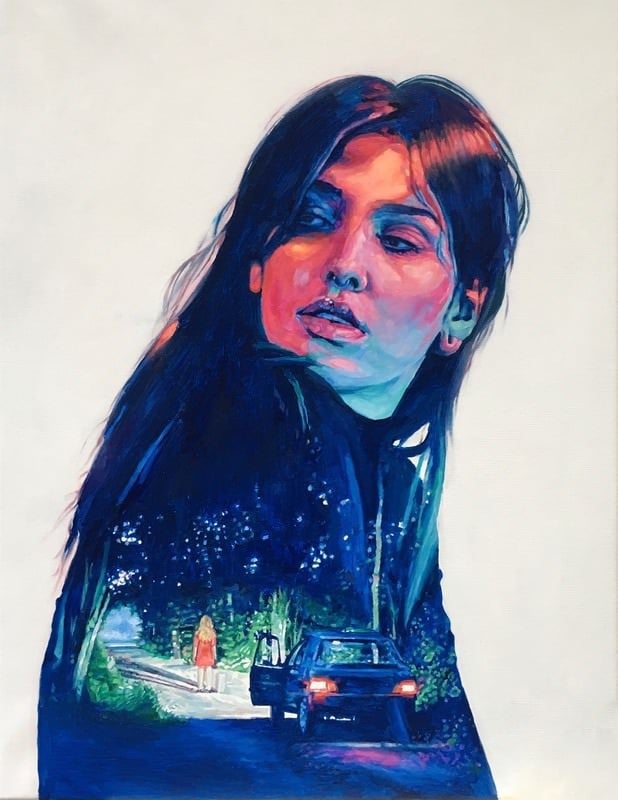 To date, I have found close to ten iterations of this photo, rendered both digitally and in pigment. I saw these versions because the artist had tagged me in their post or sent it to me directly. However, when I came across my original photo, which someone had posted to Pinterest, I clicked on the "more like this" button and found even more interpretations of the shot.
It's crazy to think about an algorithm in a social media platform as being as important to a photographer as an agent, but it's kinda true. A photo agent's job, in part, is to put our images in front of clients looking to hire photographers or buy art — essentially what Pinterest had done for me.
Aside from these inspired artist renderings, my photo was also attracting the interest of potential clients. Last year Devialet (a high-end French speaker company) emailed me about licensing the photo for their product packaging (we ultimately couldn't reach an agreement on the amount of the fee).
One of the latest renditions of the photo, which had been accented by the addition of an illustrated light loop, was done by an unknown artist and posted to Pinterest.
Thanks to the site's powerful search engine, this version of my photo popped up when a record label was researching possible images to license for one of their artists' upcoming EPs. Since I not only had no idea who had modified my photo, but they had also been working with a low-res file, the light illustration had to be recreated by a graphic designer.
In a million years I would've never guessed that this image would get the traction that it did — nor would I have selected this particular "horse" to bet on. It had only been an experiment. Moody, albeit imperfect. Yet for reasons beyond my understanding, it managed to float to the surface of the photographic sea and get caught in the right net.
Though I would place this particular anecdote under the "got lucky" heading, it falls under a broader mantra that I operate under, which is time+repetition= success. Put your head down and create. If I'm not shooting for a client, I am shooting for myself. After all, image-making is why I got into this field. If you do it long enough, people will start to take notice.
---
P.S. The lighting technique mentioned above is described in my book, Studio Anywhere 2: A Photographer's Guide to Shaping Hard Light. My latest book, Chroma: A Photographer's Guide to Lighting with Color, delves into the many uses of color and color theory. I also have video tutorials that detail the techniques covered in each book. Finally, feel free to follow me on Instagram.
---
About the author: Nick Fancher is a Columbus, Ohio-based portrait and commerce photographer. You can also find more of his work and writing on his website and Instagram. His popular books can be purchased on Amazon.