Distracted Boyfriend Photo Meme is Sexist, Sweden's Ad Regulator Rules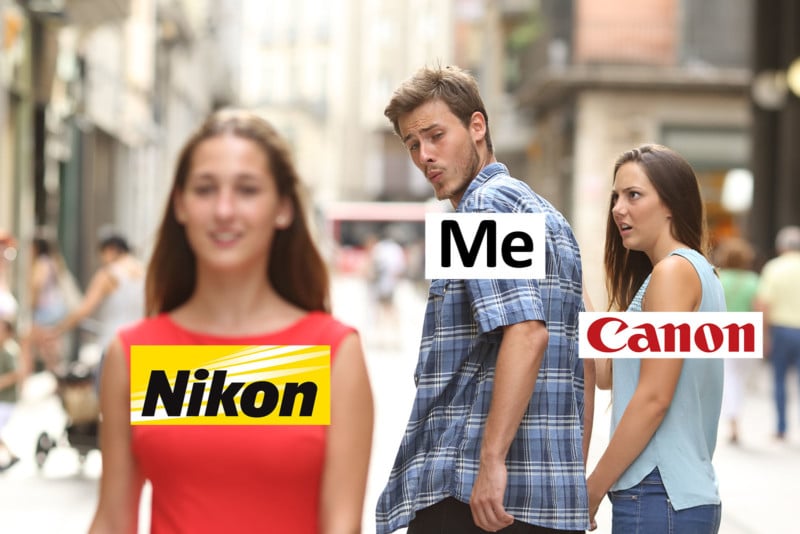 The widely-shared Distracted Boyfriend photo meme has been ruled to be sexist by Sweden's advertising regulator.

The photo was originally captured by Barcelona-based photographer Antonio Guillem and sold as a stock photo titled, "Man Looking at Other Woman." In 2017, the Internet began remixing the image into humorous memes, and Guillem's photo took on a life of its own.
Although its popularity has waned since its peak in 2017, the Swedish Internet services provider Bahnhof used the meme photo for a job recruitment ad posted to Facebook in April.
In the ad, the boyfriend is labeled "You," his girlfriend is "Your current workplace," and the other woman is "Bahnhof."
The ad quickly attracted hundreds of comments, including from women who complained about it being sexist. The ad was then reported to Reklamombudsmannen (RO), Sweden's domestic advertising watchdog, which concluded that it was indeed sexist.
"The advertisement objectifies women," RO writes in its unanimous decision. "It presents women as interchangeable items and suggests only their appearance is interesting […] It also shows degrading stereotypical gender roles of both men and women and gives the impression men can change female partners as they change jobs.
"According to the committee, the objectification is reinforced by the fact that women are designated as workplace representatives while the man, as the recipient of the advertisement, is being produced as an individual."
While RO has the responsibility of analyzing and criticizing advertisements, it lacks the power to sanction advertisers, as Sweden's ad industry is self-regulating.
Bahnhof's goal was to "show that Bahnhof is an attractive employer and that those who have a slightly less good employer could be interested in us", the company said in a statement provided to The Local. "Everyone who follows the internet and meme culture knows how the meme is used and interpreted. [Whether someone is a] man, woman or neutral gender is often irrelevant in this context.
"We are an internet company and are conversant in this, as are those who would look for a job with us, so we turned to that target group. If we should be punished for anything, it's for using an old and tired meme."
(via Reklamombudsmannen via The Guardian)