Ride Along: Photographing a Protest in Los Angeles
My name is Jayrol San Jose, and I am a photojournalist based in Los Angeles. I'm a professional photographer, but being new to journalism, I've found that covering protests is a great place to start. I've covered around 25 protests this year in the Los Angeles area. This one, in particular, was put on by Occupy I.C.E. Los Angeles.

Warning: The video above contains some strong language.
The group has been camping outside of the LA detention center since August 3, 2018, in opposition of U.S. Immigration and Customs Enforcement (AK I.C.E.). This time I used to a body cam to bring you all along for the ride.
It was a very hot L.A. day, especially downtown. I biked to the metro to get to the detention center. I wasn't sure what to expect, LA is pretty tame in terms of any action that goes on during their protests so I thought it would just be a typical day on the job.
It started with Occupy I.C.E. speaking about the creation of I.C.E. after 9/11. The real fun started only moments after the speeches were done when a van exited the detention center. The protesters had decided they were going to blockade any cars trying to enter or exit the detention center that day with their bodies.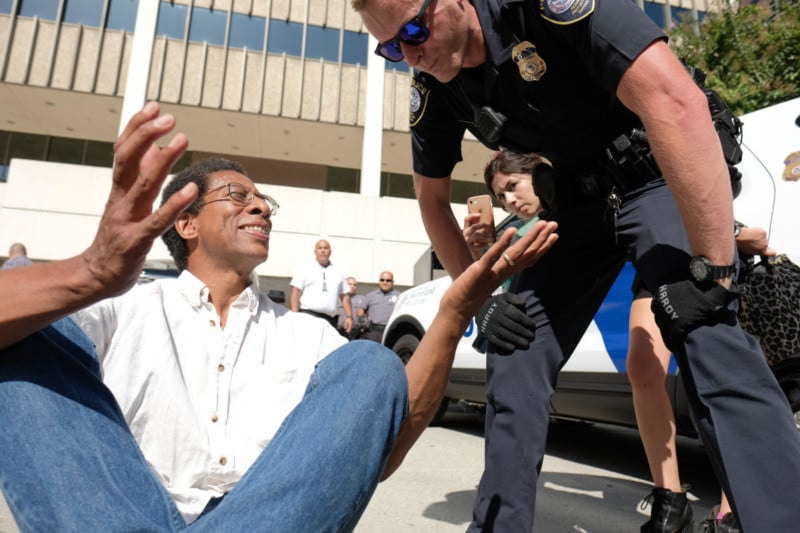 As soon as this happened, DHS officers who were watching the protest decided to step in. The protesters peacefully refused to comply with their demands and the DHS officers then attempted to physically move the protesters out of the way and start making arrests.
It's always exhilarating when people start yelling and officers start to get involved. It feels like things are about to get out of hand, and though it rarely does, it gives you that adrenaline rush we look for as photojournalists. It's fun to get right in the crowd where the action is.
I shot with a 16mm lens on my Fujifilm X-T2 for most of the day; it's my favorite focal length, and the Fuji 16mm f/1.6 is my favorite lens. It brings me really close to the action and gives me a nice wide perspective of the other things going on.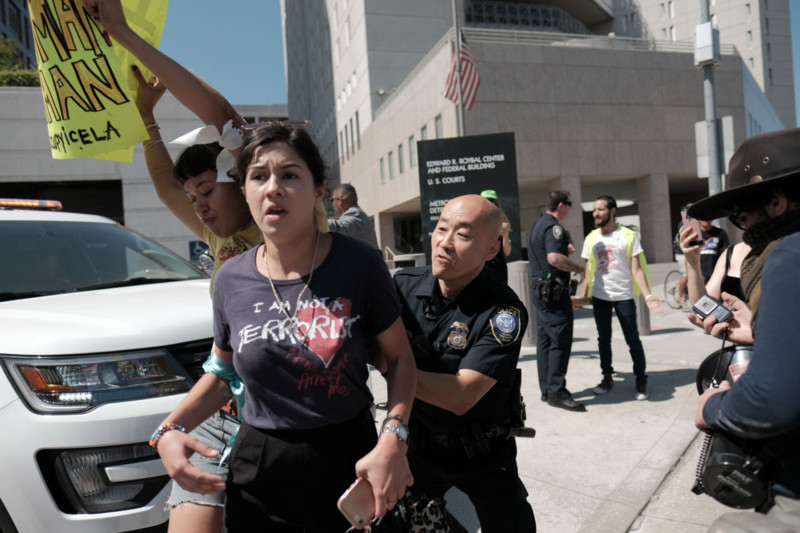 In 5 hours, we witnessed 2 dozen LAPD officers called on to the scene, four arrests, a DHS officer who refused to give out his badge number, another DHS officer shooting video with a pop-up flash, and even a man who got out of his car to give the protesters a Nazi salute.
---
About the author: Jayrol San Jose is a photojournalist based in Los Angeles. The opinions expressed in this article are solely those of the author. You can find more of his work on his website and Instagram.