A Hands-On Review of the Fujifilm X-T3 (with Sample 4K Footage)
Hot on the heels of Canon's EOS R announcement, Fujifilm has just announced their new camera, the X-T3. It's the first APS-C sensor size mirrorless camera that records in 10-bit internally. We were lucky enough to get our hands on a production model to check its video capabilities.

Editor's note: This is a guest article from freelance documentary cameraman Johnnie Behiri, syndicated with permission from cinema5D.
If you are short of time, let me start with my conclusion: the X-T3 is the best camera Fujifilm has ever presented when it comes to video performance. Interested in finding out more?
A Bit of History
If you've been following the development of Fujifilm's cameras, I'm sure you have noticed that something very interesting is happening. From the moment the company noticed that shooting video with large sensor mirrorless cameras is much in demand, it responded by fulfilling that demand and then it hasn't stopped refining their products.
The X-T2 was its first camera to include 4K recording and F-Log picture profile (externally first and then internally via a firmware update). Then, the X-H1 came and brought even more possibilities for the creative video shooter: in-body stabilization, internal F-Log recording, and the ETERNA film simulation picture profile, just to name a few.
What's New in the X-T3
Now, there is a new kid in the block, one that – in my humble opinion – surpasses both the X-T2 and X-H1 in terms of video performance. Fujifilm has listened carefully to feedback given by filmmakers and created its best ever video-orientated mirrorless camera. Including a completely new sensor and the processor behind it has led to some fundamental progress.
So what is there to be so excited about? Here is a complete list of enhancements – some to be found for the first time inside any of Fujifilm's cameras:
(Besides the H264 codec), the camera is now equipped with a new H265 codec (When a manufacturer decides on implementing 10-Bit internal recording and yet at the same time stick to a modestly priced recording media, H265 is the obvious choice)
A choice between two different types of compressions. Long GOP/ALL Inter
4K, 10-Bit, ALL Intra, 4:2:0, 400Mbps internal recording (Up to 30p)
4K/60p (in H264 mode), up to 200Mbps
External 4:2:2 10-Bit recording via HDMI
Excellent autofocus system (Working well in lowlight conditions and slow-motion too). In addition, "Eye detection/Face detection" focusing method is functioning in video mode too
Zebra pattern
Simultaneous support for 4K/60P 4:2:2 10-Bit HDMI output and 4K/60P 4:2:0 10-Bit internal SD card recording
The headphone jack is now built into the camera body itself, no need to purchase the camera grip for that purpose
Good Rolling Shutter performance. We have measured 9ms in 4K/25p recording mode, placing the camera above Fujifilm's own X-T2
Good Dynamic Range. With 11.2 stops of DR, this little camera is doing rather well against its competitors.
High Frame Rate Recording. The camera can do up to 120 frames per second in Full HD mode. Due to some internal changes made by Fujifilm, the result when shooting slow-motion is better than what can be found in the X-T2 or X-H1. Mind you that the only downside when comparing that feature to the other two cameras is the greater crop factor (1.29X vs 1.17X ).
Improved low light capabilities. Fujifilm worked their magic on that front too and one can shoot comfortably up to ISO 8000. In some conditions, ISO 12,800 can be used too.
Full HD now supports double the data rate of the X-T2 and X-H1 (200Mbps vs 100Mbps)
No sensor crop factor when shooting in 4K mode up to 30p. When Shooting 4K/50/60p the crop factor is 1.18X
New and improved noise reduction processing
Future firmware update will bring HLG HDR picture profile (BT2100)
New EVF diopter lock. Small thing but very useful…
Not new but worth mentioning, as so many other manufacturers are struggling to get it right: In video mode, all the related photo functions in the menu are greyed out, making it easy to concentrate on the video menu items
Front tally light (A useful feature that can be found with the X-H1. Nice to see that it migrated to the X-T3).
What Could Be Improved
While there is an overall improvement in regards to the camera specifications and performance, it suffers from the absence of the following:
No internal body stabilization system. Obviously, a smaller camera body has to accommodate a smaller IBIS mechanism which apparently was not available at the time of releasing the camera. (If I may guess, some extra functionality is needed to be reserved for the future X-H family of cameras).
As with all other Fujifilm cameras in this category, the LCD screen cannot be swiveled. (Tilted only). If you think that this type of feature should be found at lower end cameras only, think twice. This is the age of mobility and "selfies". With such a great autofocus system, a camera with a swiveling LCD screen could have appealed to a greater number of users.
Camera start time (In video mode) is too slow
Some of the menu quirks that were found in the X-T2 and X-H1 were inherited by the new camera. For example, by pressing an assigned button to digitally "zoom in" for easier focusing confirmation, when starting to record, the enlarged portion of the picture will NOT "jump" back into the actual recording perspective. The result – especially when shooting "documentary style" – can be disturbing…
In long recording sessions, be prepared to have many short video clips. With such a high data rate, ALL intra, 10-Bit recording, a single video file will reach its 4GB FAT32 limit quickly
20 minutes recording time limit when shooting in 4K/50-60p but the good news is when shooting 4K/24/25/30p the actual recording time has been increased to 29:59 min WITHOUT the grip, as opposed to only 10 mins on the X-T2″
In the Field
By now I can say that I've collected enough X-T3 hours in order to share that this is a well-thought through camera that has one major limitation, the exclusion of an internal body stabilization system. Once you work with such a feature you actually don't want to look back. Other than that, this is a very easy camera to work with. Please allow me to highlight some of my favorite features:
In manual focus mode, the ability to tap on the screen and instantly get an accurate focus
The autofocus is simply incredible. It is fast and accurate. I've challenged it with fast moving airplanes and 95% of the time it worked very well.
I love the ETERNA film simulation picture profile. If you need to deliver nice looking results fast, don't hesitate using this profile. The only thing that prevented me from using it during the video above, is its reduced Dynamic Range. (We've measured 9 stops of DR vs. 11.2 stops when using F-Log). On such a cloudy day, I needed every extra stop so the decision was easy….
Sound quality. In the above video, I did not use the internal audio recording option as my system was wireless and suffered from some interferences, but overall, the sound quality coming out of this little camera is impressive.
There are enough buttons to assign different purposes to. On top, the LCD screen can serve as 4 "additional buttons". Just assign a movement to it (Up, down, left, right) and there you go with additional functionality.
The current slow-motion option is truly nice. (1080 up to 120fps). I was surprised to see how well it was upscaling into my 4K timeline.
The native camera ISO is 640. In case you are stuck outdoor with no ND filter around, there is a way to lower the ISO all the way down to 160 (at the expense of DR)
I'm sure that many of you are wondering if I had any overheating issues. Well, during my work I did not encounter such a problem, but that said, only time can tell if this issue actually exists.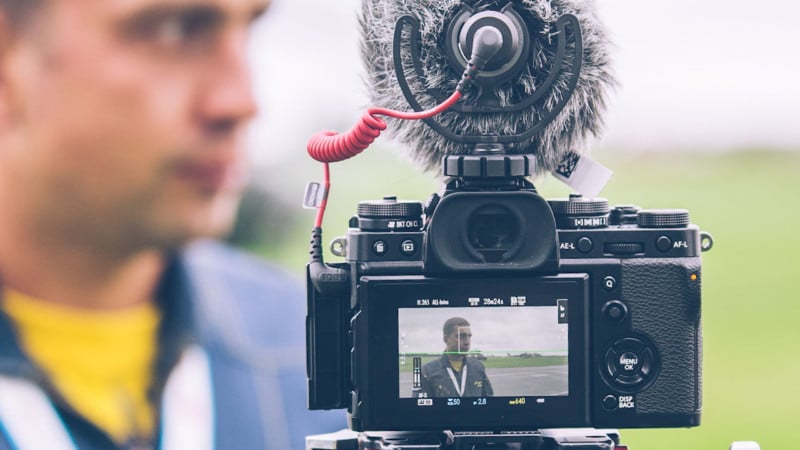 Conclusion
It is no secret that Fujifilm is heavily invested in making affordable cinema lenses for E (Sony) and X (Fujifilm) mounts (MK and MKX series of lenses). In my opinion, this is guaranteeing us that Fujifilm will not stop here.
Furthermore, by introducing the first ever APS-C sensor size camera that can shoot 10-bit video internally, Fujifilm is positioning itself at the forefront and becoming a serious candidate to consider when thinking of shooting video on a mirrorless camera. It is one of those companies that have no higher video market share to protect and as such, they are free to move forward as fast as their R&D capabilities and budget allow.
This particular camera should get some love and attention from the filmmaker community. For the users who are heavily invested in lenses from other brands, I can only hope that some sort of a program can be established by Fujifilm or alternatively, some other solution can be found in order to make people actually try it.
We hear a lot about the love for a particular "color science". This camera can easily produce "analog-looking" images and furthermore, if you take photos with it, in my opinion, it is the one that looks less digital.
About the Sample Video Above
The shooting conditions at Radom airshow were FAR from being perfect. Rain, clouds and lots of noise made it challenging to execute, but all in all the camera performed well. On a few occasions, the camera froze and I had to turn it off and on again in order to revive it, but I could not isolate the problem. (It happened during shooting in different frame rates and resolutions).
I want to believe that using a non-final firmware version was the issue. (It will be useful to hear about that from other users, in case they face a similar problem after getting the camera with the final firmware version installed).
Camera Settings
F-Log picture profile. Sharpness and Noise Reduction turned down to -4, Mainly H265, ALL Intra 400Mbps DCI 4K/25p. (At times I've used H264 codec, 4K50p, 1080/100p). Grading is a very subjective thing… I chose FilmConvert for this job. (FJ Prov 100). Some shots were stabilized in post. You can download an ungraded version of this video for you to explore and grade here. Edited on Adobe Premiere CC latest edition.
Lenses/Filter Used
A special thanks to the entire Baltic Bees team (Pilots, technicians, Arturs and Laura). Without their support, it wouldn't have been possible to complete this project. By the way, if you are a pilot and looking to join an aerobatic team, drop me a line and I'll connect you to the guys.
---
About the author: Johnnie Behiri is a freelance documentary cameraman/editor/producer/director working for many respected clients and broadcasters. The opinions expressed in this article are solely those of the author. Behiri is also a co-owner of cinema5D. This article was also published here.