Fujifilm Unveils the X-T3 with a 26MP X-Trans Sensor and 4K/60p Video
Fujifilm has announced the new X-T3, a fourth-generation APS-C mirrorless camera that packs impressive photo and video capabilities.

Inside the sealed magnesium-alloy camera is a new back-illuminated 26.1-megapixel X-Trans CMOS 4 sensor backed by an X-Processor 4 image processor.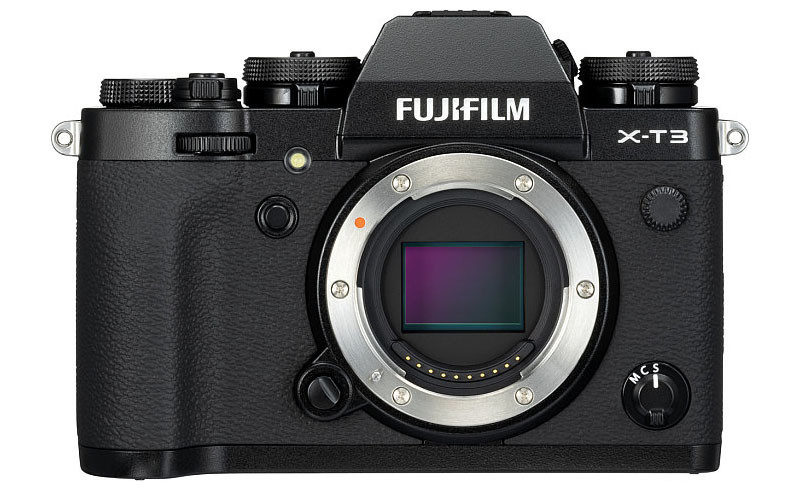 The sensor leaves out an optical low-pass filter (used to combat moiré patterns) for optimal sharpness, instead relying on its X-Trans color filter array to control moiré and false colors.
This new sensor is the first APS-C back-illuminated sensor that features phase detection pixels across the surface. The latest design expands the standard ISO range to ISO 160, which was previously only available via extended ISO. Photographers can take advantage of the new lower native ISO for shooting at large apertures in bright environments. The native ISO range of 160-12800 can be expanded to 80-51200.
The new X-Processor 4 boasts a Quad Core CPU that has a processing speed that's 3 times faster than previous X Series cameras. This processing power allows the camera to autofocus and meter scenes 1.5 times more frequently than the X-T2, allowing the X-T3 to better track fast and unpredictably moving subjects. This is particularly helpful when using the camera's continuous shooting speed of 11fps with the mechanical shutter (the camera can shoot blackout-free at 30fps with the electronic shutter and 1.25x crop).
Startup time is the same 0.3 seconds, and the shutter lag time is just 0.045 seconds (down from 0.05s).
Having more processing power also helps in the area of image processing and applying effects (such as the 16 film simulation modes). The Color Chrome Effect, previously only available in Fujifilm's GFX 50S medium format mirrorless camera, can now be applied to X-T3 photos, and not just in single shot mode but also during continuous shooting.
"The Fujifilm X-T3 offers the new 'monochrome adjustment' function to faithfully reproduce warm and cool tones which were conventionally achieved using specific photographic papers and developers," Fujifilm says. "This function, available in the standard 'Monochrome' as well as the 'ACROS' mode, provide smooth halftones, deep blacks, and beautiful textures to broaden the scope of monochrome expression."
Autofocus has been improved in multiple ways. The phase detection AF area now covers the entire frame with 2.16 million phase detection pixels, and the low-light phase detection limit has been lowered by two stops from -1EV to -3EV, greatly improving the camera's ability to autofocus in dimly lit settings.
Face Detection AF has improved performance, and Eye Detection AF can now function in AF-C mode to aid in focus tracking. Both AF features can also be used during video recording to keep focus locked onto subjects' faces.
The back of the X-T3 features a 0.5-inch, 3.69-million-dot OLED electronic viewfinder (EVF) with a magnification ratio of 0.75x. The display time lag is just 0.005 and a refresh rate of 100fps allows photographers to clearly see moving subjects and panned scenes.
Under the EVF is a 3.2-inch, 1.04-million-dot tilting (3 directions) touchscreen LCD with higher contrast and wider viewing angles than the X-T2.
Other physical design features include a lockable EVF diopter adjustment, larger dials on the top and rear panels, and a more pronounced press function of the command dials on the front and rear.
For sports photographers, Fujifilm has created a new sports finder mode that comes with a pre-shoot function — the camera can start shooting as soon as the shutter button is half-pressed.
On the video side of things, the X-T3 is the first mirrorless camera that can do internal SD card 4K/60p 4:2:0 10bit recording and the first APS-C (or larger) mirrorless camera that can capture 4K/60P 4:2:2 10bit HDMI output (simultaneously). Video features include H.264/MPEG-4 AVC and H.265/HEVC formats, a 17ms sensor read speed that reduces rolling shutter distortion, 12 stops of dynamic range, 4K inter-frame noise reduction with a new algorithm, and a minimum F-Log sensitivity of ISO 640 (down from ISO 800).
Other specs and features of the X-T3 include mic and headphone ports, dual memory card slots, Wi-Fi and Bluetooth connectivity, timelapse shooting, a micro-HDMI port, a USB 3.1 port, and USB charging.
Here are some official sample photos captured with the X-T3:
Here's a 2-minute promo video introducing the X-T3:
The new Fujifilm X-T3 will be available starting on September 20th in black and silver with a price tag of $1,500 for the body only or $1,900 when bundled with an XF 18-55mm kit lens.