Flickr Revamps Galleries with a Fresh Look and New Tools
Flickr has announced a major new update to its photo galleries that brings a redesign and new tools for helping you "tell your visual stories with new tools to facilitate your creativity."

"Flickr's galleries have long been one of the tools available to our community for visual storytelling, though they have gotten dusty over time as the rest of the site progresses," Flickr says.
The new galleries design helps showcase photos and videos through a much larger layout that's geared toward modern screen sizes and resolutions.
Flickr, now owned by SmugMug, is also increasing the maximum number of photos in galleries tenfold from 50 to 500. There's a new model that helps you work with large numbers of photos by batch adding them directly from your Faves.
"By explicitly connecting Faves to gallery creation, we're making your workflow simpler when you're curating your favorite works from other Flickr members," Flickr says.
The galleries list page has been redesigned to show a triptych of photos (the cover photo and the two most recently added images). Each card also displays some gallery metadata.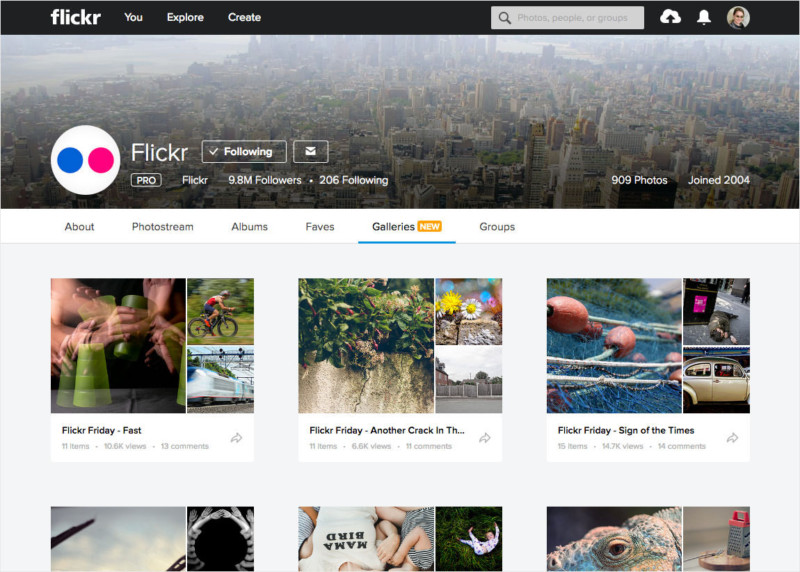 Aside from the redesign and new features, most of what galleries offered before is still sticking around.
"You can update your cover photo at any time by selecting an image from the gallery," Flickr says. "You can edit your Title and Description at any time. You can reorder the images in your galleries as often as you like. You can share galleries outside of Flickr with an intuitive share sheet that will improve the presentation of your galleries on other social networks."
Head on over to your Flickr galleries page if you'd like to check out the new system and get started in using it.