Cactus RQ250 is a Tiny 250Ws Battery-Powered TTL Wireless Monolight
The Hong Kong-based camera equipment company Cactus has launched the new RQ250, a 250Ws, Li-ion-powered TTL wireless monolight that is tiny enough to fit in the palm of your hand.

The flash has a power output equal to 3.5 ordinary speedlights, and it offers TTL and HSS support for 8 major camera brands: Canon, Fujifilm, Nikon, Olympus, Panasonic, Pentax, Sigma, and Sony.
"With its frosted diffuser disc and uni-body reflector, the RQ250 is ready to be used straight away," Cactus says. "Designed to reduce the undesirable hot spot effect, the round head diffusion disc creates a pleasing light quality even when used without modifiers."
Removing the reflector (63-degree diagonal, equivalent to 35mm full-frame zoom) turns the RQ250 into a bare-bulb flash.
On the front of the Cactus RQ250 is a magnetic flash head and bayonet mount, allowing you to quickly swap light modifiers in and out in a snap — literally.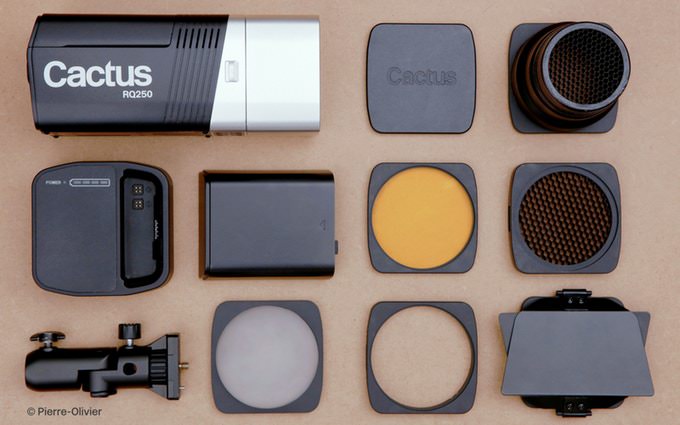 The hand grip on the monolight doubles as a special swivel that allows the flash tube to be perfectly aligned with the center of an umbrella.
The 4-cell battery pack inside the RQ250 recycles in 1.1 seconds and can fire off 520 full power flashes on a single charge. Power adjustments can be as fine as 0.1EV and there's a 10-stop power range from 1/512 to 1/1. A color-priority mode provides consistent color temperature across that entire range.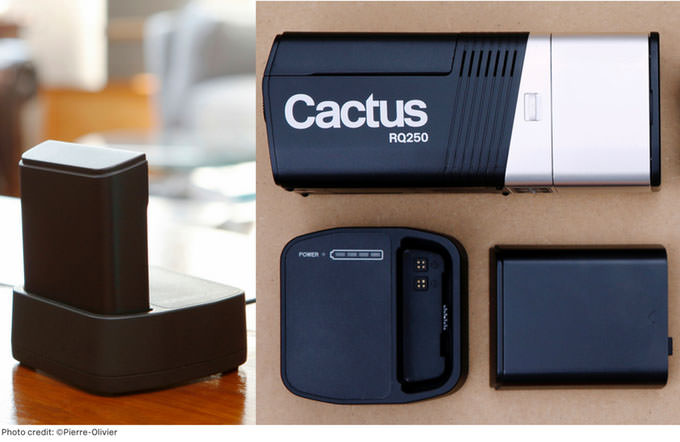 Physically, the RQ250 measures 7.6×3.15×3.15in (194x80x80mm) and weighs 2.72lbs (1.235kg). It can fit into most camera bags and is about as long as a standard speedlight.
Other specs and features include a 20W modeling LED, 16 channels and 4 groups, Cactus bayonet bracket (there will be a Bowens S-type mount adapter), manual power control, and thermal resilience (an aluminum flash reflector head and a cooling fan).
Cactus is turning to Kickstarter to crowdfund production of the RQ250. The campaign has a goal of around $100,000, and a pledge of about $524 will earn you one of the first RQ250 units if/when the project successfully delivers on its promises (Cactus is hoping to ship by October 2018). The standard retail price will be $700.