Photographer Cries Foul Over Gorillaz Music Video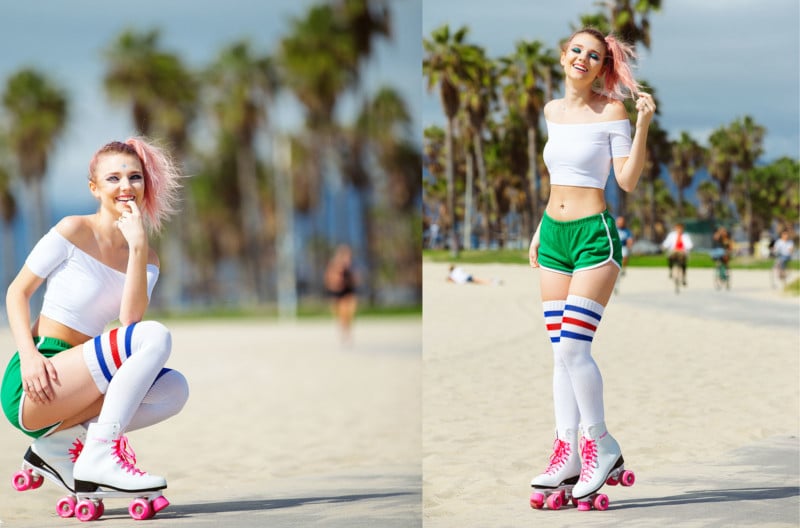 Back in 2016, photographer Jairo Melara of the Los Angeles-based photography company Fifth District did a photo shoot of a model wearing roller skates at Venice Beach. Melara says he was surprised earlier this year when the band Gorillaz released its music video for the song "Humility" that features a strangely similar look and feel.

Here's the 3.5-minute music video directed by Jamie Hewlett:
In the video, virtual band member 2D is seen roller skating with a nearly identical outfit and in the same location.
Since being uploaded on May 31st, the music video has already received over 42 million views on YouTube alone.
"I know this sounds dumb/crazy, but the similarities are far too many," Melara tells PetaPixel. "Both were shot in Venice Beach. I shot and released my shoot in 2016. They released their video this year [2018]. The images were geotagged when posted to social media. I'm sure that's how they found them."
"I'm a huge Gorillaz fan," Melara continues. "I have been since I was in high school. I'm subscribed to their YouTube channel and get notifications when new content is uploaded. I saw the video […] the day it came out. I was in shock. I had to go look at the photos I'd taken just to make sure. […]"
"The only thing different is the color of the wheels on the skates."
Melara says he simply wishes he had been asked if his content did indeed inspire looks in the video.
"I'm not seeking anything from them," Melara says. "I just think it'd be cool for people to ask if they can use photographer's content as inspiration."
---
Editor's note: We've reached out to Eleven Mgmt, which manages both Gorillaz and Jamie Hewlett, with a request for comment but have yet to hear back. We'll update this post if we do.