Shooting Vintage Car Lifestyle Photos for Self-Promotion
I do a lot of automotive lifestyle personal projects that I use for self-promotion and am constantly on the hunt for new ideas. A friend of mine recently turned me on to Turo, an app for peer-to-peer car rentals. In the past, you had to hire a picture vehicle company to get vintage cars for shoots, and those can be really pricey and are severely limited in terms of how far you can drive the car.

I found this 1985 Chrysler LeBaron on the app and immediately fell in love. I did a casting call through LAcasting.com, not knowing exactly what direction I was going to take the shoot. When Sein Gay, the model/actor in the shots, submitted his headshot, I knew I had a winner.
His hair was perfectly retro, and his casting note stated he was going in for a lot of period roles. Baz Luhrmann's Romeo and Juliet mixed with a little bit of Pulp Fiction. Done.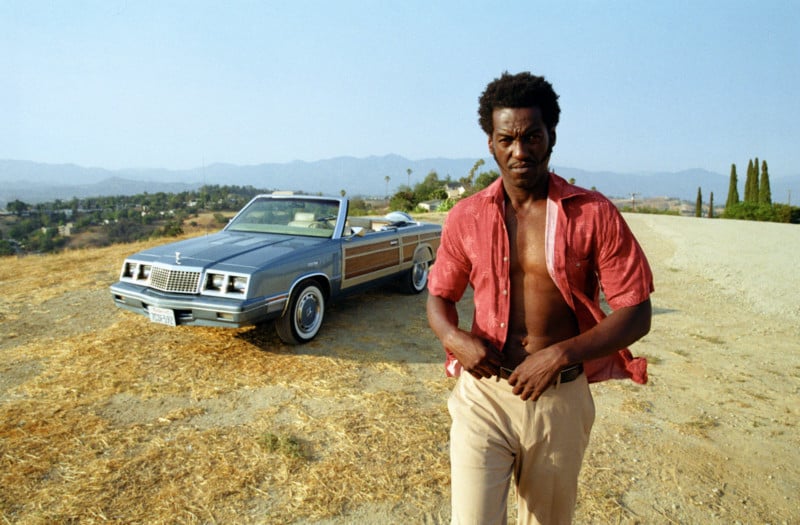 I usually do location scouting before the shoot day, so I have time to prep and do a shotlist, but this week was pretty busy, so I had to scout the morning of the shoot. I spent 3 hours racing around East LA, discovering some really cool, weird off-road and shockingly rural areas with direct views of downtown LA. I also prioritized drab/warm buildings and fields. I love this stuff. I wanted the blue in the car to pop off the orange/yellow backgrounds.
About 30 minutes before Sein arrived at my Burbank house, I ran to a thrift store and got some options together. I got a few pairs of khakis and some flowered shirts. Perfectly sh**ty. The loafers completed the look.
I dressed Sein in all of the options and settled on the red button-up, unbuttoned of course. The red would stand out from the blue car and warm backgrounds. We both jumped in the convertible and drove to East LA, receiving a lot of yells and cheers on the freeway.
Sein drove so I could get driving shots. Luckily he was a good sport and seemed to have fun. I went through my earlier location scout on my phone, favoriting my selects. I love scouting with the iPhone because you can easily route yourself back to where a photo was taken.
I pretty much knew the shots I wanted in each little location, so we moved pretty quickly, spending about 5-10 minutes on each setup. Sein was pretty trusting and honestly made my job really easy. Once I had the elements of the car, talent, wardrobe, and locations in place, the actual shooting was super fun and effortless.
I popped my GoPro Hero 6 on top of my Canon 1V 35mm film body and shot the entire thing with my trusty Canon 24-70 f/2.8 II. I've been loving the Hero 6 for BTS videos — the stabilization is awesome, the colors are awesome, and it's 4k. I love how it has a single-press function, where you just hit the record button once, and the camera turns on and starts recording automatically. One more press and it stops recording and shuts off. It's perfect for mindless BTS recording.
I shot everything with Kodak Gold 200. In my opinion, no other film comes close. It has the perfect mix of warm/saturated colors, nice, noticeable grain. Great skin tones. And it costs 1/3 of what Portra and Ektar cost. Kodak Gold for life.
Sein and I shot for about 3 hours, driving like madmen across East LA, and finishing up on this amazing view of downtown in Lincoln Heights. We both had a blast.
I ended up shooting 22 rolls of Kodak Gold. Shooting with the Canon 1V feels like I'm using my 5DS R, which is amazing, but at the cost of burning through film. In the end, though, it's worth it to me because it lets me be more free and fast than I would be with a slower, manual 35mm camera.
The next day I brought my film into a local lab. A day later, I picked up the uncut negs and low-res scans. I use Adobe Bridge to choose my favorites, and then scan those in with my Nikon Coolscan 5000 and roll feeder. Short of a drum scan, nothing comes close to the colors and grain detail of the Nikon scanner. Sure, I could get high-res Noritusu machine scans from the lab, but this is a labor of love for me, and the Nikon is just unbeatable.
Besides the usual digital rollout, the finals edits will be made into an 8-image folding promo card that my rep will send to automotive ad agencies.
---
About the author: Dave Hill is a photographer and filmmaker living in Los Angeles. He got his start shooting album covers for 50 Cent, Chris Brown, Soulja Boy, etc. This led to shooting national ad campaigns over the past decade. Recent clients include Fiat/Chrysler, Ford, Buick, Chevy, Toyota, Shaun White, Target. You can find more of his work on his website. and Twitter.