This Time-Lapse Shows a Massive Dust Storm Sweeping Across Arizona
The 2018 monsoon season has arrived in the American Southwest, and on July 9th, photographer Jesse Watson drove out into the desert to capture some time-lapse stills of an approaching storm. While out, he was met by the largest dust storm he had ever seen.

Watson managed to capture some breathtaking views of the approaching
haboob
, which he later turned into the beautiful 30-second video above.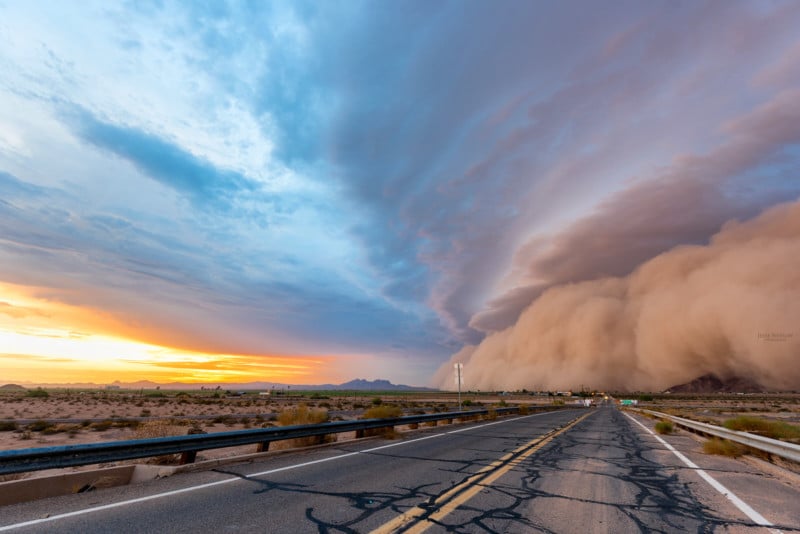 "I checked my radar late in the afternoon and saw that storms were blowing up and heading my from Gila Bend," Watson writes. "My girlfriend was cooking dinner, I ran into the kitchen and said let's go shoot, there's a haboob coming our way! So put the food on hold and jumped in my truck. Drove about an hour east of Yuma until we caught up with the massive wall of dust that was racing towards us.
"Once we were upon the haboob, I grabbed my cameras and tripods to roll timelapse until the dust hit us. Then I jumped in my truck and raced ahead of the haboob to repeat the process, leapfrogging all of the way back to Yuma, AZ."
In all, Watson captured 800 photos and drove 200 miles in the course of shooting the photos seen in the video. You can find more of his work on his Facebook, Instagram, and Twitter.
---
Image credits: Video and photos by Jesse Watson and used with permission