$20 Work Light vs $900 Studio Strobe for a Food Photo
How does a $20 work light from a hardware store compare to a $900 studio strobe when it comes to food photography? Photographer Skyler Burt of We Eat Together recently decided to find out. He pitted a HDX 500w halogen work light against a $900 Elinchrom Pro HD 500W monolight.

You can watch Burt's experiment and results in the 7-minute video above.
Downsides of the work light are its heat (it's not a light you'll want to shoot meltable foods with) and its color (you'll adjust to fix white balance). To correct the harshness of the light, Burt used a couple of sheets of parchment paper as a simple and cheap diffuser.
After shooting the same shot with both his thrifty lighting/camera setup and his professional one, Burt ended up with these two resulting photos (can you tell which is which?):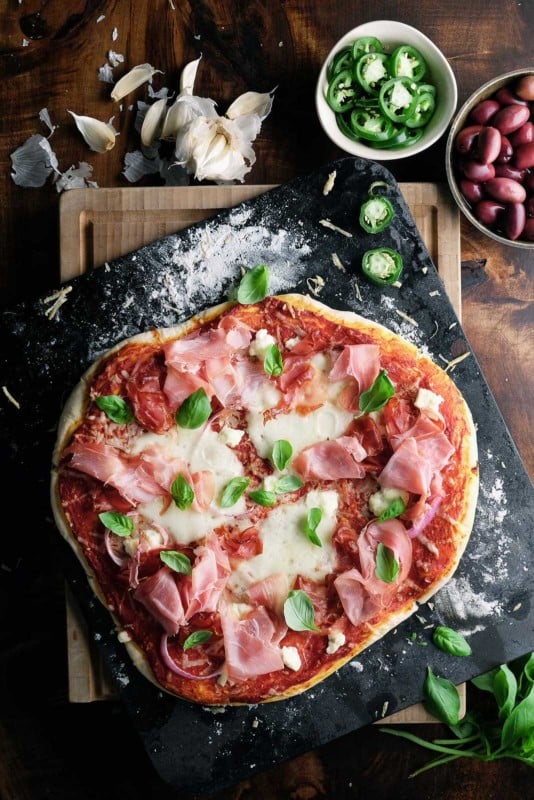 The first photo was shot with the pro light, a Canon 5DS, a 50mm f/1.2 lens while the second was shot with the work light, a Fujifilm X-E2, and an 18-55mm kit lens.
"To tell you the truth, I'm pretty surprised with the results I achieved," Burt writes on his blog. "The light has somewhat of a built-in reflector, that kept the light from bouncing around, producing some nice contrast in the image. [T]he white parchment paper helped tone down the tungsten-like color cast of the halogen bulb.
"When comparing the two images, I see that the light in the budget setup is slightly duller, less crisp with shorter highlights. I'm not convinced to sell all of my studio equipment, but I'm also more than satisfied to be able to recommend this as a viable option for those looking for cheaper alternative to studio strobes."
You can find more of Burt's work on his website and YouTube channel.
---
Image credits: Photographs by Skyler Burt and used with permission