Beware: Amazon Still Sells Counterfeit Memory Cards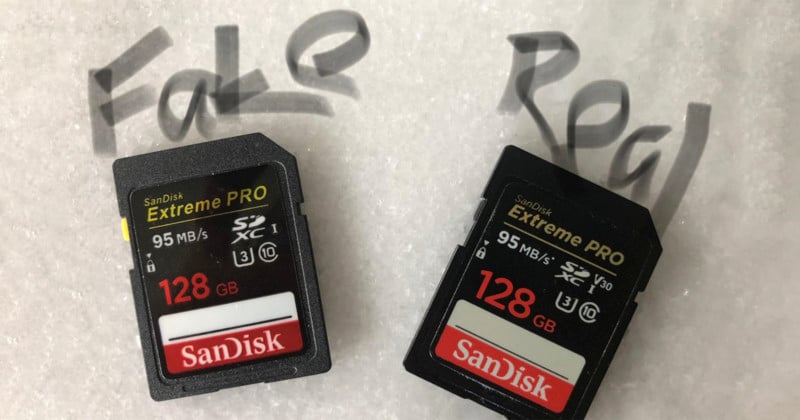 Photographer and Nikon Ambassador Charmi Patel Peña ordered four $60 128GB SanDisk SDXC memory cards from Amazon last month. Things seemed fine… until the cards started constantly stopping her camera. Peña then examined the cards more closely and realized that all of the cards were counterfeit.

"When you get cards, look at the color of [the] switch (should be grey, not yellow) and look at the label," Peña says. "Sandisk's label is matte, the counterfeit cards have a shiny metallic label."
Thankfully, Amazon did refund Peña for all four cards so that she could try her hand at buying genuine ones again.
We first reported on the problem of counterfeit cards "Fulfilled by Amazon" back in 2012, but it seems Amazon is still having a hard time keeping counterfeit products out of its marketplace.
"Fulfilled by Amazon" only means that the product is being shipped from an Amazon warehouse to you after being sold by a third-party seller. It's not a guarantee that the seller is trustworthy or that the product is genuine.
To be more confident of your purchase, you should check to make sure that your product is labeled "Ships from and sold by Amazon.com," which means Amazon is directly selling a product without a third-party seller involved.
Counterfeit products can be found across Amazon these days. Engadget reports that two years ago, Apple purchased 100 Lightning cables and chargers marked "Fulfilled by Amazon" over 9 months and found that roughly 90% of the cables it received were counterfeit.
In 2011, a SanDisk engineer estimated that roughly 1/3 of SanDisk-branded memory cards on Earth are actually fakes. And in the past several years, numerous photo companies have issued public warnings about fake products, including Canon about fake flashes, Nikon about fake accessories, and BlackRapid about fake camera strap hardware.
"Ultimately, if Amazon doesn't want counterfeit goods to be a widespread issue, it will need to be more transparent about its efforts to combat it," writes Engadget. "And, most importantly, it will need to start taking more responsibility for third-party sales through its FBA service."
---
Update: An Amazon spokesperson has provided PetaPixel with this statement regarding its anti-counterfeiting measures:
Our customers trust that when they make a purchase through Amazon's store—either directly from Amazon or from one of its millions of third-party sellers—they will receive authentic products, and we take any claims that endanger that trust seriously. We strictly prohibit the sale of counterfeit products and invest heavily—both funds and company energy—to ensure our policy against the sale of such products is followed. Our global team is available 24 hours a day, 7 days a week to respond to and take action on reported violations and notices of potential infringement.

In order to detect bad actors and potentially counterfeit products, we make significant investments in machine learning and automated systems. We employ dedicated teams of software engineers, research scientists, program managers, and investigators to operate and continually refine our anti-counterfeiting program. When a business registers to sell products through Amazon's Marketplace, Amazon's systems scan information for signals that the business might be a bad actor, and Amazon blocks identified bad actors before they can offer any products for sale. Amazon's systems also automatically and continuously scan numerous data points related to sellers, products, brands, and offers to detect activity that indicates products offered might be counterfeit. Over 99.9% of all Amazon page views by our customers landed on pages that did not receive a notice of potential infringement.

We also work closely with vendors, sellers, and rights owners to strengthen protections for their brands on Amazon. Any rights owner can enroll in Amazon's Brand Registry to manage and protect their brand and intellectual property rights on our store. More than 60,000 brands are enrolled in Brand Registry and are using our free service to better protect their brand and control product information displayed on Amazon—this means brands can ensure their information is accurate and customers can make confident, informed purchasing decisions on Amazon.

We encourage rights owners who have product authenticity concerns to notify us; we investigate all claims thoroughly. We remove suspected counterfeit items as we become aware of them, and we permanently remove bad actors from selling on Amazon. Amazon investigated and took action on 95% of all notices of potential infringement received from Brand Registry within eight hours. With our proactive innovations that learn from the information in Brand Registry, brands in Brand Registry on average are finding and reporting 99% fewer suspected infringements than before the launch of Brand Registry. We have also successfully taken legal action against bad actors and will continue to pursue litigation and work with law enforcement where appropriate.

Customers are always protected by our A-to-z Guarantee, whether they make a purchase from Amazon or a third-party seller. If the product doesn't arrive or isn't as advertised, customers can contact our customer support for a full refund of their order.

Customers trust that they will receive authentic goods when they shop on Amazon and anything that diminishes that trust is unacceptable. Counterfeit is an age-old problem, but one that we will continue to fight and innovate on to protect customers, brands, and sellers.
---
Image credits: Header photo by Charmi Patel Peña and used with permission