This is Why You Need to Be Careful with Camera Clips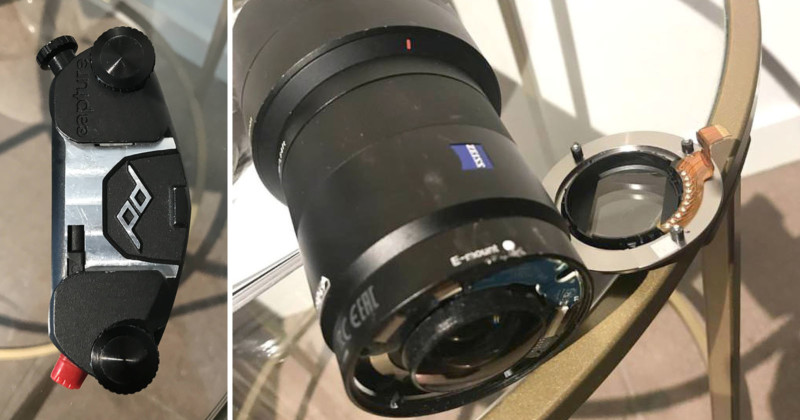 Modern quick-release camera clips are designed to hold your camera firmly when it's not needed while allowing it to detach easily when it is. But if there's any equipment or user failure in the system, that failure could be catastrophic for your gear… and that's what one photographer just found out the hard way.

A photographer who goes by SensualTomato online just shared his nightmare as a warning to other photographers using (or thinking of using) any camera clip.
The photographer had been using a Peak Design Capture Clip v2 (the system is on v3 now) for about 6 months prior to the incident without any issues.
On Thursday, he had his $1,600 Sony Alpha a7 II camera and $1,000 Sony Sonnar T* FE 55mm f/1.8 ZA lens mounted on his clip when he suddenly his camera kit fell out.
"I dunno if it was a straight up malfunction or user error or some combination of both," the photographer tells PetaPixel. "I had the clip on my belt horizontally, which is not ideal since it slid out right onto the floor.
"After the first drop, I tightened everything on the clip, making sure it was tight enough to hold the camera with some give but made sure it was locked in. The clip is designed to give an audible 'click' noise when everything is locked, and after the first drop I triple checked everything was secure."
About 30 minutes later, however, the clip dropped his camera again, and this time with catastrophic results.
"The force of the impact snapped the screws off of the backplate of the lens, scratching the rear element and damaging the body of the lens," the photographer says. "Now, I'm still not sure how it happened, but I trust peak design's other products and their sturdiness.
"It's possible that while walking, the tension screws loosened, and after sitting down, the quick release was pressed down, unlocking the camera. Subsequently, walking with the clip caused the camera to fall. Or, the clip malfunctioned and the locking mechanism just failed.
"Either way, I've been using the clip for a long time before this happened, and having the clip fail twice in a day is a worrying design flaw."
Since getting the lens repaired would cost many hundreds of dollars, he's accepting it as a loss and is planning to replace it instead.
After SensualTomato shared his story and warning on Reddit, other photographers have shared similar experiences with camera clip failures, and a common cause appears to be various screws loosening (and sometimes falling out) over time without the photographer knowing.
So if you use a camera clip of any kind, you may want to give it a careful inspection every so often just to ensure that all the screws and parts are tight and sound.