The Capture Camera Clip v2: A Sleek New Design Meets Tons More Functionality
When the first Capture Camera Clip went to Kickstarter in 2011, it absolutely blew away its funding goal. Creator Peter Dering needed $10,000; he wound up raising almost $365,000! The last two years have been very kind to the versatile camera clip that allows you to securely hook your DSLR just about anywhere on your person, but along with the success have come many suggestions for possible improvement.
So, like any good designer, Dering is taking another stab at it: attempting the same idea, only this time with "brilliant execution." The v2 is a redesigned, sleeker, better version of the first Capture system, with a bunch of new functionality built in.
Using the profits from the wildly successful first version of the product, Dering built up his company Peak Design to include more brilliant and innovative people that could take the feedback they got from that product and create a much better one.
And like last time, they've taken to Kickstarter to fund it, wanting to keep their consumers as their "board of directors" instead of having a bunch of corporate investors to answer to. Here's their Kickstarter video:
As you can see, there are many improvements — both in way of design and functionality — incorporated into the second Capture clip. There's a new quick release button that's lockable to prevent accidents, redesigned clamping bolts that are easier to operate and won't get caught on clothing, a new twist-lock clamping system that enables you to better secure your camera and use the clip as a tripod head, and more.
Here are a couple of graphics that introduces each of the v2 improvements: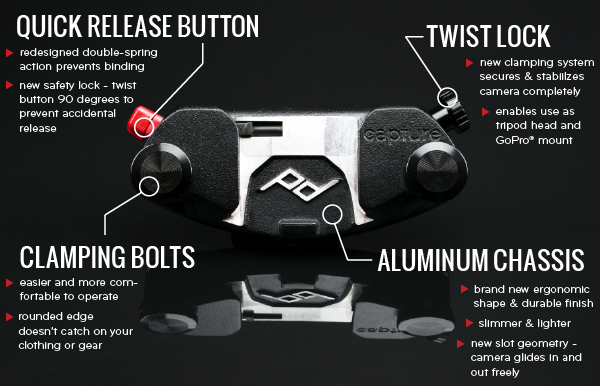 Like before, Peak Design has had no issue getting their product funded. With 50 days to go, they're already at almost $160,000 raised of $100,000 required. The difference in this campaign is that you as the customer get more options.
The clip now comes in both professional and standard versions called the CapturePRO and Capture systems, respectively. Capture is made of aluminum and glass-reinfoced nylon, and comes with a standard Arca plate. CapturePRO is an all-aluminium clip that comes with your chose of Manfrotto RC2 or Arca PROplate, and the ability to convert into a quick-release tripod clamp.
As we said, the Kickstarter is already fully funded, so the benefits are all one-sided at this point. There are a bunch of packages available ranging in price from $50 for only the Capture Clip to $150 for the CapturePRO plus a bunch of additional accessories.
To learn more about the v2 and maybe snag one for yourself, head over to Peak Design's Kickstarter campaign by clicking here.
(via TogTech)