This Guy Shot Formula 1 with a Game Boy Camera and Phone Lens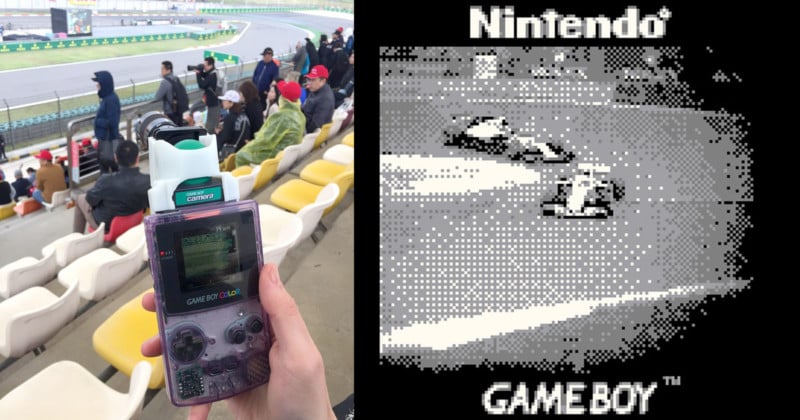 Photographer and Formula 1 fan Tim Binnion recently attended the 2018 Chinese Grand Prix in Shanghai. In addition to shooting the race with his Nikon DSLR, Binnion also decided to document it with a 0.016-megapixel Game Boy Camera from 1998… and the results are pretty awesome.

"To my knowledge, no one has ever shot motorsports with a Game Boy Camera before, and there's probably a good reason for that!" Binnion writes. He was inspired by the work of photographer Joshua Paul, who shoots F1 with a 1913 Graflex 4×5 view camera, and Alexander Pietrow, who shot the Moon and Jupiter with a Game Boy Camera.
One of the main challenges was giving the Game Boy Camera enough reach to capture the action on the track.
"My first thought was to somehow strap on my Nikon DSLR zoom lens, but realized maybe I needed an easier proof of concept first," Binnion says. "Then bingo! I realized that one of those cheap crappy clip on smartphone lens would be ideal.
"So maybe the lens quality would be rubbish, but with just 0.016 Megapixels in glorious grayscale no one would ever notice."
So Binnion shelled out $8 for a clip-on smartphone telephoto lens from Taobao (the Chinese equivalent of Amazon). He then modeled and 3D printed a bracket for mounting the lens to his Game Boy Camera.
And since the Game Boy Camera can only store 30 photos at a time, he purchased a mod that allows photos to be saved onto an SD card.
Here's what all the camera ingredients looked like: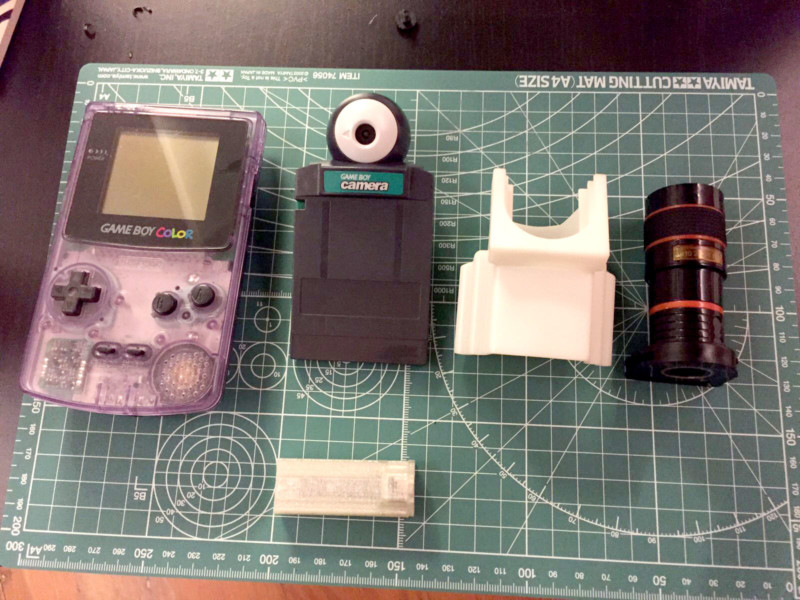 And here's what the completed camera setup looked like at the race:
Binnion's seat was in the grandstand by the exit of the hairpin of the track.
"This has the added advantage of being the slowest point of the circuit so I figured it should make for the best photos with such a microscopic camera," he says. Here are some of his results:
Binnion was pleased that the photos clearly show F1 cars. He says he may work on adapting his DSLR lens for his Game Boy Camera as his next experiment. You can follow his work on Instagram.