Tamron Unveils 28-75mm f/2.8 for Sony, 70-210mm f/4 for Canon/Nikon
Tamron has just unveiled two new full-frame lenses. The first is a 28-75mm f/2.8 lens that's being developed for Sony mirrorless cameras, and the second is a 70-210mm f/4 lens that will be launching soon for Canon and Nikon DSLRs.

Tamron 28-75mm f/2.8
Tamron is announcing the development of its 28-75mm F/2.8 Di III RXD, a high-speed standard zoom lens for Sony E-mount full-frame mirrorless bodies.
"This signals Tamron's plans to further expand and improve its lens lineup for full-frame mirrorless cameras, in addition to its lenses for DSLR and other mirrorless camera formats," the company says.
The lens features a new RXD (Rapid eXtra-silent stepping Drive) stepping motor that helps it autofocus with "remarkable quietness," making it suitable for video recording.
Other features and specs include a minimum object distance of 7.5 inches (~19cm), a compact design (4.6in/11.68cm in length), a lightweight body (19.4oz/0.55kg), a moisture-resistant build, a hydrophobic Fluorine Coating that resists fingerprints and debris, and compatibility with Sony's Direct Manual Focus (DMF) system.
Pricing and availability have yet to be announced.
Tamron 70-210mm f/4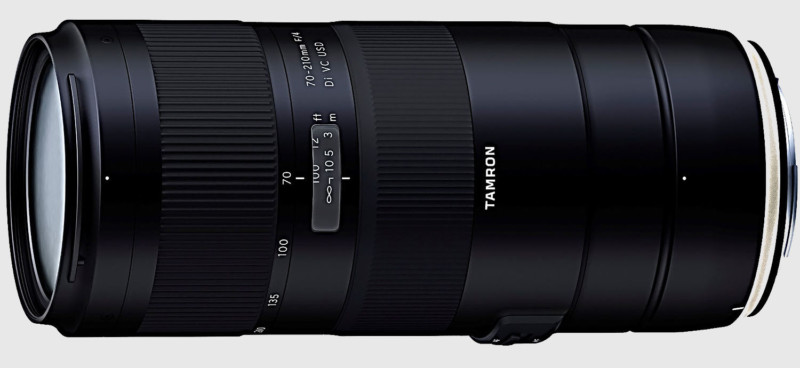 Tamron has also announced its new 70-210mm f/4 Di VC USD, a compact telephoto zoom lens for Canon EF-mount and Nikon F-mount full-frame DSLRs.
The lens features a solid mechanical build and an internal zoom mechanism, meaning the lens doesn't extend or retract as you change the focal length. Since the front element doesn't rotate, it's easier for photographers to use polarizing filters. It also eliminates the problem of "zoom creep", when focal length is unintentionally changed due to the front element of the lens shifting.
The Vibration Compensation (VC) in the lens provides four stops of image stabilization. A Dual Micro-Processing Unit (MPU), helping the lens focus both quickly and accurately.
Other features and specs include 20 elements in 14 groups, a highest-in-class maximum magnification ratio of 1:3.1, a shortest-in-class minimum object distance of 37.4in (~95cm), a moisture-resistant build, Fluorine Coating, a weight of 30.3oz (0.86kg), a length of 6.8in (17.3cm), an Ultrasonic Silent Drive (USD) for fast and precise focusing, and a full-time Manual Focus override (MF adjustments in AF mode).
The Tamron 70-210mm f/4 will be available in Canon and Nikon mounts starting in April 2018 for $800.
---
Update on 4/27/18: The Tamron 28-75mm F/2.8 Di III RXD lens for Sony FE has a price tag of $800.