I Bought a Nikon 13mm f/5.6 AIS 'Holy Grail' Lens: Here's the Unboxing
Late last Wednesday night, I was browsing the B&H Photo website looking for a refurbished Nikon D810. I entered "Nikon refurbished" as my search term, then sorted the results by price from high-to-low so that the D810 would float to the top. Lo and behold, right above the D810 as the first result was a "New Arrival" Nikon 13mm f/5.6 AI-S, refurbished with case.


Remembering Ken Rockwell's "Holy Grail" article on this lens, my eyes nearly popped out of my head. The listing had no description and no photo, but after doing some research to make sure there was no other 13mm f/5.6 made by Nikon, I decided to pull the trigger and order the lens that night.
The next morning I called B&H Photo, and they verified the listing as accurate — I hung up ecstatic that it would soon be on its way to me. It arrived the next Monday evening via UPS, and I prepared a spot on the floor using a blanket to avoid damaging the lens.
Upon opening the B&H box, I found an unopened Nikon refurbished box with the correct product name and serial number on the outside.
I opened the Nikon box, and inside was a perfectly new lens case with the Nikon USA warranty card and Nikon 13mm f/5.6 AIS instruction manual held to it by a single rubber band.
Inside the case and under the lid was the filter pouch containing the drop-in rear filters.
The lens itself was wrapped in plastic and was in Mint/New condition.
I removed the front lens cap to verify the serial number, which did indeed match the box and warranty card. I took a few more photos and carefully put it all back in place as I had found it.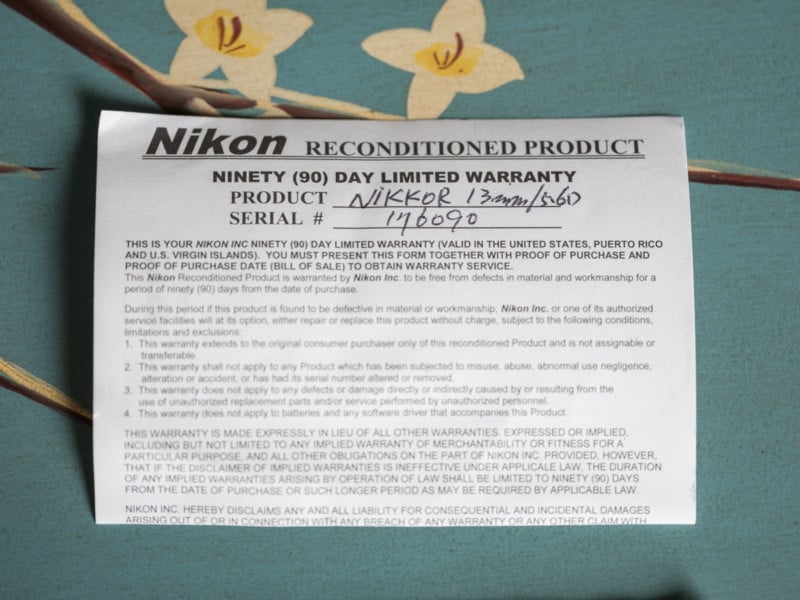 I'm still in a bit of shock to have found such a great find. I'm left with more questions than answers. How did this lens end up as refurbished? How and where did it sit so long sealed up like this? B&H is a busy place, and they could only tell me they guess one of their buyers bought it from one of their sellers, and then they listed it on their website.
I can't decide if I should keep it and not use it, keep it and use it, or flip it for profit. Either way, I may need to stare at it just a little bit longer.
---
About the author: Jim Sullivan is a photographer and designer based in Placitas, New Mexico. You can find more of his work on Behance, Instagram, and SmugMug.