TV Star Asks for Free Wedding Photos in Exchange for Exposure. Oops.
A UK reality TV star has rubbed the photography community the wrong way after it was revealed that he has been asking wedding photographers to shoot his upcoming wedding in exchange for social media exposure.

Jay Hutton, best known for starring in the British reality television series Tattoo Fixers, has reportedly been sending out the following request to wedding photographers through his representatives: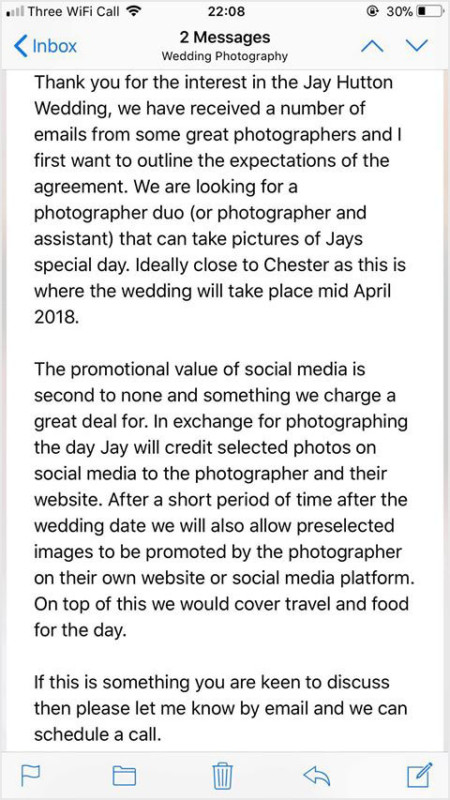 "Thank you for the interest in Jay Hutton Wedding, we have received a number of emails from some great photographers and I first want to outline the expectations of the agreement," the email opens. So far so good. But then it becomes clear that instead of paying for the wedding with real money, Hutton is trying to pay by crediting the photos properly when sharing them on social media.
"The promotional value of social media is second to none and something we charge a great deal for," the representative writes. "In exchange for photographing the day Jay will credit selected photos on social media to the photographer and their website."
But that's not all — there are some other "sweet perks" as well. First, the wedding photographer will have permission to share "preselected photos" on their own website, and travel and food expenses will be covered as well.
London-based photographer Jake Owens was one of the shooters who received this email after inquiring about the opportunity. He wasn't amused by the response and posted the conversation to Facebook, sparking a great deal of discussion. Soon this screenshot was being shared far and wide by incensed photographers.
"What a joke," one photographer tells PetaPixel. "I'm sure he wouldn't appreciate someone asking for a free tattoo."
Jay Hutton from that 'hit' tv show tattoo fixers wants two photographers for his wedding for the promotional value of 'credit'. What a joker. pic.twitter.com/bdKaeviO0m

— Tim Easton (@timeastonphoto) January 11, 2018
Owens has since written a blog post, titled "Exposure < Real Life Money," with his thoughts on the whole controversy.
"The response we (and others in the industry – this isn't a personal thing) received was, to say the least, insulting," Owens writes. "I'm not gunna lie, we were both pretty pissed off, and took to social media for a grumble […]
"My fear with this whole situation is that somebody is going to take this offer up, and the gentleman in question will win. He's getting his wedding photographed for free. The loser though, is the person who is perhaps new to the business, and naive enough to believe that this is a really great opportunity."
"You're doing a job, and you should be paid for it," Owens concludes. "The creative industry (industries) are cut throat and competitive enough as it is, we shouldn't be looking to screw each other over."
(via Daily Post via Fstoppers)