Microsoft Paid 'Bliss' Photog $100K+ and 'Autumn' Photog $45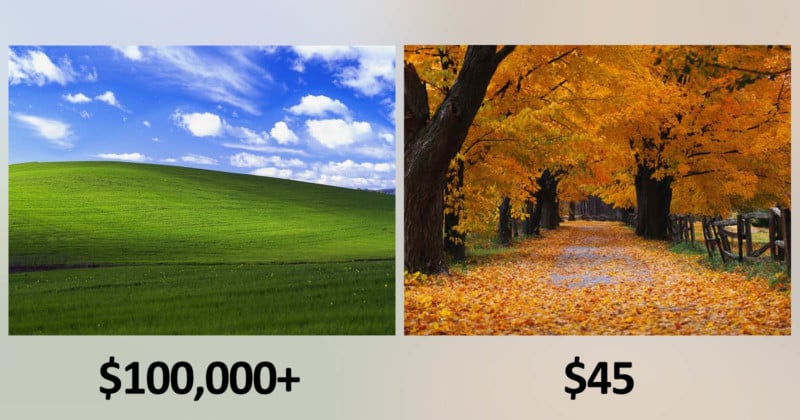 The iconic default Microsoft XP wallpaper "Bliss" is considered to be the most-viewed photo of all time. While Microsoft paid the photographer behind that photo over $100,000 for the usage, a different photographer who shot the well-known "Autumn" wallpaper earned just $45.

Charles O'Rear is the American photographer who's best known for shooting "Bliss" while driving through the Napa and Sonoma counties in California in January 1996. After submitting the photo to the Westlight stock photo agency, Westlight was acquired by Bill Gates' Corbis in 1998.
Microsoft then selected O'Rear's photo out of thousands of images in their stock library to illustrate the philosophy of Windows XP, and the company paid O'Rear an undisclosed sum that's known to be over $100,000. The St. Helena Star writes:
Delivering the original image to Microsoft, however, was another issue. The Software giant paid an amount in the low six figures for the photo, something which still amazes O'Rear. Because of the value of the photo, however, the cost of insuring it was so prohibitive that even "Fed Ex wouldn't touch it," he said.

Ultimately, Microsoft paid for a plane ticket and he hand delivered the photo to their office in Seattle.
The photographer behind a different popular XP wallpaper, "Autumn," received considerably less for his photo. Peter Burian submitted his photo to Corbis as a royalty free image and received a standard cut for Microsoft's widespread usage.
Here's what the Toronto Star reported in February 2007 after Burian was tracked down:
Peter Burian shot the picture along with hundreds of frames in October 1999 while he was testing lenses for a photography trade magazine. He sent it to Corbis, where Microsoft probably purchased it for $300. Burian's cut was $45 […]

"I was more shocked to find out that one of my photographs is available to hundreds of millions of people," [Burian] says. "I didn't think anything of it when I took it."
It's a tale of two photos. One earned a photographer a hefty sum of money, widespread recognition, and deals with brands like Lufthansa. The other earned a photographer a nice meal.