This Photographer Melted His Drone Shooting Photos of Lava
While shooting for two weeks in Hawaii last month, Israeli photographer Erez Marom's drone had an Icarus experience. Marom flew his $1,500 DJI Phantom 4 camera drone too close to lava flows and accidentally melted part of the camera. He was able to capture some gorgeous photos of lava up-close, though.

Marom hiked about 5 miles (8km) to reach the lava of the Kilauea volcano on Hawaii's Big Island. After reaching the flows, Marom spent about 3 hours through daylight, twilight, and sunset shooting aerial perspectives of the area outside the national park.
As he was shooting, Marom noticed that the right side of the frame was slowly becoming darker. It wasn't until he returned home, however, that he realized why: the plastic inside the drone camera had melted from the intense heat of the lava.
"It was worth it, though!" Marom says. In exchange for a partially melted drone, he left Hawaii with a great set of images.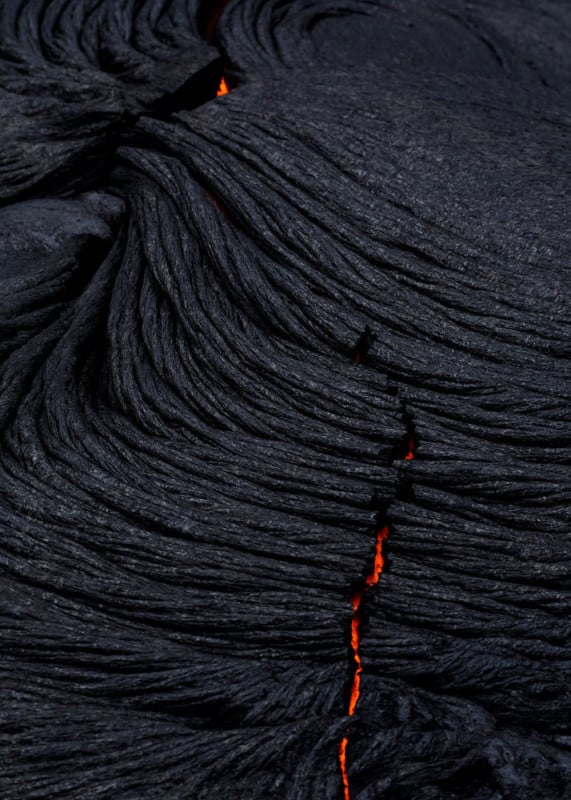 Luckily for Marom, aside from the melted plastic surrounding the camera (and possibly some darkness in his frames), the drone is still functional.
"The drone is perfectly usable and flies perfectly," Marom tells PetaPixel. "Other than the plastic surrounding the camera being molten, it's the same as before.
"I guess that black plastic has the lowest melting point of all the drone's parts. I hope DJI fixes my drone for free if they can have some of the footage."
We've previously shared stories of photographers who got so close to lava that they melted the face of a GoPro and their sneakers and tripod.
You can find more of Marom's photography on his website, Facebook, and Instagram.