This Free Web App Suggests Instagram Hashtags for Photos Using AI
Want a faster way to add relevant hashtags to your Instagram photos? Photerloo wants to help. The photo management service has launched a new free web tool that uses machine learning to automatically keywords for any photo.

The site is designed for both desktop and mobile users and is minimalist in how it works.
Simply upload a photo and the system will analyze it and generate a list of keywords and hashtags for you. You can click any of the suggested keywords to remove that one and have it be replaced with a new one.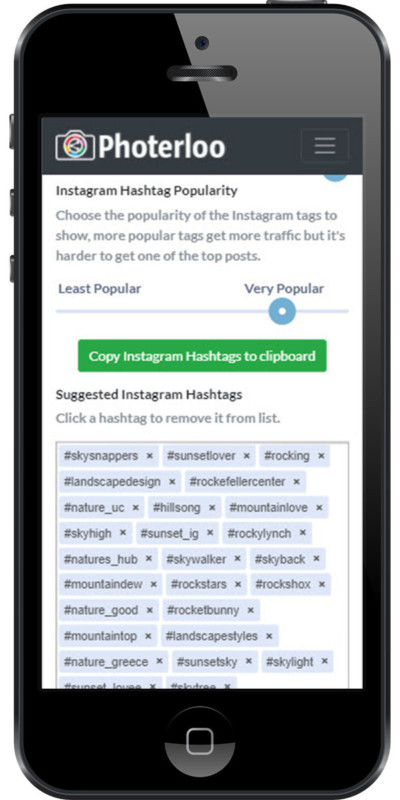 Sliders on the page allow you to specify how many keywords or hashtags you'd like to see, and a second slider allows you to filter Instagram hashtags by popularity.
"Many photographers find that choosing the most popular Instagram tags like #instagood is not a good strategy it is difficult to compete for being a top post," Photerloo tells PetaPixel. "So, it is important to choose tags that are popular enough to get a lot of traffic but still realistic to win a top post spot that can result in a lot of extra exposure and followers for the photographer."
Once you're satisfied with your list of words, tapping a button on the page will copy them to your clipboard for pasting into Instagram or whatever website or software you need them for.
We did some test with a selection of photos, and here are the results we got with the "most popular" setting:
#mammaledig #outdoordecor #wildlifelovers #animalfree #outdoordesign #herday #animalpics #outdoorkitchen #mammaliv #grassvalley #animals_gr #outdoorwoman #outdooractivity #wildliferescue #animalovers #animalslove #wildlife_vision #outdoorcinema #savannahmonitor #wildliferehab #outdoorsmen #grassachusetts #outdoorspace #grassjelly #outdoorsgirl #wildlifewednesday #herdaim #animalista #grasslands #animalcrossinghappyhomedesigner
#mountaineers #mountainrunning #mountainworld #cityoftrees #townhouseph #mountainside #mountainlover #mountainbikes #citycolor #townsvilleshines #cityguide #mountainbiker #snowdrops #cityvibes #cityskyline #tourismthailand #outdoorshoot #tourismepaca #cityofashes #cityboy #outdoorsupply #cityofglass #outdoorsports #tourismireland #cityexplore #snowballs #tourismmalaysia #mountainwedding #snowcones #snowleopard
#sky #landscape #light #outdoors #lights #rainbow #skyporn #skyline #lighting #landscape_lovers #landscapes #landscape_captures #skyscraper #skypainters #landscapelovers #lightroom #lighthouse #atmosphere #lightning #aurora #rainbows #lightsout #lightworker #sky_perfection #skyscrapers #skydiving #sky_sultans #skylover #landscapehunter #lightweight
#mountainlove #waterislife #waterpolo #lakelouise #waterdog #snowball #watercolortattoo #canoeing #natures_hub #snowmobile #snowbunny #lakehouse #mountaindew #lakesuperior #nature_good #mountaintop #lakernation #lakeerie #kayakfishing #landscapestyles #nature_greece #lakeontario #snowedin #lakeday #lakeshow #lakegarda #nature_prefection #waterdrops #lakewood #snowboarder
#outdoorfun #natureinside #naturepolis #plantstagram #plantbasedfood #fieldhockey #planter #natureelite #floraldress #naturelife #natures #fieldday #plantlover #naturephotos #floralart #flowering #natureseekers #flowercrowns #nature_specialist #flowergirls #flowerpot #fieldwork #grassroots #floralarrangement #naturegirl #plantprotein #flowerpop #plante #flowerlesson #naturehippys_
Head on over to the Instagram hashtag keywording app to get started with your own photos.
---
P.S. There are also free tools out there that suggest related keywords instead of generate them using AI. Two that we've featured are Display Purposes and Dehaze.