Adobe Photoshop CC Gets Curvature Pen, Brush Upgrades, and More
Adobe has just announced its October 2017 update of Photoshop CC, which comes with a number of new features and improvements to the photo editing program. Big ones in this release include a brand new Curvature Pen Tool and improved brush preset management.

Here's a rundown of what's new.
A New Curvature Pen Tool
The new Curvature Pen Tool, which we shared a sneak peek of last month, is a new way to create curved paths quickly, intuitively, and precisely. It lets you push and pull segments of the path instead of using Bezier handles.
"Learning how to draw a curve doesn't have to be so hard," Adobe says. "We are releasing a new curvature drawing tool that is much more similar to Illustrator's. If you have already invested the time to learn the current Photoshop pen tool, it's still there for you, too. If you're just getting started drawing curved lines, I suggest you start with the new one we are shipping today."
Brushes Get a Major Upgrade
Brushes are getting some major improvements. First off, the brush organization has been reworked, something Adobe says has been the "#1 request of all time." You can now drag and drop to reorder, create folders and sub-folders, scale the brush stroke preview, toggle new view modes, and save brush presets (with opacity, flow, blend mode, and color specified).
You'll also find that brushes are more responsive now with a faster reaction time, especially if you're using large brushes on large documents.
Finally, brush strokes are getting smoothed out thanks to a new algorithm. It'll automatically compensate for jitters while you're trying to follow a straight line while using a brush, eraser, pencil, and mixer brush. You can adjust the degree of smoothing in the option that's available in the Tool Options bar alongside Flow and Opacity.
Lightroom CC Integration
Photoshop will now show your Lightroom cloud catalog on the start screen and through search, allowing you to more easily access photos you've synced to the cloud through Lightroom CC.
"This first version of Lightroom Photos in Photoshop will help you save time sending images from place to place, particularly when working with those you've captured via the mobile version of Lightroom," Adobe says.
360 Panorama Editing
Photoshop CC now lets you open, edit, and export 360-degree panoramas. Crucial metadata will remain intact in the files through Photoshop editing, allowing the images to continue to be compatible with third-party panorama viewers. You'll be able to pan around and zoom around in a spherical workspace.
Range Masking in Adobe Camera Raw
Adobe Camera Raw is getting Range Masks that allow you to make precise local adjustments with a high level of control. Here's a demo showing how you can quickly create a mask based on color and luminance:
HEIF Image Compatibility
Apple introduced the HEIF image format in iOS 11 and the latest iPhones, and now Photoshop will be able to edit those files, which are more lightweight than JPEGs without an obvious loss in quality. You'll also be able to take advantage of the depth map data from the latest iPhones for a depth of field effect inside Photoshop.
Guidance for Beginners
A new Learn Panel for beginners provides basic tutorials inside Photoshop itself to help you get started with different features.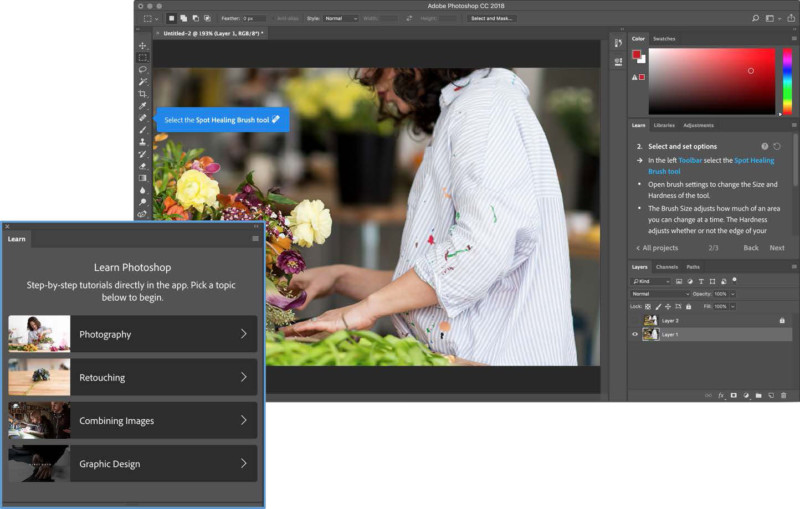 There are also new rich tooltips that offer a more graphical style of helping you with tools. The 20 most popular tools also have animated GIFs that demonstrate the tool in action.
Other Features and Improvements
Other new features include more painting upgrades (performance and symmetry painting), select and mask updates (faster Quick Mask and improved refine edge tool accuracy), new Adobe Stock integration, improved font management, a redesigned Preserve Details, copy and pasting of layers (within a document and between documents) and more. You can find the complete list on this What's New page.
You can get all of these new features for yourself by downloading the Photoshop CC update through Adobe Creative Cloud.