Apple iOS 11 Photo and Video Formats Will Cut Your Storage Use in Half
Good news for iPhone and iPad users who are running low on storage space: Apple's upcoming iOS 11 update will bring more efficient compression technology that the company estimates will save users up to 50% on storage needs.
The iOS update, which is coming this Fall, is bringing functional updates to the Camera app in the form of new Live Photos effects. On a more technical level, it introduces the HEVC (H.265) codec for both images and videos, and the HEIF file format for images.
The new codec, aptly named High Efficiency Video Coding (HEVC), has been around since 2015 and is already used by Apple to save bandwidth in FaceTime calls. It has also been used for some time by Netflix and Amazon Instant Video, but only for non-mobile devices.
High Efficiency Image Format (HEIF), pronounced "Heef", is the file format that HEVC-encoded images use. These images will use the .heic ("Heek") file extension.
The huge advantage of HEVC is that images and videos encoded with the technology are roughly half the size of their predecessors (JPEG and H.264), while keeping the same image quality.
Greg Barbosa of 9to5Mac got his hands on the developer beta of iOS 11 and had this to say about his own tests with the new file formats:
In testing I went out at night and took a photo and video of the New York City skyline. The outputted JPG image weighed in at 2 MB, while the HEIC image came in at 1.2 MB. Similarly, the h.264 encoded video was 61.2 MB, while the h.265 (HEVC) video was 33 MB.
The end result will be huge savings in disk space, as well as images and videos that are faster to share to family, friends, and social media.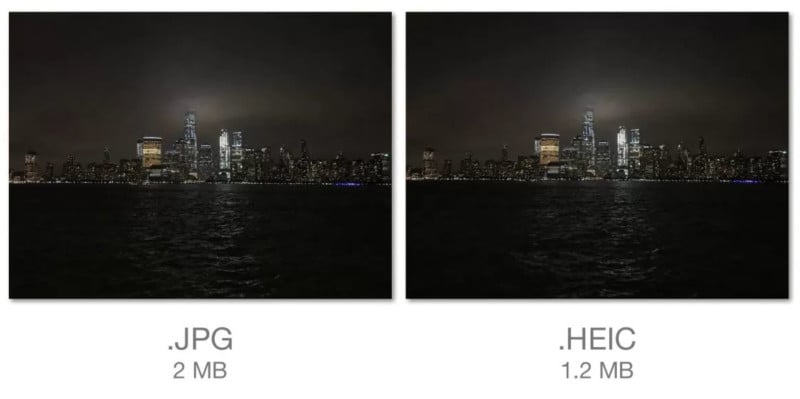 The iOS 11 beta is currently available for developers, and will be available to the public through Apple's Beta Software Program later this month.