Kathy Griffin Slammed for Photo Shoot Showing Decapitated Donald Trump
Emmy- and Grammy-award winning comedian Kathy Griffin and photographer Tyler Shields are in hot water this week due to a photo shoot showing Griffin holding a bloodied Donald Trump mask that's made to look like the decapitated head of the president. The photo has sparked outrage and even a public response from Trump himself.

Warning: This post contains the graphic photo at the center of the controversy.
Shields is a well-known celebrity portrait photographer known for controversial and shocking photos, and the gruesome photo was first published yesterday by the celebrity news site TMZ.
"During the photo shoot, Kathy joked that she and Tyler would need to move to Mexico once the pics got released, for fear they'd be thrown in prison," TMZ writes. "Trump's critics have skewered him for inciting violence with his speech. Did Kathy do the same?"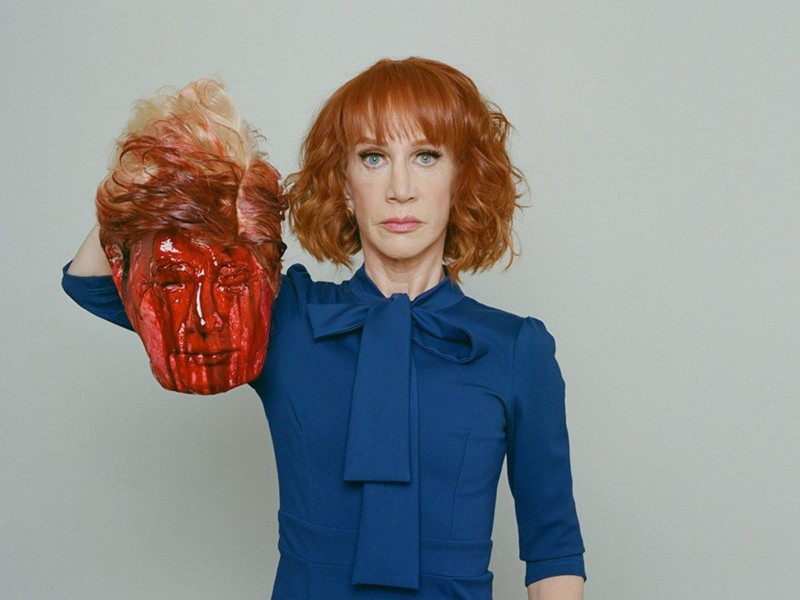 Shields says the photo came about after Griffin (a friend of his) wanted to "do something political."
"We kind of figured out what would be the best image to make out of that," the photographer tells Fox News. "That's what art is meant to do. Some people look at it and they love it. Some people look at it and they hate it… I understand there are going to be people that hate this. It's a very touchy subject… but this is not real."
"We didn't kill anybody nor do I feel anybody should be killed," he continues. "It's no different from a movie. It just happens to be a still image."
The photo immediately drew a strong reaction from the public, the media, and from famous figures. People from across the political spectrum have slammed Griffin, saying that she crossed the line.
This is vile and wrong. It is never funny to joke about killing a president. https://t.co/zIiuKoMyFw

— Chelsea Clinton (@ChelseaClinton) May 30, 2017
Disgusting but not surprising. This is the left today. They consider this acceptable. Imagine a conservative did this to Obama as POTUS? https://t.co/QdghcbIjS7

— Donald Trump Jr. (@DonaldJTrumpJr) May 30, 2017
For the record, I am appalled by the photo shoot Kathy Griffin took part in. It is clearly disgusting and completely inappropriate.

— Anderson Cooper (@andersoncooper) May 31, 2017
Trump himself tweeted today that Griffin "should be ashamed of herself," saying that his children were disturbed by the photo:
Kathy Griffin should be ashamed of herself. My children, especially my 11 year old son, Barron, are having a hard time with this. Sick!

— Donald J. Trump (@realDonaldTrump) May 31, 2017
Griffin originally defended the photo, calling Shields a great photographer and saying she was merely mocking Trump:
As outrage grew, Griffin quickly asked Shields to take down the photos and apologized publicly for the shoot, saying that she "went too far" with it.
I am sorry. I went too far. I was wrong. pic.twitter.com/LBKvqf9xFB

— Kathy Griffin (@kathygriffin) May 30, 2017
"I sincerely apologize," Griffin says. "I went way too far. The image is too disturbing. I understand how it offends people."