The Prynt Pocket Turns Your iPhone into an Instant Camera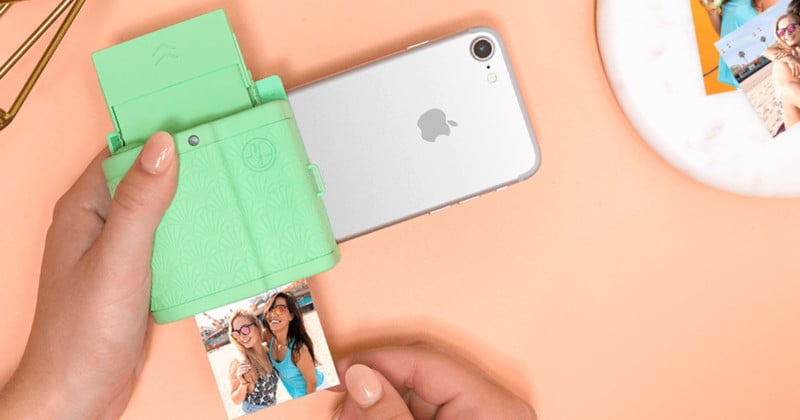 Small enough to fit in the palm of your hand, the Prynt Pocket is a new device that attaches to your phone and enables you to instantly print your images on ink-free ZINK sticker paper.

The device, which retails at $149, connects to the iPhone via the Lightning port and doubles as a grip with a physical shutter release and zoom wheel. It can print any photo on your device, but using the Prynt app to take the photo comes with an added benefit: it allows you to embed video data in to the print.
The app allows users to overlay filters and text on images, and it also has the option to record a 10-second video along with the photo. Anyone with the Prynt app can hold the printed photo in front of their camera and see the video play back using AR.
The Prynt Pocket uses thermal printing to print images on to 2×3 tear-resistant ZINK paper, which also has an adhesive backing. The camera comes with 10 sheets, and additional 40-packs can be purchased for $19.99.
The device is available in graphite, mint, and cool grey, and is compatible with all iPhones from the iPhone 5 onwards. There's no timeline for an Android release yet, but the company assures us that support is coming 'soon'.
Instant photography seems to be increasing in popularity, and though the print quality of the Prynt Pocket is unlikely to compete with the new Lomo'Instant Automat Glass or Fujifilm SQ10, it's a relatively cheap option that utilises the camera you already have in your pocket.
The Prynt Pocket is a followup to the Prynt Case, which was announced back in 2014. The Prynt Case was a bulky case for your phone, but the Prynt Pocket is a portable attachment that snaps on like a dock.
Prynt Pocket units are expected to ship from May 30, and you can pre-order them now from the Prynt website.