The Prynt Case Turns Your Smartphone into an Instant Camera… and Then Some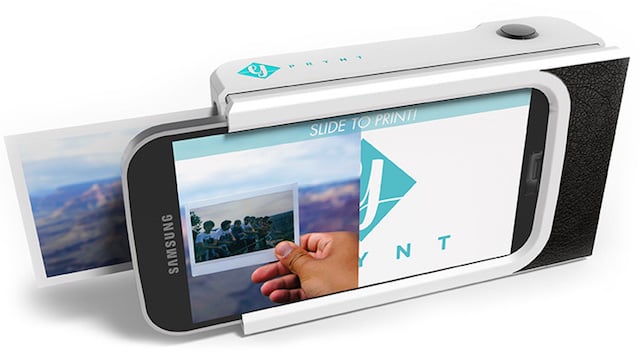 Instant photography is making a big comeback lately. As both the success of The Impossible Project and the popularity of Fuji's most recent Instax models can attest to, people want to hold prints in their hand, and if they can do it as soon as they take the picture, all the better.
Prynt is a product that is planning to ride this popularity wave at its peak by combining instant printing with mobile photography in an extremely convenient fashion: by creating a photo printing case for your phone.
Currently, Prynt exists only as a prototype as the French startup works to source the best hardware and prepare for a Kickstarter campaign early next year. But printing your memories isn't going to be the only feature of the Prynt case/app combo — there's an interesting twist built in.
Further differentiating it from the other mobile printing options (none of which are a case as of yet anyway…) is the fact that the Prynt app automatically captures a slightly extended memory each time you take a photo.
According to TechCrunch, when you snap a picture with the Prynt app, it captures a video of the moments before and after you took the picture. You'll get your print-out, but showing that picture to the Prynt app will also bring up the short video, allowing you to better re-live the moment.
And Prynt is hoping to further expand and secure this experience (e.g. a picture of the picture wouldn't bring up the video) by the time the printing case hits Kickstarter.
Prynt stopped by TechCrunch headquarters to show off the prototype case, and you can see it in action in the video above. The prototype, for now, is a bit clunky and slow, but they promise that the final version will work much faster, hold between 10 and 30 pieces of ink-packed paper, and cost only $100. Plus the paper will only cost 30 cents per sheet… much cheaper than Polaroid.
TC also revealed that the final product will be compatible with any smartphone that sports a 4.x-inch screen and there is an adaptor in the works for the bigger phones like the Galaxy Note series and Apple's iPad Mini Minus iPhone 6 Plus.
To find out more, check out the video above and then head over to the Prynt website to sign up for a notification when the Kickstarter goes live so you can take advantage of those coveted Early Bird specials.