Director Straps 800W LED to a Drone for Crazy Nighttime Bike Shoot
We've already shown you how mounting a powerful bank of LEDs to a drone can create some mind-bending, totally unique photos and video. But this nighttime mountain bike shoot by French photographer and director Hadrien Picard takes it to the next level of crazy.
Inspired by this video we shared back in October, Picard decided to take the "strap a bunch of LEDs to a drone" concept and transfer it to his subject of choice: action sports photography.
"I had the feeling i could bring further that idea by filming a night ride of one of the best downhill mountain biker, lit by a Drone with a huge LED on it," he tells PetaPixel. So that's exactly what he set out to do. With some help from Lift Cinema, they attached an 800W LED to a powerful octacopter.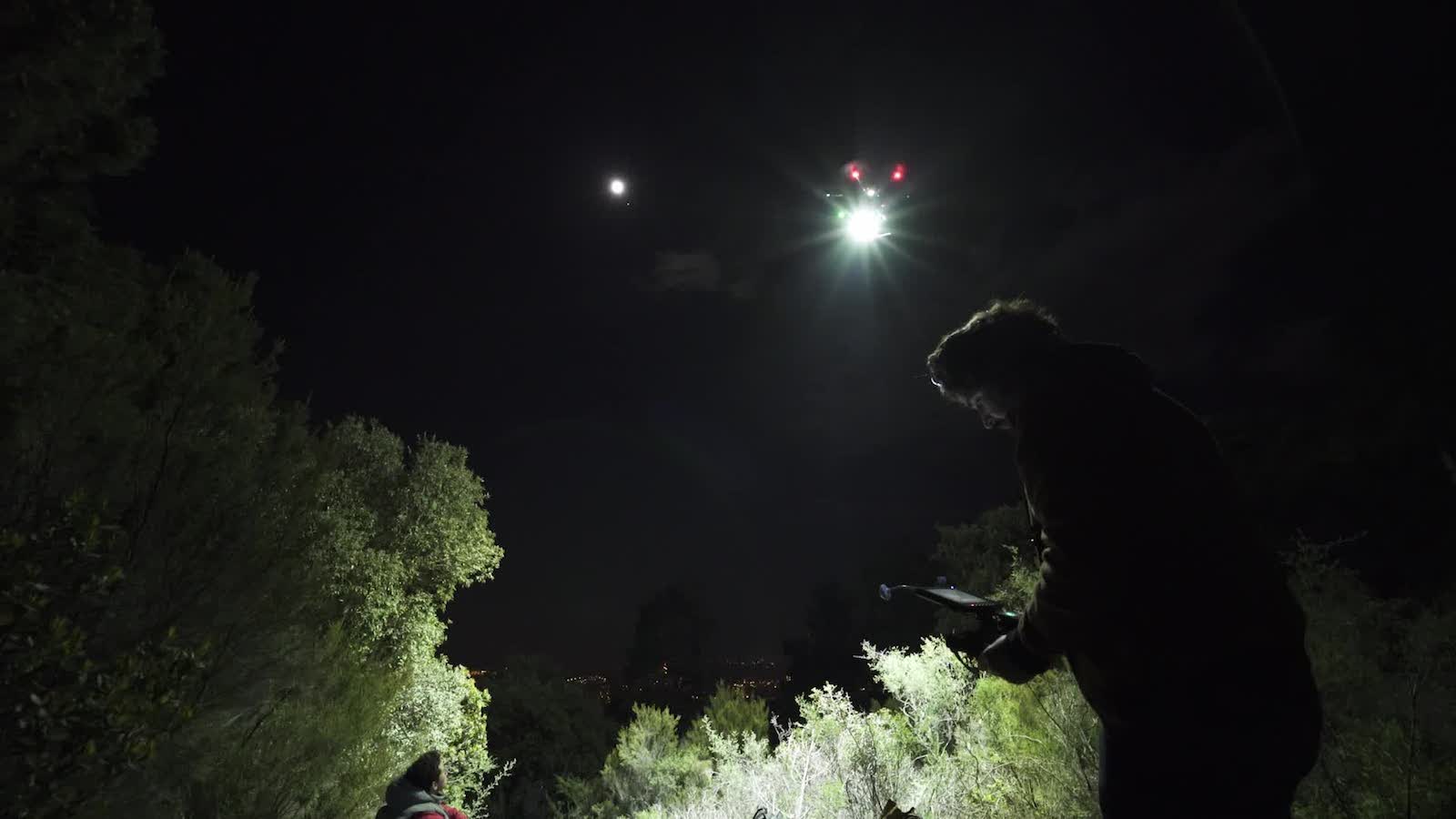 To say this was challenging is an understatement. Unlike the 6-month old video that inspired him, Picard knew that his LED had to be directional and steady, so they could aim the light at their rider. "There was indeed zero option that the rider would not be lit."
So Life Cinema designed and custom-built a water-cooled 800W LED lighting rig that was small enough to fit onto a drone's gimbal, but cool enough not to overheat from the crazy wattage the LEDs were putting it. From there, the light could be operated like a camera, pointed where it needed to be without worrying about the drone being right above the rider at all times.
Picard and the Lift Cinema team explain how they made it all happen in the BTS video below:
This level of control was crucial to keep Red Bull rider Loic Bruni lit the entire time, but they managed to pull it off.
And after three nights of shooting scenes—all of them lit from above with their special custom-built 800W drone LED, some captured from a second drone flying next to the light drone—they captured the amazing video at the top and some of the stills below:
It's safe to say Picard broke new ground here, and captured something that's both awesome and different from anything else we've seen. Check out the full video up top for yourself, and then visit Picard's website or Instagram for more high octane photo and video shoots.
---
Image credits: All photos by Hadrien Picard/Red Bull and used with permission.