Kodak Ektar 100: An Ideal, Affordable Film for Landscape Photography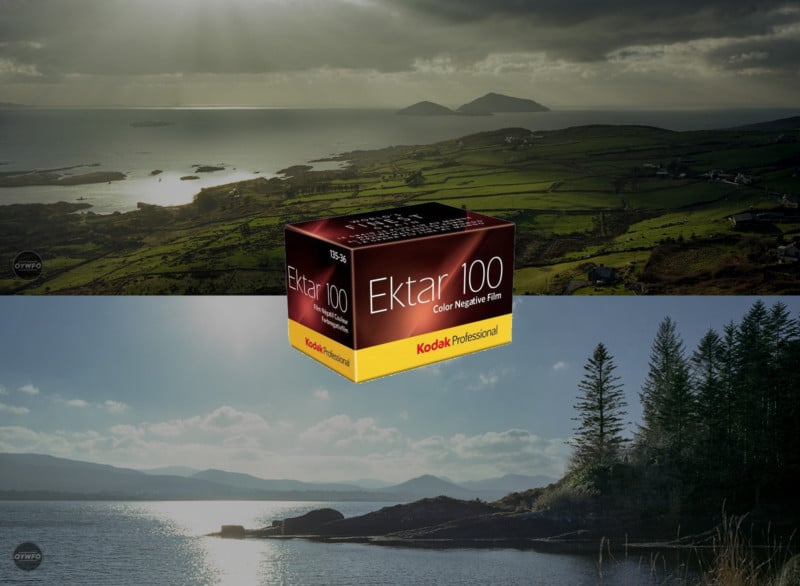 In this article, we won't be talking about cameras and film only. Today I also want to share with you a beautiful region of Ireland that I discovered recently. It's called the Ring of Kerry. But before we start our exploration of the Emerald Island, let me introduce our travel buddy: Kodak Ektar 100.

If you are not familiar with Ektar yet, it's a fantastic colour negative film for those of you who are into deep colour saturation and high contrast.
Some compare it to slide film because of that, but the main advantage is that it's a C41 film, which means that it can be developed anywhere for cheap, unlike slide films. The other advantage on top of slide films is the extended dynamic range—Ektar is capable of retaining more information, in both highlights and shadows, when capturing highly contrasty scenes.
The only downside I can think of is when capturing skin tones. It tends to give a reddish colour to white skins, which is not the most pleasing when shooting portraits. I know some photographers who get great results using this film for portraits, but I haven't found the magic recipe yet (you'll be the first to know when I get my hands on it!). If you are more into muted colours and natural skins tones, I'd suggest looking at Kodak Portra 160—it also has a very fine grain and is less saturated and contrasty than Ektar.
When underexposed, it tends to give a strong blue cast on your image so, to avoid this, it's recommended to expose for the shadows. This will ensure that you don't end up with dark areas that look blue instead of black and it will also warm up the global temperature of your image.
Here is an example of Ektar underexposed. The blue tint is due to the underexposure coupled with the blue hour, but you get the idea.
The last point worth mentioning is that Ektar is scanning friendly. It's honestly a pleasure to scan, as it doesn't require any colour correction. Not all colour film handles being scanned so well, as you can see in this article where I explain how to correct colour negative scans.
---
Now that we've discussed Ektar, let me talk to you about our destination: The Ring of Kerry.
It's a circular road 180km long that goes from Kenmare to Killarney. Most of it goes along the coastline of the Iveragh Peninsula and pass through many picturesque villages. The most common attraction are the Gap of Dunloe, Rossbeigh Beach, Moll's Gap, and Ladies View… just to name a few.
Star Wars fan will also have a chance to visit Skellig Michael, which became popular thanks to the final scene where Luke Skywalker appears at the end of The Force Awakens. To avoid any disappointment, make sure that you plan your visit between the May and end of September—outside of these dates, there is no way to access the island by boat. I learned that the hard way, but it will be a good excuse for another trip around there!
Our first halt takes us on a peaceful tiny pier just outside a village called Sneem. We got there by accident, trying to make a U-turn because we got on the wrong road. We ended up staying there for a while exploring the surrounding woods and enjoying the serene atmosphere.
A few hours later, the weather changed and the clouds took away this stunning blue sky. We had to drive for a while before reaching Caherdaniel and its stunning view. As soon as we got there, the sun broke through the clouds and came out so did my camera!

Then we drove to Foilhommerum Bay on Valentia Island. This was probably my favourite part of the trip. On top of a beautiful location, I had the chance to see one of the most epic light that I have ever seen in my entire life.
In the second picture, you can see on the horizon a tiny island on the right side. This is Skellig Michael that you are looking at!
Our road ended in Killarney for the night, but this day wouldn't be complete without capturing this delicate and soft sunset on the road.
The following day, we decided to explore the Killarney National Park. It's right next to Killarney and if you are nearby you can't do without stopping there for a few hours. Landscapes range from lakes to mountains peaks, and the park has a wide variety of wildlife to offer.
Unfortunately, the day was a bit dull and the light really flat so we stayed around the lake and savoured this time to relax.
The last stop on our short road trip was the Ladies' View. This place took its name after the visit of Queen Victoria, who decided to make a stop there and enjoyed this scene with the ladies from her court. Unfortunately, this picture doesn't give the credit this place deserves, but it's absolutely beautiful and a perfect way to end your trip around the Ring of Kerry.
We were there in the end of January ,which is probably not the ideal season to fully enjoy it. Nevertheless, our eyes got plenty of treats! Before you go, here is a map I created for this trip showing the places worth seeing (although I'm sure there are many more).
---
About the author: Vincent Moschetti is an Ireland-based photographer who is in the middle of a year-long experiment where he's shooting only film photography. You can find more of his work or follow along on this adventure by visiting his website or following him on Facebook and Instagram. This post was also published here.