Pixlplay Transforms Your Phone Into a Fun Camera for Kids
Pixlplay is a new hardware and software combo that transforms your smartphone into a special camera designed for kids.

One half of the Pixlplay system is a special smartphone housing that's inspired by the look of classic 35mm cameras. Simply insert any standard Apple or Android smartphone using the adjustable clamp, download and open the Pixlplay app, and kids will have a simple way to experiment with photography without putting your pricey smartphone at (too much) risk.
Since the system uses the latest camera modules found in modern smartphones, the image quality of Pixlplay kid photographers will be the same as snapshots you take. Or if you have an older unused smartphone lying around collecting dust, the Pixlplay lets you breathe new life into it as a high-tech kids toy.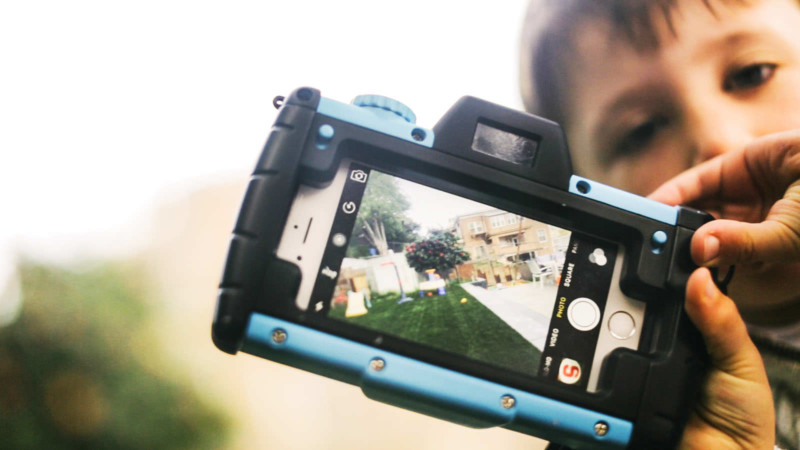 The case will come in two different colors and features an ergonomic rubbery grip and a wrist strap, two features designed to keep the camera in the tiny hands of little kids. There's also a built-in protection screen that keeps splashes and dirt away from your phone's camera, as well as a shutter button that works through the phone's headphone jack (sorry iPhone 7 users).
On the top of the case is an optical viewfinder, and on the surface you'll also find a lens (which turns with a clicking sound) and a film advance knob for pretend play.
The dedicated Pixlplay iOS app will provide kids with ways to create, explore, and play with their images, from adding stickers, faces, and frames to shots to suggesting photo activities to try.
Pixl Toys, the startup behind the Pixlplay, is launching this first product through a Kickstarter crowdfunding campaign.
If goals are reached and the project is successful, backers will receive an early Pixlplay for a contribution of $25. The estimated shipping date is June 2017.