A Simple, Fair, and Free-to-Use Wedding Photography Contract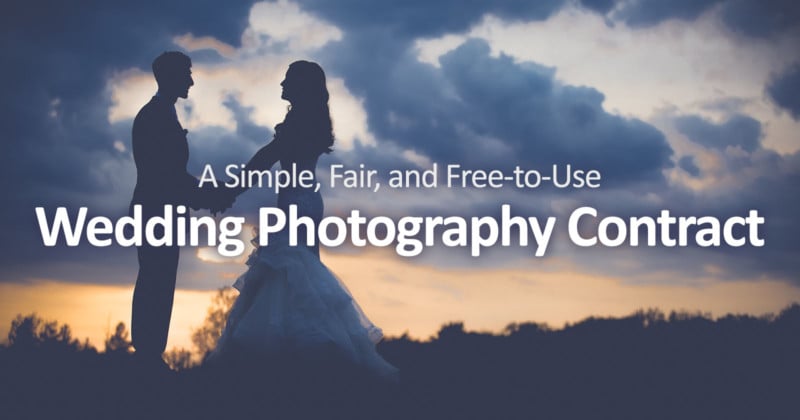 Here's a simple, fair, and free-to-use wedding photography contract that includes payment schedule, harassment, privacy, deliverables, and cancellations—in other words: everything you need in a professional service agreement—because Christmas!
From the time I first started wedding photography (almost 6 years ago). until today, I have yet to find a free wedding contract template that is fair to both parties and is simple to understand. So I drafted one up, in layman's terms, keeping it as brief as possible whilst ensuring that the key points were clearly defined. You can download a .docx version here.
Competition is tough. While I may think that my service is unique, the end-user does not. To the marrying couple, wedding photography is a commodity—whether you offer digital images, prints, and/or albums, differentiation is difficult to convey to a complete stranger. That is why I try to reduce any barriers to payment that may exist.
One of the ways I try to do this is by simplifying my service agreement with them.
Having a convoluted one-sided document filled with jargon is a sure way to delay a prospect's decision process. From the moment a potential client hits my website, I want their experience to be as easy as possible. By the time they enquire via an embedded online form, I want them to want my services. There is some debate on whether one should display their full pricing in the public domain, but I think we can all agree that getting paid is the foundation of staying afloat.
Note: To make things easier for my clients, my contract is written in the first-person, from their perspective. I'm sorry but third person writing does my head in.
These are the things I cover in my wedding photography contract:
What my clients will receive.
What my clients will pay, when they pay it, and why.
Classic 'what if' scenarios and their consequences (including cancellations and refunds).
Copyright and privacy implications.
And stuff like meals, breaks, illness, injury, and harassment.
Now I'm sure that I could include many more things, but I want to keep things as simple as possible while simultaneously defining the terms of our business arrangement as clearly as possible. This is by no means an 'iron-clad' contract and it is far from comprehensive, but I think the included terms are very balanced.
Remember, minimize excuses for a prospect to seek another wedding photographer. Generally speaking, if a prospect reads the contract, the chances of converting them to a paying customer are very high.
Don't give anybody an excuse to seek someone else; pair your portfolio and exceptional customer service with a simple and fair wedding photography contract. Click on this link to download my free-to-use wedding photography contract. You are welcome (and encouraged) to make modifications as per your usage requirements (e.g. copyright laws differ between regions).
---
About the author: Daniel Cheung of Angus Porter Photography is a Sydney-based wedding and family lifestyle photographer. Second to coffee, strategy and digital marketing keep him awake at night. The opinions in this post are solely those of the author. You can connect with Daniel through LinkedIn, Facebook, and Email. This article was also published here.