Where are All the Female Street Photographers?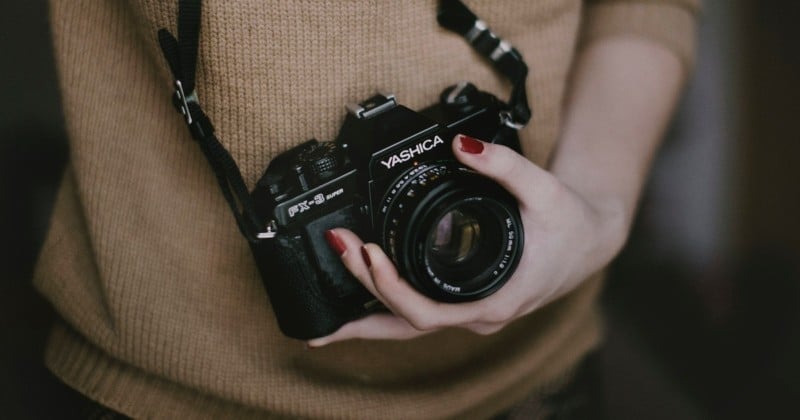 There has been a lot of talk about diversity in street photography and, in particular, the lack of visibility for female street photographers in a genre that is populated mostly by men.

This topic is not new for female street photographers and has been discussed in many different ways over the past decade. However, even women street photographers disagree among themselves whether women street photographers are in fact less visible than their male counterparts, and if they are, what to do about it.
Double X is a Flickr group dedicated exclusively to the work of female street photographers. It's the first and only group of its kind there. I had a chance to talk about women and street photography with the admins of Double X and here's what they had to say about women in street photography.
Photo by Danielle Houghton, co-curator of Double X
Why did you feel the need to create this group?
Charlotte Reynolds: Mainly due to people asking 'where are all the female street photographers?' I was aware of one other group at the time that was a forum for female street photographers on Flickr, but its content was more general than I was interested in at the time.
Didi and I were talking on Flickr Mail and I mentioned I felt there was a lack of 'space' dedicated to showing the work of female street photographers; we agreed that providing a go to place when people ask the question 'where are all the female street photographers' would be a helpful thing. Our goal wasn't to make discussion exclusive gender wise, but to create a resource and archive, a group where women could voice their interests and share any commonality, a pool that was undoubtedly the work of female street photographers.
We began with a private group called 'where are all the female street photographers' which steadily grew over time. Once it was established I decided to make all the members admins, as it didn't need any singular moderation or administration, this group could grow as it would based on it's membership all being equal. Didi was an awesome support through the whole process of setting up these groups, participating in them and encouraging myself and others.
Photo by Joanne Mrowka
Didi S. Gilson: Ah, yes—BOTH of the Flickr groups were absolutely Charlotte's idea and conception from the inception! I'm so glad she'd discussed it with me and allowed me to assist in getting them going. It was something I'd also thought of in passing, more than once, but was wary to implement on my own. (I'd even begun a Tumbler, but never wrote a word in it… and had expressed the idea to Mox & Susan… that it would be interesting to turn our ZQ site into a 'place for women candid shooters only' in its next/future incarnation but then progressed no further as well.)
So that's as far as I'd gotten… just random but deeply felt thoughts and talk… Women (and that includes both of us!) are often quite reticent to call too much attention to the inequalities that exist for fear they will be called crybabies or worse. We also don't ever want to be merely tokens added under duress, but have our work seen and enjoyed on its own merits as valuable additions.
Frankly, there are women we'd invited who would not join, although they admitted that they don't like the marginalization they see; they want to be sure to have every opportunity to be part of the greater discussion, rather than only seen as a side-panel or a specific female branding. I completely understand that stance, but feel it is just as important to call attention, and to shed light on the many women who are doing this work while perhaps they are not having the same exposure. We need to be able to point to role models and portfolios for interested viewers.
Photo by Daina
While we extended invitations to far fewer men than women (for the public group), and of course these were men we respect & feel likewise respected by, it has been great to see a healthy support from across the gender divide. For the most part, guys who shoot and enjoy candid/street photography do acknowledge and treat photographers who happen to be women as their equals with similar goals but yes, the problems of less representation and the lack of visibility needs to be addressed for it to change in any meaningful way.
I'm not involved with the selection of photos included in the XX pool (although not ruling that out for some future date), I preferred to write the intro texts to help Charlotte to set it up as well as the earlier private test group, "Where are all the female street photographers?" While we no longer administrate that non-public group, it continues as an evolving archive where all of the members can add one daily photo. That pool too serves a valid but independent purpose.
With Double X, we had hoped for more public and subject appropriate discussion, which unfortunately hasn't really happened to any large degree yet, still I do update the threads on occasion and we always encourage women to join as members. While men can join, their membership is strictly limited as our online gallery viewers who are indeed welcome to add civil, relevant discourse in discussions. Overall feedback has been unanimous that having these accessible pools of their side-by-side photos has proven important to the women who are taking part. It is not divisive, but makes a community building point that is still necessary to pursue in 2016.
Women eager to support other creative women elicits pride certainly mixed with a strong dose of inspiration and instills hope for a truly democratic future. That's not meant as a political statement, however at this decisive juncture in time, perhaps it is also that.
Photo by Chris Moxey, admin of Double X
It's quite surprising if you think that so many female photographers have made a huge contribution to the history of photography (Helen Levitt, Vivian Maier, Diane Arbus, Mary Ellen Mark) but you rarely see female photographers included in conversations about street photography.
Do you think female photographers are largely invisible to their male counterparts?
Charlotte: Perhaps for some. However, I don't believe it's so hard to find female photographers and painters, poets, writers etc etc, if one's interested and goes looking. When just starting out exploring a medium like photography it's common to skim the surface and just view the masters or popular who dominate these introductory steps. However when delving into what resonates with you, it can lead to pathways that bring lesser known or promoted artists (be they male or female) to inspire you. It's a case of the learner being proactive and digging deeper.
Chris Moxey: I wish I had an answer to this. While I don't think of street photography as a male domain, I do think the cult of street photography is male-dominated. When I first started—11 years ago now—there weren't perhaps as many street photographers of either gender as there are now. There were still fewer women doing it than men but maybe because it was a smaller circle we were a little more visible then.
Of course, I can only say how it felt in London—and as a participant on Flickr—because that's where I hung out. In recent years I've seen a lot more photographers on the street who are clearly not tourists.
Didi: Women rarely toot their own horns. It's somewhat ingrained for us to wait for others to champion a woman's oeuvre. Then too women should never be seen as too strong, too strident or too confident! That's a surefire way to get knocked down a peg or five. Easier to be a nanny and do your work freely whenever you are able, but without expectations that the rest of the world will take any notice of what you are expressing or achieving during your lifetime.
Yes, my sarcasm filter is firmly on in that last sentence. I don't want to read about any other absent 'Vivian Maiers' in the future who are currently at work now, but we miss the enrichment of their photos until some guys finally do give them the thumbs-up (and simultaneously establish their own careers based on their discovery). We can fill that vacuum in the proper way and for the rightful beneficiaries of the work if we make it a collective goal.
Photo by Michelle Rick
You think that's it's important to promote the work of women in street photography, but do you think female photographers should be promoted just because of their gender? For example in lists of "the best female street photographers" or would that introduce the thought that they were included based on gender only and not on their actual accomplishments as a photographer?
Charlotte: 'The best of' type of lists are generally not something I store much weight in, unless published by someone who I find inspiring and believe will show me something new. I have my own subjective 'best of' list.
I don't agree with a forced inclusion to make up numbers, a photographers work should stand on it's own, and not be judged on gender, race, religion or the like.
Chris: I tend to agree with Charlotte's thoughts about lists. And any 'best of' list is going to be subjective. Personally, I wouldn't want to be promoted purely for being female, but rather because someone's liked something that I've done.
Having said that, street photography in particular does feel like a bit of a boy's club sometimes and I've crossed swords with a couple of men in the past who perhaps wouldn't have been as rude had I been male… but I don't feel the way to address it is by engendering some sort of 'victim' mentality.
Photo by Maria Kappatou
Didi: I don't make or adhere to lists of people (very conscious not only of who is included, but also excluded, so I don't jump on that bandwagon).
I think that's something else I enjoy about Casey Meshbesher's online list; she is willing to add to it as she learns about photographers she didn't know of… It is developing and defiantly not a Best Of—but more of an introduction for anyone who wishes to do more in depth viewing and consideration of the work on their own, rather than being spoon-fed an opinion or biased evaluation. In fact, many of those single photos she's selected would not be my personal favorites by the women she has made the great effort to include. That said, I really applaud what she's given us all as a valuable resource with links offering both entrée and exposure.
My own bookshelves have areas dedicated only to women photographers and their books are also slightly interspersed among the other shelves. Due to the way of the world, I have many more books published by male-dominated establishments and are dedicated to photographers who are men, but I make an extra effort to seek out work that is outside the accepted male-dominated hierarchy.
Since I no longer live in a large city with easy access to libraries, museums and galleries, I've amassed a large 'streetish' selection (likely the largest, in fact) in my home library devoted to my love of the candid niche.
Photo by Nayeli Cruz
Shirley Baker, Zoe Strauss, Jill Freedman, Lauren Greenfield, Mary Ellen Mark and others like Diane Arbus, Berenice Abbott, Sylvia Plachy, and Nan Goldin are pages that are well thumbed through. I don't buy purely street photography books either, and do appreciate the work of photographers who happen to be women who also move fluidly through different arenas of camera-based projects. In no particular order, these photographers include: Dayanita Singh, Graciela Iturbide, Rineke Dijkstra, Tina Modotti, Lisette Model, Lee Miller, Dorothea Lange, Imogen Cunningham, Aline Smithson, Emma Phillips, Renate Aller, Cig Harvey, Rebecca Norris Webb, Rachel Sussman, Allison Davies, Kaylynn Deveney, Fay Goodwin, Louise Lawler, Paula McCartney (not to be confused with Linda) and especially Sally Mann.
I could name more, but what I'm saying most emphatically is that I make a concerted effort to seek out other creatives who happen to be women and I further feel that inspiration and admiration for photography as a specialty doesn't really need to be compartmentalized nor completely centered on so-called street, to the exclusion of all else. At least it doesn't for me.
Oh, and I forgot to mention, I particularly prize books by women who are also friends of mine like Chris Moxey, and Susan Catherine Weber. I absolutely look forward to adding more books by street photographers of that ilk to my collection!
Photo by Kathleen Bridget Austin, co-curator of Double X
It's fitting that Graciela Magnoni, one of the leading female contemporary street
photographers just joined InPublic. That brings the number of female members to 2 out of 20 members. Would you say that's a fair representation of the talent of women in the field?
Do you feel that women are underrepresented in street photography collectives?
What explanation would you have for this?
Charlotte: Bravo to Graciela, she has been making consistently great photographs over a long period of time, I was very happy to see her join InPublic. There are without a doubt many other female photographers producing consistently great/interesting work. However, not being privy to how InPublic make their selections, I could only make a guess and suggest they would select a photographer based on not only the quality of their work but how that work adds to the collective overall.
Again, I would think it inappropriate to add more women just to make up a percentage.
Chris: I think it's brilliant that Graciela was asked to join InPublic, and this has now brought the number of females back up to two after Melanie Einzig left. There are others who I would love to see become members… Violet Kashi for example, perhaps Gina Maragoudaki who I also think is very good—Danielle Houghton has some good work but is already a member of Observe.
And yes, in general I feel women are under-represented in collectives but that brings us back to the visibility issue.
Photo by Charlotte Reynolds, co-founder of Double X
Do you think it's possible that women don't submit their work to join collectives? It would be very interesting to find out e.g. how many, if any, submitted to InPublic and/or BME and were not accepted?
Didi: I think you are probably right, women likely throw their photographic hats into far fewer collectives but instead wait to be invited.
Perhaps we're too polite, or don't want to be too forward, or knocked back? Don't know why it is, but I would not be surprised if that was the case. I know I'd always prefer to be out shooting rather than doing the drudge work of writing an over-arching artist's statement!!! Ugh.
On that note, we do have some more good news that wonderful Diadà was invited to join Burn My Eye and recently had an interview appear on the iN-PUBLiC website. Additionally, it was announced that Michelle Groskopf is the first female member of Full Frontal Flash.
My fervent wish is that more women would receive extra exposure opportunities for their dedicated visions.
Photo by diadà
Do you think that discussions like this represent an actual change in attitudes toward women within the SP community?
Chris: With my cynical hat on, probably not. But perhaps it represents a change in attitudes of the women in the street photography community. The status quo needs to change and I feel the male street photography community needs to acknowledge that there's an issue because it's not going to go away.
Charlotte: Represent a change? I couldn't say. I wonder what are the attitudes towards women in the SP community? All I can say is be wary of generalizations, nothing much changes in a one sided conversation.
Didi: Do I think this will make a difference? Overall, I don't know. I do think that individual lives of some women may change for the better, as well they should, but perhaps it will mostly be posthumous re-evaluations… which would be a shame.
I'd be so pleased to know that this tendency was reversed in our lifetimes. The democratic potential of the Internet surely makes it possible. It's true we are seeing more conversations about all sorts of inequities taking place. However, I look forward to seeing more concrete actions proceed from there so that the critical dialogue can actually be about the work and varied cultures we are fortunate enough to learn about and experience through global dissemination and an improved public accessibility.
Photo by Silvia Hagge de Crespin
If you had to name 15 contemporary street photographers, not including Helen Levitt and Vivian Maier or any Magnum photographers, how many female street photographers would you include on that list?
Charlotte: Here are some female photographers who have a background in street and to varying degrees documentary photography.
Rebecca Norris Webb, Nayeli Cruz, Alison McCauley, Nicola Miles, Lesley Ann Ercolano, Cynthia Wood, Tamara Voninski, Ying Tang, Kysenia Tsykunova, Ania Vouloudi, Kate Kirkwood, Laura Rodari, Deb Bonney, Simone Fisher, Missy Prince, Silvia Hagge De Crespin, Raphaela Rosella, Ludmilla Morais, Michelle Groskopf, Danielle Houghton, Regina van der Kloet, Benedetta Falugi, Galia Nazaryants, Narelle Autio, Diadà, Maria Kappatou, Sonia Carolina, Violet Kashi … to name just a few.
Chris: I've selected both female and male favourites, of which 8 are women: Gina Maragoudaki, Violet Kashi, David Solomons, Vanessa Winship, Gustavo Gomes, Larry Hallegua, Peter Kool, Fred Herzog, Siri Thompson, Graciela Magnani, Danielle Houghton, Ilya Shtutsa and Marketa Luskacova.
Galia Nazaryants is someone I watch with interest. There are other females I like a lot, perhaps more documentary in nature, but where I feel there's a bit of a crossover: Bertien van Manen, Sirkka-Liisa Konttinen, Allesandra Sanguinetti, Elena Chernyshova, and Sheron Rupp.
Photo by Lesley Ercolano
Didi: Although I've done it elsewhere in this chat (re: books I own) I'd rather not list 15 names here for fear I'd leave out some worthy photographers I really admire. I'd rather point to a more inclusive list of only women in this instance since that's the situation we're addressing as a precursor to re-education and reformation. I'm loving Casey's mega-list of 150+ (10 times the amount you'd want me to whittle it down to) & also the growing global map on her site.
If you would like the street photography community to take away one thing from this piece, what would that be?
Chris: I hope it would be seen as a constructive piece; perhaps an issue that might be discussed in the SP community at large. Change can be a long haul and people can be very set in their ways… but not all male SPs have the same attitude. As we know, some are lovely and supportive. But I'm not sure how many would be willing to stick their heads above the parapet.
Charlotte: I hope this conversation and others like it help to encourage women starting out in street photography to follow their interest and not be discouraged by a perception that street photography is a male domain.
Photo by Didi S. Gilson, co-founder of Double X
Didi: Yes, there are absolutely women who shoot intriguing candid photography. There have been for decades and likely always will be… If you are a woman, make that conscious effort to discover their work and don't rely on biased lists to tell you how to think.
If you are a man, be open-minded and yeah… seek out those women whose work you do value and enjoy. Accept XX-created images to your exhibitions and publishing projects and also to groups that invite membership. Support differences and help to fix the wonky balance rather than simply and easily accepting the status quo.
Such a drastic reassessment would be uplifting for us all, as observers and as active participants in a vibrant, creative community whose humble manifesto is to visually describe the times in which we live. We have the ability to not only right a popular misconception for those presently alive, but perhaps it's just as imperative to leave a lasting legacy for future generations.
Photo by Siri Thompson, co-curator of Double X
You can find more images like these on the Double X Flickr Group, which features the work of female street photographers.
Charlotte Reynolds: Flickr
Chris Moxey: Website, Flickr
Didi S. Gilson: Website, Flickr
---
About the author: Siri Thompson is a Jamaican born photographer living in Toronto, Canada. You can find more of her work on her website or by following her on Flickr. This interview was also published here.